Beginning of Global Recession: International Monetary Fund Chief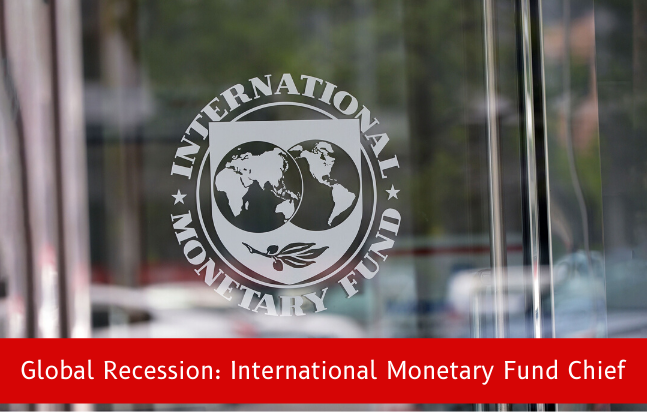 The Coronavirus Pandemic has brought a catastrophe to the global economy. This is the beginning of a global recession that will worse than 2009 leading to a major global financial crisis, the International Monetary Fund said on Friday. However, a recovery is expected next in 2021.
"We do project recovery in 2021- in fact, there may be a sizeable rebound but only if we succeed with containing the virus everywhere and prevent liquidity problems from becoming solvency issue", the IMF Chief Kristolina Georgieva said to the news reporters in an online press meet.
She addressed the financial crisis of all the countries facing due to the disastrous effect of COVID-19. "To support this, last night the IMF launched a policy action tracker for 186 countries to help us all see who is doing what", she said at the conference.
Further, she added that "We will be updating the information regularly, that will provide country-specific analysis inline with our surveillance mandate,"  and invited to visit imf.org if you want to find the policy tracker as the information on the policy tracker will be updated on the official website.
She addressed that, the rapid downturn in the global economy can put an unprecedented impact on the fabric of our societies and said, "A key concern about a long-lasting impact of the sudden stop of the world economy is the risk of a wave of bankruptcies and layoffs that not only can undermine the recovery. But can erode the fabric of our societies," 
Over 80 countries, for the most part of low earnings, have as of now have mentioned crisis help from the International Monetary Fund,  she said. Further, Georgieva said, "We do know that their own reserves and domestic resources will not be sufficient," and the fund aims to improve its response "to do more, do it faster, do it faster than ever before."
"Countries are doing all they can on the fiscal and on the monetary front. We have heard from our members' very impressive decisions taken over the last days,"  she said.
Mashum Mollah
Mashum Mollah is a passionate blogger. He loves to share her thoughts, ideas, and experiences with the world through blogging. Mashum Mollah is associated with Mashum Mollah & Blogstellar.