While many people have praised the benefits of using a learning management system (LMS) for training and collecting data, others have encountered some challenges.
There are some challenges that your organization will have to consider and possibly overcome when maintaining and providing your extended enterprise training.
If you're thinking about implementing an LMS and are worried about how to best integrate eLearning into your current system, keep reading to learn about the most common transition challenges.
But before that, let us learn about what is an LMS?
What Is An LMS?
A learning management system (LMS) is a software-based platform that enables the administration, automation, and delivery of eLearning courses and learning and development programs. Training and onboarding are one of the most common applications for an LMS in the workplace.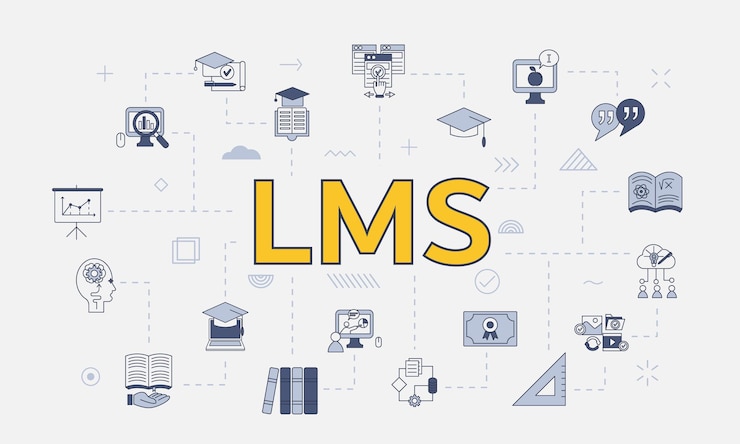 In this case, the LMS is used to assist in the training of new employees by providing access to online training content via various devices. When new employees contribute their knowledge and feedback, employers can best understand how efficient the training courses are and focus on areas where new employees require additional assistance.
Most Common LMS Issues And How To Solve Them
There are some challenges that your organization will have to take into account and possibly overcome when delivering your extended enterprise training. Here's how, with the help of an LMS, you can do just that.
1. Engagement
Issue: Learning engagement is a critical component of online training programs. In-person training can provide this, but how can it be done since there is no chance of doing so during a pandemic or an emergency?
Solution: LMS training promotes employee engagement and helps to retain employees for a longer period. The employees use the LMS's gamified platform to learn while having fun. While learning through the LMS, they can earn badges, certificates, scores, credits, and leaderboards.
Employees can communicate with one another and with their instructors via social media channels, discussion boards, emails, text messages, and so on. It enables employees to collaborate their knowledge and professional expertise for mutual professional growth.
2. Match Employee's Weaknesses
Issue: Your most precious resource is your talent pool. However, most LMSs cannot match the skills, mentorship, and feedback information you have at your disposal with the location it needs to go.
Solution: Select a platform that matches one employee's weakness with another's strength and facilitates learning relationships within the organization. Make feedback and discussion a regular part of the business life within the system.
3. Search Functionality
Issue: Even if the User Interface is simple, it may be difficult to find exactly what you're looking for. What should be done?
Solution: Your next LMS must include built-in search functionality. Admins can easily find user information, progress report, and online training content.
They can search the entire system in a fraction of the time by typing in a keyword or selecting a tag. Similarly, your corporate employees can search online training modules, activities, and support resources to help them improve their job performance quickly.
4. Navigation
Issue: Every year, LMS vendors incorporate exciting new features and functionality into their platforms, ranging from online coaches and real-time analytics to social learning and gamification. employees cannot seamlessly transition between finding courses, taking assessments, and tracking their progress, and trainers and managers cannot easily find the tools they need to oversee learning and create engaging content. Despair sets in, and satisfaction levels plummet.
Solution: When vendors lead demonstrations, they can easily avoid these issues by following carefully curated paths, that is why extended hands-on time with any system you're considering is essential. Consider the following questions: Does the LMS have search functionality? Is it possible to find relevant results when you search?
Is the navigation consistent across modules or screens? Are menus overly crowded? Is it possible to change the navigation items and shortcuts?
Do these authorizations extend to individual employees, allowing everyone to tailor navigation to their preferences? Have a variety of workers sit in on the demos so you can understand their navigation priorities and uncover general trends that may impact your purchase decision.
5. Reports
Issue: Frequently, a business does not understand an LMS's reporting techniques, so they incorporate an LMS that is ineffective for their data collection needs. Some learning management systems only provide a limited number of report templates with no flexibility or adaptability, making it difficult to gather information.
Solution: The ability to track and assess the impact of your learning programs on your business is one of the most key aspects an LMS should have. Your learning management system (LMS) should enable you to gain learning insights via personalized reports and dashboards which provide metrics on learner activity. Choose the LMS that best suits your needs.
6. Authoring Tool
Issue: You want your employees to be enthusiastic about your new learning management system. You're excited for them to dive into training because you know it will benefit your SMB in a variety of ways. But that will never happen if your course is severely lacking and out of date, and your LMS lacks a standalone course authoring tool.
Solution: Here are some more advanced tools and features to enquire about from vendors to add a spike of excitement and involvement to your digital training program. Curating course sequences and providing quality information to each individual can help to keep them engaged.
Discussion boards allow your employees to engage with one another, review what they've learned, and gain new perspectives. Course ratings and post-course surveys, for example, can provide you with the data you need to make improvements, so look for them in your new LMS.
Conclusion
With the increasing utilization of information and technology, the integration of learning platforms such as LMS has become a necessity for the education sector. LMSs have a reputation for being clunky, disappointing products for a reason. If you are not cautious, you may end up with a clunky system that employees will not accept. The LMS that successfully drives learning engagement and connects it to performance is the one that drives the organization's success. An organization with an engaged workforce will purposefully smash its purposes and exceed its expectations.
Additionals: