Finding The Best Church Chairs For Your Congregation

Many congregations are taking advantage of church chairs that are modern, comfortable, and versatile.
Unlike pews, chairs can be moved around, stacked, and stored away when they're not needed. Making the decision to switch to chairs is easy, but finding the right chairs can be difficult.
Checkout Five Prime Steps To Find The Best Church Chairs For Your Congregation: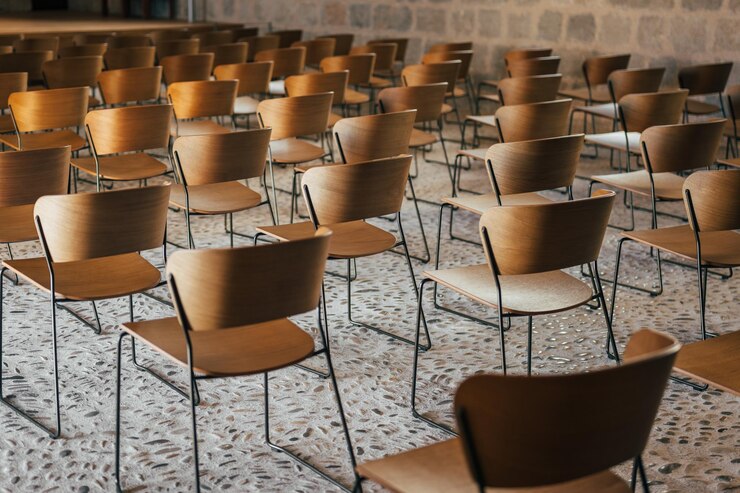 Here are some of the most important things to consider when looking for the best church chairs.
1. Durability
One of the most important factors to consider when buying church chairs is durability. Your chairs are going to get a lot of use by members of your congregation and guests. Therefore, it's important to ensure that your chairs can stand up to the heavy use they will get at your church.
Ideally, your chairs will have:
A heavy-duty frame;
Upholstery that's rated for heavy or commercial use;
Chairs with quality frames will not only be made with durable materials but also constructed so that connections with the seats and backrests have superior holding power.
Cheaper, lower-quality chairs will wear out more quickly. As a result, they may cost less upfront, but you will ultimately spend more replacing worn-out chairs.
2. Comfort
When looking for chairs for church, it's also important to consider comfort. You want the members of your congregation to be comfortable during service. Otherwise, they may not stick around or return.
Make sure your chairs have padded seats and backrests. Curved backrests will be the most comfortable option.
Along with the shape and style of the chair, consider weight limits, heights, and widths. You want chairs that your congregation will feel comfortable in, and you know them better than anyone else. Make sure that your seating can accommodate all members so that everyone feels welcome and included.
3. Portability And Storage
One of the biggest advantages of chairs over pews is that they're portable and easy to store. But some chairs are more portable and storage-friendly than others.
Check the size and weight of the chair to ensure that it's easy to handle and light enough to move around when needed.
The best chairs are stackable, so you can easily store them away without taking up too much space.
Also, consider whether the chairs can connect to form pews. Connectable chairs will make it easier to create the setup or layout that you want, but they can also easily be disconnected and moved or stored as needed.
Folding chairs are another option if you cannot find stackable chairs that meet your needs or budget.
4. Metal Or Wood Frame
Do you want metal or wooden church chairs? Both of these options have advantages and disadvantages.
Metal frames are highly durable and easy to clean.
Wood has a more traditional feel and is often the more sustainable option.
In general, metal frames last longer and are easier to maintain than wooden frames. However, for some churches, the traditional feel and sustainability of wood are more important than durability and ease of maintenance.
As a general rule of thumb, it's best to avoid church chairs with plastic frames. Although some can be durable, they aren't as solid or sturdy as a chair with a wooden or metal frame.
5. Fabric And Padding
Quality church chairs have upholstered seating and backrests. For maximum comfort, make sure that your chairs have padded or cushioned seats, especially for chairs that you will use for service.
Members of your congregation will be seated for long periods of time during service, so it's important to choose chairs that will keep them comfortable.
Foam cushions are ideal because they are soft yet supportive and eliminate uncomfortable pressure points. Don't ignore the backrest either. The best chairs also have foam-padded backrests for sustained comfort.
Along with padding and cushioning, consider the fabric itself. What color options are available? What is the fabric made out of? What colors and/or patterns can you choose from?
Solid, neutral colors are always a great option, but you can also find fabrics with subtle patterns that may complement your church and congregation well.
In Conclusion
Modern church chairs are comfortable, durable, and easy to store. These are some of the most important considerations when choosing chairs for your church, but you may have additional requirements that you'll need to keep in mind. So, what is the best kind of church chair for your needs?
Read Also:
Arnab Dey
Arnab is a passionate blogger. He shares sentient blogs on topics like current affairs, business, lifestyle, health, etc. If you want to read refulgent blogs so please follow RSL Online.