Grofers, Flipkart, Bigbasket, Amazon Will Bring Your Vegetables Home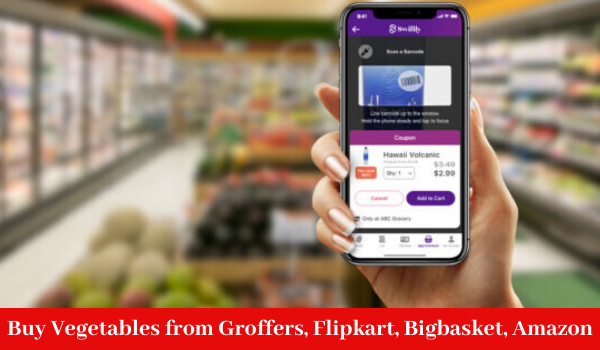 While India is going under the 21 days emergency lockdown, which will not allow the citizens to get out of their houses. Many people have turned their faces towards e-commerce apps like Grofers, Flipkart, Bigbasket, Amazon, etc. They will specifically deliver the household essentials to their customers. The daily use of vegetables, pulses, and edible oil will be delivered to the citizens to their homes. 
As this facility has been recommended by the PM Narendra Modi but the apps of Grofers, Flipkart, Bigbasket, Amazon has shown "Out of Stock" in their apps. PM has requested the panties of Grofers, Flipkart, Bigbasket, Amazon to keep fully stocked. Since the people of the country would not be able to leave home, so they will have to keep their stock ready. 
Since Grofers, Flipkart, Bigbasket, Amazon has mostly shown out of stock or unserviceable, other brands are standing by them. During this time a panic-struck, all the citizens when the Walmart backed Flipkart showed that all their pantry products are out of stock on Wednesday. The website of this mega store showed that all products are out of stock and other websites like Grofers, Bigbasket, Amazon mostly lack most items. 
"Flipkart has temporaily suspended orders as we assess the possibilities of operating in the lockdown. We are prioritizing the safety of our delivery executives and seeking the support of the local governments and police authorities to meet the needs of our customers as they stay home during this lockdown," said in a statement. Rajneesh Kumar, Chief Corporate Affairs Officer, Flipkart.
There is still no clarity about when the new service would start in these apps. Most of the citizens pan India are still waiting for the response from Grofers, Flipkart, Bigbasket, Amazon. 
Some of the problems have already been registered but there has been no answer to it 
Amazon has stopped taking new orders and also has not mentioned about the restart of their service. 
Whereas Big Basket restricted their existing users from access to their account. They are only taking orders of new users and delivering it to them. 
Grofers have been showing the message of their website that "Grofers will be back soon" 
Mashum Mollah
Mashum Mollah is the feature writer of Search Engine Magazine and an SEO Analyst at Real Wealth Business. Over the last 3 years, He has successfully developed and implemented online marketing, SEO, and conversion campaigns for 50+ businesses of all sizes. He is the co-founder of Social Media Magazine.