Did you know that there are more than 200 types of perennials to choose from?
How about the fact that they're one of the most popular plants used in gardens and landscapes? Perennials come in a wide range of sizes, shapes, colors, and growing conditions.
The trick is to know which ones will thrive in your space and which ones you can grow together. If you're looking for ways to spruce up your garden or bring new life to your indoor space, perennial flowers are a great start. Read on to learn about different perennials categories with tips on how to grow them successfully.
Perennial Flower Types
There are many types of perennial plants to choose from on https://florium.com/perennial-plants-and-flowers/.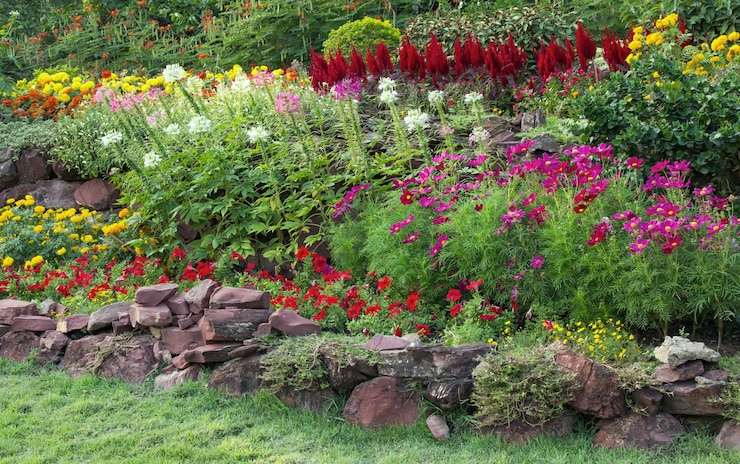 Let's take a look at each one:
1. Arid
Plants that grow in arid environments, such as agave, yuccas, and cacti, thrive in dry climates. These plants have evolved to survive in areas where rainfall is low or inconsistent. While they're well-suited to their environment, they aren't well-suited to gardens where they're planted in soil that's too moist.
The majority of arid perennials are cacti or related to cacti. Some have thick, spiky leaves, while others are filled with bright flowers. When selecting an arid perennial, look for one that's well-suited to your climate and soil type.
2. Alpine
These are high-elevation plants that thrive in cool temperatures and harsh, rocky soils. Phenology, or the way the plant develops, varies widely between species. As a group, alpine perennials are known for their bold, striking colors. They are great for adding interest to a garden in the winter when most flowers are dormant.
Popular alpine perennials include:
gentians,
edelweiss,
and blue columbine.
Many have dark green, blue, or purple leaves. Alpine perennials make great groundcovers for shady areas.
3. Bulbs
While bulbs are technically perennials, they grow differently than other perennials. They start growing in the fall and die back in spring. They grow best in cool and moist environments. Popular annual and perennial bulbs include tulips, daffodils, and hyacinths. Notable growing conditions — cool and moist soil.
4. Shrubs
If you're looking for low-maintenance perennials, shrubs are a great choice. They often bloom in the spring or fall, and some have colorful leaves or berries that are great for fall decorating.
Shrubs that produce edible berries include:
blueberry,
raspberry,
and blackberry.
They're great for those with smaller gardens who want to grow their own food. If you're looking for perennials that attract pollinators, choose from a variety of shrubs. Examples include:
lavender,
chamomile,
echinacea,
and clematis.
5. Herbaceous perennials
If you're looking to add color to your garden all year long, herbaceous perennials are a good choice. They often die back in the winter, especially in cooler regions. They come in a wide range of sizes and shapes, including groundcovers, vines, and upright varieties. They're typically grown for their colorful flowers. Some popular choices are ornamental peppers and calendula.
6. Vines
Vines typically grow quickly up trees, poles, and walls. They're great for covering an unsightly fence or adding color to a drab wall. They're often grown along the ground or up other plants, including other vines. Vines are usually evergreen and grow quickly to cover large areas. They're typically grown as groundcovers or used to cover walls. They're great for gardens with limited space.
Popular perennial vines include:
climbing nasturtium,
clematis,
morning glory,
sweet potato vine,
and passion flower.
Notable growing conditions — full sun or partial shade and support structure.
7. Deciduous trees
Deciduous trees lose their leaves in the fall. This gives them the ability to survive in a wider range of environments. They are commonly planted in gardens, especially in the fall and winter months.
Trees are typically used to add structure to a space and create privacy. They're typically grown in containers or as part of a bedding garden. Popular deciduous trees and shrubs include rhododendrons, hydrangeas, and viburnums. Notable growing conditions — full sun, well-draining soil.
8. Evergreens
If you're growing your garden in a zone where temperatures get below -10 Celsius, you'll want to make sure you choose evergreen trees and shrubs. Pines, spruce, and firs are all great options. They're often used as a backdrop in the landscape, or to create a visual boundary. They are available in a range of sizes so there is something for every garden.
Summary
There are different types of perennials to choose from. If you're looking for low-maintenance plants, shrubs are a great choice. If you're looking for color all year long, herbaceous perennials and evergreens are a great choice. Whatever your preference, there are many options for you to choose from.
Keep in mind that each perennial has its own set of growing conditions. When choosing your perennials, keep in mind your soil type, sunlight, and water needs. With so many options, you're sure to find the perfect perennial for your garden or indoor space.
Read Also: