IRS Pushes the Tax Payment and Deadlines to 15th July: Mnuchin States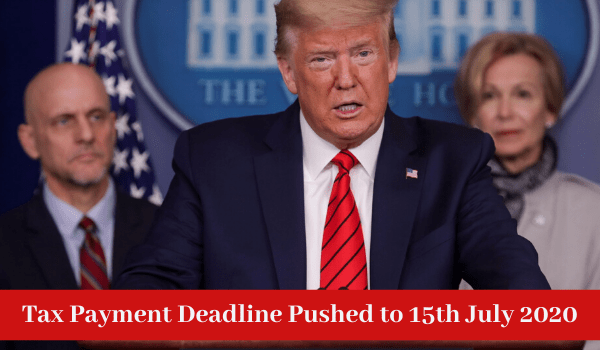 United States of America: The number of COVID-19 cases is increasing alarmingly in America. So the American Government is taking action to reduce the spread of the virus and its impact on the taxpayers. The Internal Revenue Service has taken the decision to postpone the taxpaying dates. The income tax filing season has been pushed the deadlines to 15th July of this year. 
The IRS on 20th March 2020 made guidance and asked the Treasury Secretary Steven Mnuchin to tweet about the dates being postponed. This was again retweeted by the Internal Revenue Service to spread the information quicker. The guidance that was circulated says that the dates of the due tax filing have been postponed from 15th April deadlines to 15th July. 
You can see the Government Circulation here in the form of PDF.
Abiding by the rules of Guidance of the IRS, the president of America, Donald Trump announces Emergency. This action was taken in response to the Corona Virus disease which is spreading rapidly all across the world. 
The Treasury Secretary says that since the final due date for filing the tax has pushed the deadlines to 15th July, no citizen will have to separate file any petition for the extension of it. 
 "any person with a Federal income tax payment or a Federal income tax return due April 15, 2020, is affected by the COVID-19 emergency for purposes of the relief." – the Treasury Secretary   
While explaining the guidelines they have used the term, "persons" which include individuals, company, organization, trust, estate, association or corporation. If read strictly the guidelines say that only the returns which have been affected on 15th April 2020 will be given the slot for deadlines to 15th July. This does not include the returns which are dues for 16th March 2020 or 15th May 2020. 
It has been made clear that this extension is only for income tax filing and not for any other kind of taxes. This postponement is for the deadline for making federal tax payments and not for filing the returns. 
Various states all over the world are making changes due to the Coronavirus spread as California keeps it flexible. California is making things more prominent by allowing its people to file and pay taxes after 15th July. The decision varies from state to state and country to country.  
Sharmita Shee
Sharmita is one of the top contributors to onlinehealthmedia. He is a full-fledged member of online health media. she is a contributor of Top preference , big jar news , Smart Business Daily, The Legal Guides, The Dating Dairy, The Bitcoin Magazine, Essay Writing Guides, The Cbd Magazine, The Casino Magazine, Get Me Seen, Top Preference, Big Jar News, The Parents Magazine, The Sports Mag, The Pets Magazine , Okey Magazine, Global Business Diary, Small Business Journals, Money Outlined , The Global Magazine & Lawyers Inventory.