7 Reasons To Watch 'Orange Is The New Black'

Okay, Google, 'What are the best prison TV series to watch?'
Prison Break.
Orange Is The New Black.
The Night Of.
Wentworth.
Vis a Vis.
These are the suggestions Google gives us when we look for the best prison TV series and as you can see OITNB ranks second.
Even though the series was released back in 2013, it is still one of the best TV shows to watch
You may ask why.
Well, we are here to tell you those reasons, so without further ado, let's start:
7 Important Factors For Which You Should Consider Watching 'Orange Is The New Black"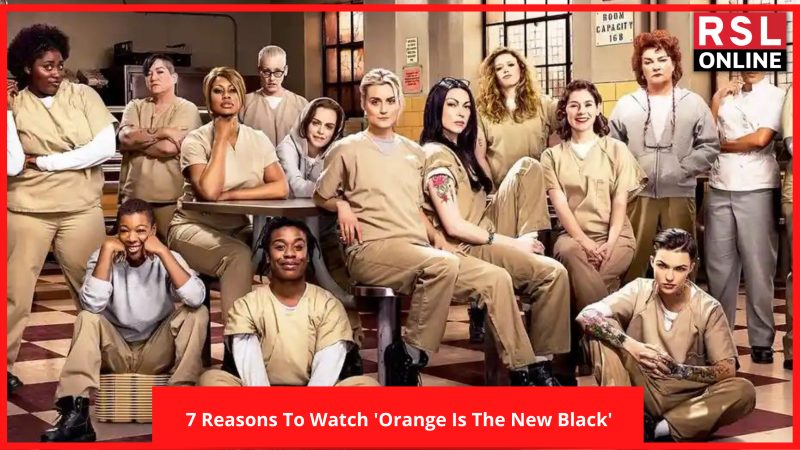 1: Entertainment! Entertainment! Entertainment!
What would happen if jail was entirely made up of women?
Download "Orange Is the New Black" from https://thepirateproxybay.com/, and start watching.
Piper Chapman is doing time in prison for transporting a bag full of cocaine money a decade ago. Alex Vause, her ex-girlfriend who got her into this situation, is in there with her.
On her first day, the Russian cook starts starving her to death because she does not like her food, and there is too much drama in getting the right cellmate.
          Related Resource: Anoushka Nara Giltsoff Net Worth, Age, Biography, Relationship
2: Unexpected Transformation Of The Characters
Piper Chapman entered jail as a wealthy, blonde white woman who only wanted to do her sentence, come out, and marry her fiance.
She didn't match the stereotype of someone who would end up in prison. She wasn't a junkie, her crime wasn't violent, she had a college education, and she was well-off.
However, the more she attempted to avoid drama, the more she became entangled in it. Her first season reminded me of Breaking Bad's Walter White.
She realized pretty quickly that if she had to survive there, she had to get her hands dirty, and she was not the only one to show this great transformation. There are plenty of others!
3: Different Characters: Different Stories
This TV show takes an insightful look at many different types of partnerships.
Morello fantasizes about her wedding, but her fiance has never paid her a visit in jail.
Chapman is under pressure to maintain her relationship with Larry, her fiancé, but an old flame for Vause rekindles in jail as she starts to be in her company.
Red is the white girls' parental figurehead, yet her techniques to save her girls and herself are dubious and unconventional.
No matter how different the stories are, they are all linked as they are all residents of the Litchfield Penitentiary.
4: Diversity At Its Peak!
OITNB has a diverse cast of women, which we enjoy.
One of the things that set this series distinct from other shows is the fact that it stars a transgender lady as a trans-sexual character, and no other TV show has attempted to take such a bold step so openly before.
You will find women of all categories in this series, portraying their parts as authentically as possible.
5: Camaraderie Is Being Human
Even though the show is centered on Piper, it is also about the other women in her life and how they have formed a community in jail.
The fact that they could form such strong bonds speaks much about the human desire for connection, regardless of the circumstances.
And,
In a series like this, where everyone is supposedly 'bad,' they have also formed a sense of solidarity and protect each other whenever the need arises.
6: Drama From The Start
When we go back to the first few seconds of the first episode, we remember how two girls were getting on with each other in the prison toilet, and it's an 'Oh F**k moment!'
Before you can even determine if you want to be a part of it, OITNB has you hooked.
Instead of giving us extensive buildup, this show gets straight into what they're doing, which means if you start watching it, you won't get bored even for a second because the series hardly ever slows down.
7: It's Funny AF!
Chapman must adopt a particular mindset to survive the strange environment of jail, but you can't help but giggle at moments.
The convicts attempt to join the WAC squad in one episode, which tickled our funnybones for good. As everyone tries to win over their other convicts, each race group votes on their own, which adds some fantastic humor to the mix.
But, when finally they select some leaders, it turns out the job was nothing to be so excited about in the first place.
        Related Resource: Kevonstage Net Worth, Early Life & Age, Professional Life, Relationship
OITNB Rocks!!!
Yes, this series is indeed a rocking show, and you can watch it anytime if you are feeling low, depressed, or helpless.
These ladies will give you the best motivation to live your life.
So, if you want more reasons to watch this show, let us know in the comment box below.
Read Also:
Sumona
Sumona is the publisher for RSLOnline. Besides her professional commitments, she is also used to spending time sharing sentient blogs regarding topics like Technology, Business, fashion, fitness, and more. Follow more of her contributions in SmartBusinessDaily and FollowtheFashion