Do you love cutting-edge technology as much as you love weed? There's much in store for you in the modern dispensaries and online shops, as the industry takes care of the tech-savvy stoners' interests. Thus, you can always find something exciting to try out.
Here is a rating of top-notch high-tech stoner devices worth your attention.
1. Hi-Tech Hookah Infuser
Are you a chemist in your soul? Are you looking for innovative devices to make safe and predictable weed infusions? Then the Stundenglass gravity hookah infuser is exactly the gadget you'll rave about. It looks really impressive (you can boast of having a real chemical lab in your apartment, your friends will surely believe it).
The Hookah Infuser has lots of uses and will become a cool accessory for your next party. You can try yourself in the role of a mixologist by infusing cocktails with interesting shades of taste and obviously adding a shot of weed to the mix.
2. Vape Pens
Do you want a shot of weed with you 24/7, conveniently placed into a vape pen? Choose among the best providers at https://askgrowers.com/cbd/cbd-vaping/vape-pens.
Vape pens are a booming trend today, as they deliver an unrivaled experience to regular smokers and weed fans without excessive smoke or the need to find a place for your stump.
You can take a shot or two wherever you are, taking the vape pen and putting it back in the pocket in a couple of seconds. Such convenience in use has made vape pens super popular among smokers worldwide, even causing a vape pen crisis in public health. So, we recommend using vape pens occasionally, without relying on this consumption method every day.
3. Smell-Proof Storage Pouches
You may love the smell of weed; that's okay. But are your co-residents also agitated about this odor? And what will your neighbors say about your innocent hobby if they come to borrow some salt?
Whoever you live with, placing your weed supplies into odor-proof containers is better. But choosing such a container is also an art in itself, as you should prevent mold or insect contamination of this precious product.
A great solution (available on Amazon, by the way) is an odor-proof storage pouch that will seal your weed for safe and durable storage in whatever conditions.
The premium-looking pouches are made of leather and have additional insulation with activated carbon. The finishing line is the non-woven filtering fabric. So, this accessory looks cool and does its job pretty well.
4. A Stylish One-Hitter
If you don't like vape pens and want to smoke authentic weed but still prefer something more convenient than a joint or a bong, the one-hitter is your way to go.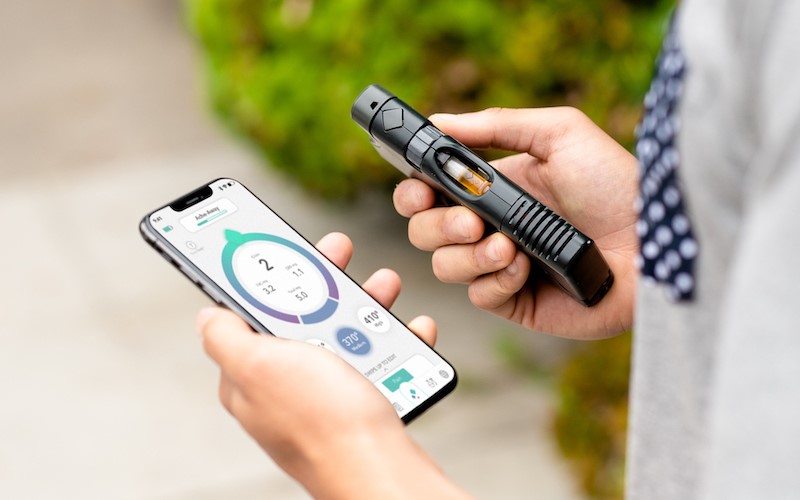 You can prepare the weed shot in advance and smoke it wherever you are; the well-thought construction of the one-hitter keeps all the ash inside. Its double-helix design ensures that the smoke cools down before approaching your lungs, and the compact size and form make it comfortable for carrying and use on the go.
5. A Customized Dosing Vape
Do you want to avoid unpredictable side effects and occasional overdosing with vape pen use? It has never been as easy to achieve as with the Pax's Era Pro vape pen. The vaping device comes with a cool app from your smartphone, allowing you to ingest as much weed-infused liquid into the vape as you need to feel right.
The app allows precise dose personalization and has a portfolio of pre-selected dose settings based on which you can program your vape for individual use.
6. Smart Growing Pod
The all-in-one smart growing pods are a hi-tech innovation many gardeners have already appreciated. This appliance allows proper lighting and irrigation for your mini-garden, all controlled with smart indicators and sensors. So, using such a device to grow weed is also a great way to go.
Obviously, you won't find any open advertisements for growing pods specifically for marijuana cultivation, but they are really universal. Thus, enjoy the gains of growing technology with an end-to-end growing appliance equipped with a self-watering system and customizable LED light intensity.
Additional Resource: CBD Cigs: How to Choose the Right Ones for You
7. E-Rigs
This innovative category of weed-smoking devices won't leave anyone indifferent. The E-rigs are premium-looking and durable, made of aluminum and firm glass. Their compact size and great smoking experience are perfect for indulging in the stoner pleasure during a trip or on a hiking tour.
Besides, they are highly customizable in use and allow collective smoking. For instance, the DuVo e-rig has three atomizers with different settings, allowing it to produce smooth and dense weed vapor. The device also comes with smart temperature control, allowing users to avoid the bitter taste of burnt-up weed.
8. Chill Steel Pipes
The Chill Steel Pipe device is a pure treat for the fans of good old bongs with a hi-tech twist. This brand's steep bongs are super durable and can serve you forever, looking great and stylish in any environment.
The Chill Steel Pipe promises a smooth and chilly smoking performance for up to 12 hours, which is a fair deal for stainless steel, esthetically designed appliances.
Read Also: