If you have a small business and want to ensure that your venture picks up pace, you must start using software like CRM from its initial stages. However, you might be thinking about the expense and the complexities related to the same. Well, what if I tell you that there is one such CRM that can help you without having to go through all the difficulties?
Enter Monday, the popular CRM software great for small business owners who want to make their dream big.
Numerous third-party integrations and the availability of hundreds of templates put CRM Software Monday in the top tier for usability.
Keep reading this article till the end to learn more about how it can be of help to you and what makes it better than any other CRM at present…
What Is Monday, The Popular CRM Software?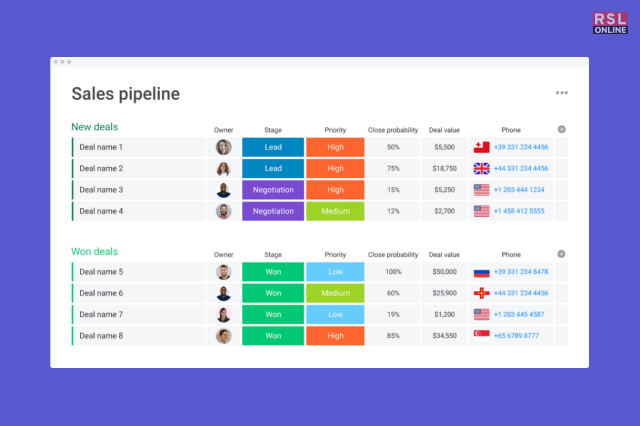 Monday Sales CRM is a powerful sales solution that helps to gather and nurture qualified leads through the fulfillment process. It is a highly customized customer relationship management (CRM) platform. The dashboard is organized using a combination of folders and boards, and it has up to 50 columns that you may use to handle groupings like leads, qualifying leads, and disqualified leads.
According to their About Us page, this platform "happened somewhere in between collaborating and communicating, engaging, and scaling rapidly."
"As we integrated and automated, built workflows, created templates, and expanded our community beyond our wildest expectations, we continued to grow," they further added.
Business owners, sales teams, and RevOps can manage the full sales cycle from pre- to post-sales using Monday sales CRM, a dedicated sales platform that manages all client data in a single, centralized location.
To ensure that no opportunity is missed, collect leads, monitor contact communications, automate manual tasks, and keep track of each deal's progress. After then, use real-time data in customizable dashboards to analyze sales processes.
All post-sales actions may be controlled straight from Monday sales CRM once a deal has been closed. This enables seamless billing, contracting, onboarding, and other business processes by connecting all corporate stakeholders—including those in finance, legal, and account management—to all pertinent information.
Features Of Monday CRM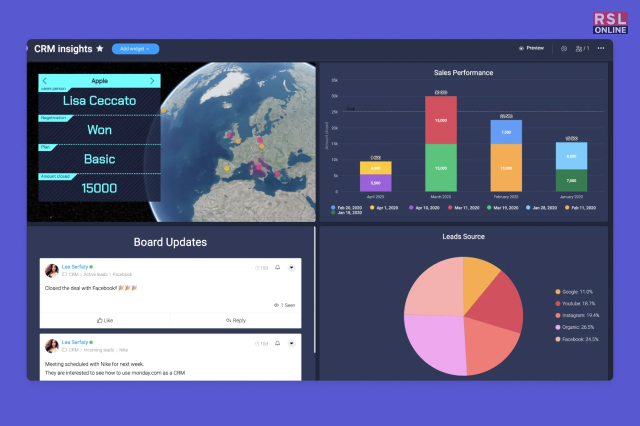 Several features of this platform make it unique. Here are some of them that you must take a look at:
1. Dashboard
One of the best dashboards you will see is the Monday CRM dashboard. Dashboards make it possible to establish a single source of truth and keep you informed about what's happening throughout your entire organization. Ensure everyone is on the same page to increase visibility and team alignment.
With their high-quality and user-friendly layout, bespoke dashboards make it simple to assess your data and make strategic decisions. Get a high-level picture of your entire organization by running reports, making summaries, tracking progress, and more.
2. Integrations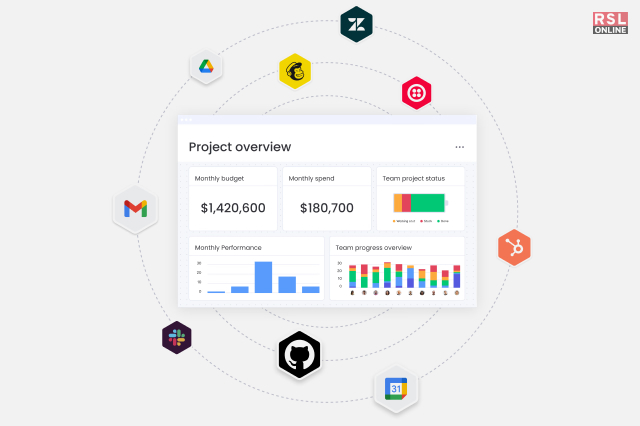 To better corporate organization and team alignment, keep all of your data on the Monday platform. Make sure nothing slips through the cracks and refrain from juggling unconnected apps. No code is necessary to set up any Monday integration; it only takes a few clicks. This makes it possible for you and your team to easily incorporate your preferred tools without interfering with your work.
3. Automation
Automation is one of the most crucial components of any CRM. These programs are becoming more and more well-liked for this reason. You can instantly send emails when due dates approach and get real-time updates when tasks are finished with the aid of Monday CRM, keeping your team on the same page. Leave rote tasks behind. By putting up configurable automation in a matter of minutes, you may avoid pointless meetings, protracted email chains, and more.
4. Gantt
Reports and analysis can benefit greatly from charts. For this reason, Monday gives you a Gantt chart. With the help of the program, you are able to "plan, execute, and track your projects using a visual and flexible platform." With Gantt, you'll never miss a deadline.
To make sure everything is finished on schedule, you can easily visualize crucial dates, milestones, and define dependencies for your projects. The nice thing is that you can import the data you've collected as well. You can quickly convert outdated spreadsheets into smart boards that you may use to visualize Gantt charts. Put your work in context and easily communicate with your colleagues.
5. Kanban
If you are looking for software to help you handle any workflow, Monday has you covered. Kanban provides ready-to-use templates that help your team quickly get everything in place. Kanban is a visual method for managing and monitoring work as it progresses through a process.
It is especially helpful for businesses where managers handle a lot of deals. An employee can always know which clients to contact, deliver to, or send an invoice using Kanban.
6. Docs
One of the best parts of Monday is the fact that they try to keep it simple and effective. And that is why they have Monday Workdocs. With the help of this, you can connect, collaborate, and execute several ideas and workflows without going anywhere.
Live collaboration will enable you to utilize the full strength of the team. You will be able to give your documents and files life while automatically syncing them as you work thanks to real-life components.
7. Files
You can quickly organize and exchange files, finish assets more quickly, and create fluid, effective workflows with the aid of Files. To reduce feedback loops, collaborate and communicate directly on your files. With transparent status updates and intelligent notifications, you can stop the back and forth.
It's possible to "store, organize, and manage your team's assets on one centralized platform and instantly find what you need." From your computer, Google Drive, Dropbox, Box, or OneDrive, upload files in any format.
8. Forms
Want to design forms for your consumers and clients? In any case, Monday CRM will be able to assist you with this. To create customized forms for your company, use Monday.com's no-code form builder. After that, you may quickly share the URL with any stakeholders or on your website.
Set up automatic processes to forward requests to the appropriate parties, alert team members when a project is completed, or notify clients when their projects are finished. Use conditional logic to ask the appropriate follow-up questions to cut down on back and forth. Get the knowledge you require to perform more efficiently.
What Makes Monday CRM Better Than Other CRM Software?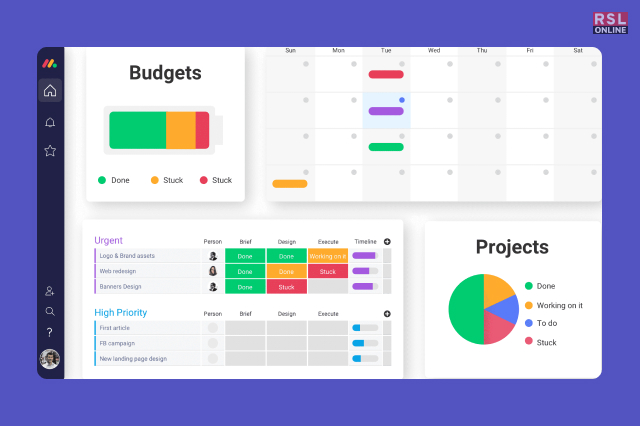 You may create a thorough and effortless sales cycle by using Monday sales CRM to streamline sales activities from pre-sales to post-sales.
This CRM program differs from others because to a few important features:
With configurable column kinds, in-depth subitems, customized views, powerful sorting features, and more, businesses may totally personalize the platform's appearance and feel.
Processes are powered by extensive automation, which minimizes time lost to manual labor and frees up time for additional relationship-building and sales.
For in-depth and useful insights, comprehensive data visualization also includes real-time reports and analytics utilizing prebuilt dashboards and widgets. This also has capabilities for headcount planning, a Kanban view, a timeline view, and Gannt charts.
With the platform's straightforward, visual, and user-friendly interface, even non-technical users can get started and create their own workflows.
Monday CRM Pricing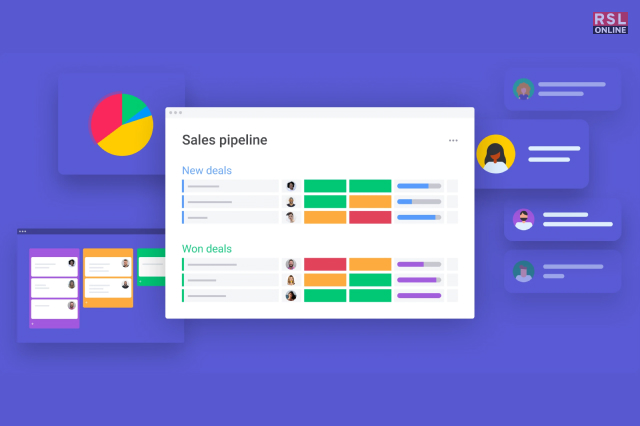 At the beginning of this blog, I mentioned how the Monday CRM is an affordable option for many small businesses. Coming back to the point— so what is the pricing of this software like?
Four paid options are available for Monday sales CRM: Basic, Standard, Pro, and Enterprise. Monthly seat costs range from $10 to $24 with an annual plan.
Students and charity organizations may be eligible for free or discounted access, while annual subscribers can save up to 18 percent. Customers should take note of the average plans' total monthly cost with three-seat minimums.
For the Enterprise plan's pricing, you must get in touch with the organization; nonetheless, this is typical for the top-tier plans. For a customized estimate, interested companies should get in touch with the Monday.com sales team.
Well, here is a chart that details everything that you might want to know related to the pricing of the software:
Plan
Feature
Price
Basic
1. Unlimited, customizable pipelines
2. Unlimited contacts
3. Unlimited boards
4. Templates for lead, contact & deal management
5. iOS & Android apps
6. Unlimited free viewers 7. Create a dashboard based on 1 board
$10
Standard
1. Advanced account, contact, & deal management
2. 2-way email integration with Gmail and Outlook
3. Activity management
4. Quotes & invoices
5. Merge duplicate data
6. Custom CRM automation (250 actions per month)
7. Custom CRM integrations (250 actions per month)
8. Create a dashboard that combines 5 boards
$14
Pro
1. Sales forecasting
2. Email templates with custom parameters
3. Email tracking & automation
4. Mass emails
5. Google Calendar sync
6. Sales analytics
7. Customizable email signatures
8. Custom CRM automation (25,000 actions per month)
9. Custom CRM integrations (25,000 actions per month)
10. Create a dashboard that combines 10 boards
$24
Enterprise
1. Lead scoring
2. Team goals
3. Advanced analytics (dashboards up to 50 boards)
4. Account management
5. Documents for sales
6. Enterprise-scale automation & integrations
7. Enterprise-grade security & governance
8. Multi-level permissions
9. HIPAA Compliance
Custom
Wrapping It Up!
In case you were searching for information related to CRM Software Monday, I hope that this article has been of help to you. If there are any other queries related to the same, please let me know. All you need to do is scroll down until you reach the bottom of the page. Then leave your comments and queries in the box below. And I will be there to answer them all for you!
Read Also: