Are you ready to get into your next home?
Not yet; there are various things to consider apart from finalizing your new home. We know that you and especially your family members are too excited about your new home.
The process of shifting from one house to another is not as easy as everyone thinks. In this busy world, getting time to pack and move is very hard. We do not even get the time to do our daily work at night due to our tight schedules and busy life.
In between these, moving to a new home is a new headache. Yes, there are excitements forming in the little members of your family as the days of shifting are coming to an edge. Now, are you ready to move your expensive and heavy goods on your own within one day?
Steps To Choosing The Right Movers
This is not just moving your things but packing the things scattered in the entire home. So, it's not the only day job to clear, and thus your family members, including you, need to start packing things on your own as much as you can.
But what about the heavy things? Will a random taxi driver accept your proposal to pick up and move those to a new house?
It's the work of the movers and packers that works as an organization in your locality. You will find the best movers in San Francisco if you randomly search on google. But there are a few things to consider to understand who is right for you.
1. Check The License
It is very crucial to ensure that the moving company that you hire is licensed properly, and that will increase the chances of reducing obstacles with the government. There are various rules and regulations available to ensure interstate shifting and local shifting.
If you want to move to the locality, call the state moving association to ensure the license requirements. Do not procrastinate on things, and make sure that your mover is loyal enough to show you the proper license and other documents. Similarly, if you want to know how to move to Scotland, Ireland, Finland, or Sweden from the US, you need to do a bit more research about the international moving company, especially its credentials like license number, registration, and accreditations, apart from its reputation among customers that have used its services.
2. Go Local
It's always better to go for the local movers than using the fancy international services. It's about taking care of your things and giving you the comfort that you want with your whole moving process.
Now, if you are moving locally, you will want someone who knows things better than you. For instance, the roads, people, and police as well. The mover company has its own bonding with government employees, like the police, because it is their daily dealings.
So it's always better to go with the local mover as they are more friendly and cost-effective as well. Your goods will sometimes be managed more than you have paid if you create a good relationship with the mover.
3. Find Out The Right Aspects Of Your Mover
Before you choose the perfect mover, it's always advisable to do some primary research on your selected mover. Who can say that you might find some exclusive reason to remove the choosable contract with your mover?
It's all about safety and convenience. And when you have no time to look after you will have to find an efficient one who will keep both your good and family safe. Do not just depend on the website of a mover. Rather, find out the customer reviews and dig into the areas to explore the truth.
4. Keep Your Insurance Ready
If you are not capable of keeping your things safe, consider working with professional moving companies. Your mover is liable to keep your belongings safe and secure. Where there is a liability, there is insurance to follow. The level of insurance is not single or easy to understand.
So it's better for you to check for it with federal law. For instance, your mover will give you two types of insurance in general, and those are "released value" and "full value protection."
Full value protection is expensive, but it will protect your goods as the mover will be liable to return new things if a good gets damaged. On the other hand, the release value will give you 60 cents for every pound.
5. Sign The Contracts
It is very important for you to count and ensure that every belonging is present in the new house. For instance, if you have not calculated and later you see that you are short of one of two important belongings, then you will not be able to argue with the mover because you do not have any proper proof.
On the other hand, if you make sure that you are putting things by taking note of them, your mover will not be able to play any trick. The Federal Motor Carrier Safety Administration suggests finding out the mover who clearly describes the charges in advance and gives you written details of all your belongings.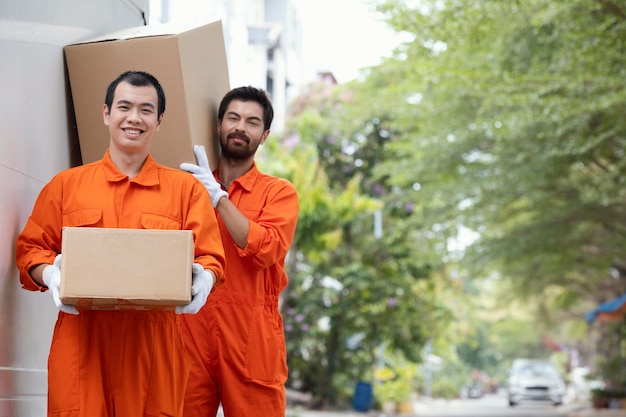 Do Not Forget To Ask Questions.
If you have confusions with the mover's policy, do not hesitate to ask questions directly. You are not getting any free service but paying for your work to be done properly. So, make sure that you understand their policies and, according to that, ensure the perfect mover.
It's time to move to your next destination with the perfect mover.
Additionals: