Creative Design Agencies: Types and Benefits

Digital media is evolving, and more creatives pursue their passion. Most organizations are looking for authentic, out-of-the-box product designs. That is why many creative agencies are cropping up in the market, ready to meet the demand.
Most people often think that a creative agency deals with graphic design services. Still, it is typically a company that provides many services like design, advertising, consulting, and printing. Today, you can find a creative agency like a UX design company, a branding services provider, etc.
If you are new to the creative field, it is essential to understand the setup of creative agencies and their benefits. This article discusses the types and the significance of these organizations.
What Is a Creative Design Agency?
A creative agency is a company that provides a wide array of services to business owners. The primary purpose of such agencies is to provide creative solutions. Apart from designs, you can get other services like advertising, printing, consultations, PR, etc.
Understanding an agency's structure will help you know the type of services offered and how they may impact your business.
Types of Creative Agencies 
As mentioned above, the creative agency is a blanket term used to describe several services you can get from creative companies. Let us explore the categories of these agencies.
1. Advertising
If you want your business to take off and become stable, advertising should be top on your list. Creative agencies offer customers advertising packages to clients depending on what they want to accomplish for their business. Besides developing promotional materials, the firms also offer market research services to evaluate current trends. You can also get experts willing to help you create branding strategies to enhance your business. In addition, such agencies will design adverts and place them for you in your desired destination – radio, TV, newspaper, magazine, or social media.
Credit: Unsplash
2. Digital
As the name suggests, the agencies offer services in the digital space. These experts design and develop web products used on digital devices. It could be creating ads posted on social media, mobile apps, or SEO services. The agencies also offer website analytics for various online promotions to gauge your business performance. Other services include app development and technology-supported advertising signage, usually with animated graphics.
3. Design 
Branding and product design enhance brand identity. Agencies that focus on design ensure your business has top-notch branded product designs. The designers work on attractive products and services that stand out from the competition. Design agencies develop electronic advertising material such as e-magazines and websites. The firm also designs and prints fliers, posters, catalogs, and the like.
4. Interactive
When it comes to interactive agencies, you can think of modern technology-driven services. These agencies focus on developing engaging and innovative, sustainable products using advanced technology. Their services include developing interactive websites and mobile apps with interesting games. You can also get AI-powered billboards and high-tech product launches and presentations to entice customers.
5 . Consulting 
Some creative agencies offer consulting services, apart from branding and advertising. Experts advise business owners on the best strategies for effective marketing and customer retention. Such agencies also help in managing businesses and implementing proper policies.
Moreover, you will get genuine insights into exploring new markets and ways to increase profits and lessen overheads. Consulting agencies also offer expertise on effective product launches and instruct clients on how to improve business operations.
Benefits of Creative Agencies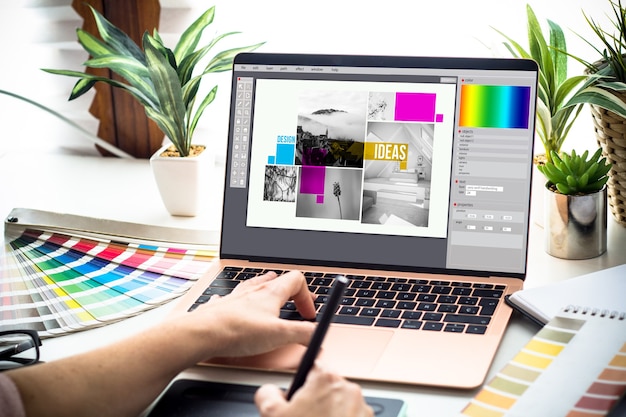 Now that you know the types of creative design agencies, let us explore their benefits to understand why you need to seek their services.
Access to Talented Professionals
A design agency has a pool of talented individuals working towards a common goal. The firm hires people with expertise and experience in the design field. Moreover, these professionals are creative and committed to ensuring you get the best results for your business. You can be sure of getting top-tier solutions tailored to your business landscape, budget, and strategy.
Time and Resource Savings
Outsourcing to a design agency is much cheaper than setting up an in-house design team. You will spend time, effort, and money hiring, onboarding, and training the team to work as you desire. Why not contact a reliable agency instead? You will save a lot of time and resources that you can put into other projects.
Timely Project Deliveries 
Who wants the stress and frustration of project delays? When you work with experts from a reputable agency, you will no longer worry about project deadlines. The professionals deliver each assignment on time without annoying excuses. Thus, you can rely on design agencies for fast deliveries, resulting in greater customer satisfaction.
Cost-Effectiveness  
Hiring an agency allows you to access the entire design team. You will have different experts to help you complete various project tasks. Thus, it is cost-effective because the agency will give you a flat hourly rate per project.
This arrangement is quite reasonable compared to paying a full-time expert. Besides, such agencies are flexible when it comes to budgeted projects, ensuring you get the best deal within the set budget.
Improved User Engagement
When you work with agency experts, you can be sure of getting exceptional designs that are consistent and eye-catching. Thus, users will trust your brand and have confidence in your services. This leads to improved customer engagement and high conversion rates.
So, do not think twice when you need to outsource creative services. It's always better to have a separate expert working on design instead of tasking an in-house employee with these responsibilities. An outsider can take a step aside and find a new design perspective for your business. Thus, it is worth every coin you invest because you will see the returns.
Get Creative!
Creative design agencies will transform your business, taking it to the next level. Most startups fail because of poor advertising strategies and amateur branding. In this digital age, you need to create an online presence with appealing web products for your business. Apart from enticing users, you will make a unique brand statement and gain loyal customers.
Hiring an agency is the best solution to strengthening your brand identity in a competitive industry. So, identify the service you need and contact an expert to help you propel your business.
Read Also:
Sumona
Sumona is the publisher for RSLOnline. Besides her professional commitments, she is also used to spending time sharing sentient blogs regarding topics like Technology, Business, fashion, fitness, and more. Follow more of her contributions in SmartBusinessDaily and FollowtheFashion