Interior Decor Tips: Top Wall Art Styles And Designs To Consider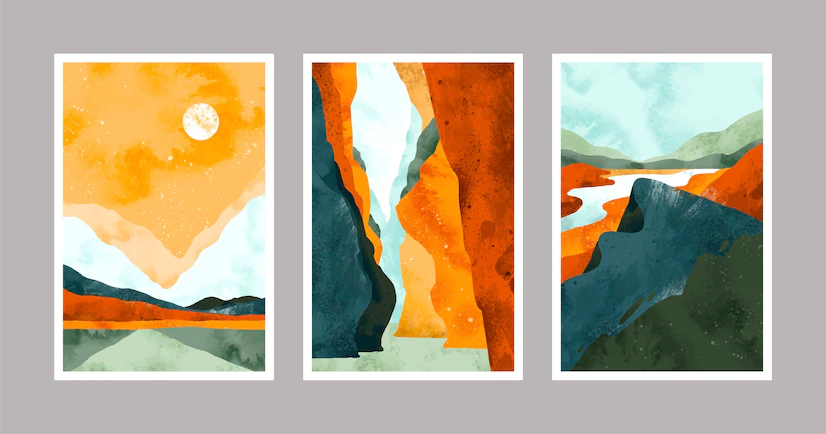 Many people do not consider wall art when it comes to creating a beautiful interior. But, wall art can instantly change the look you're your room within budget.
So, when you are planning to redesign your rooms, then do not forget to install trending wall prints. When chosen thoughtfully, the canvas wall art can provide for the entire bedroom or living room. In this post, you can learn about the various wall art styles and designs to select for your home.
Take a look!
1. Framed and Unframed Wall Arts
When we talk about wall art, there are two famous styles – framed and unframed wall art. The best part is that this type of artwork looks great in both small and big houses.
Framed artwork reflects the industrial style look, and unframed wall art is famous for its naked and unfinished look.
If your home feature a Scandinavian interior, the unfarmed wall prints can look good in your room. Also, you can create a gallery wall with colorful frames to bring shades to all-white walls.
On the other hand, if you love an industrial look, then framed wall art is the best option. You can choose the frame size according to your wall size where you wish to hang the wall art.
2. Floral and Botanical Wall Prints
To bring freshness and energy to rooms, botanical and floral wall art is the best choice. You can express your love for green plants through wall art in rooms.
Also, a gallery wall with different styles of flowers like rose, lily, and lavender prints looks great. For people who love lavender, a lavender wall art collection at ElephanStock is the best option choose artwork.
You can showcase your love for favorite flowers on walls and can impress the guests with your style statement. No matter your preference, the floral decor is a trend that's here to stay.
They are just as beautiful in a bouquet as they are individual. Display a rose print in your home to encourage a loving space.
3. Bohemian Style Wall Art
If you love peaceful and calming interiors, then go for bohemian-style wall art. This type of décor reflects a laid-back lifestyle and a great appreciation for nature. Moreover, boho art is also about expressing yourself and your feelings.
For lovers of art and music, boho-style wall prints are the best choices to decorate the home. Whether you have built a new home or want to decorate an old house, Boho art prints are for you.
4. Contemporary Prints
If you are fond of modern interiors, then contemporary style is something that you will love. Decorate your modern home with contemporary style wall arts to bring a new life to your interior.
Contemporary Art is an art of thoughts, and it has nothing to do with time and age. It simply shows off the aesthetics of time and looks great in every interior style. You can choose colorful or black and white contemporary prints to update your home.
5. Trending Canvas Wall Art
If your living room walls are feelin' lonely, then add canvas prints to make them feel filled and attractive.
Canvas prints are in trend and can amplify the beauty of any room in minutes. These types of wall arts add an amazing character to your home.
Also, the fabric of canvas prints gives a luxurious touch to your room and adds its beauty many times. Also, you can get your favorite photo converted into canvas prints to decorate the walls in a unique way.
Final Words
The wall arts are one the best ways to update the decor of your home. When talking about styles, the wall prints come in various shapes, sizes, and styles that you can choose for your home. Get one now and update your interior!
Read Also:
Arnab Dey
Arnab is a passionate blogger. He shares sentient blogs on topics like current affairs, business, lifestyle, health, etc. If you want to read refulgent blogs so please follow RSL Online.