It's hard to imagine a house or apartment without a dresser. Usually, it's a heavy, bulky thing that is difficult to move with your own efforts. Furniture items often don't pass through the apertures of doors, stairs, and elevators.
In these cases, it's necessary to prepare them properly, and house moving service providers know how to do it safely. If the design of the dresser provides non-removable fasteners, then you can damage the furniture during disassembly.
How To Prepare A Dresser For Transportation
Before moving a drawer, prepare it for transportation. First, it's necessary to inspect and find out what parts of it need to be removed. Small-sized furniture is desirable to transport without disassembly.
Consider the following:
Old furniture that has been disassembled many times and transported from place to place can simply break during transportation. Disassemble and reassemble it carefully. In this case, it's better to contact the specialist.
Chipboard furniture isn't designed for repeated "assembly-disassembly," so dismantle only those elements that interfere with transportation.
Drawers from MDF are more durable because, in the places of connections, there are fasteners made of plastic that are mounted "intentionally." This protects the furniture from damage during installation. Regardless of whether you decide to disassemble the furniture or not.
You need to do the following:
Remove all items from drawers and shelves;
Nested shelves should be removed; to maintain the rigidity of the structure, it's not recommended to pull out the drawers;
Number the elements with a simple pencil or chalk for convenience in the subsequent assembly;
Remove all protruding parts (handles, hooks, or latches), pack them, and sign;
Doors without glass and mirror inserts shouldn't be removed;
Fix doors and drawers with painter's tape (it isn't recommended to use ordinary scotch tape, as it leaves marks and can damage the cladding);
Pack the doors with glass and mirror elements separately and sign them.
An old dresser is much heavier than modern closets, and it's highly doubtful that it will withstand "assembly-disassembly". That's why you shouldn't puzzle over how to move such a closet. You'll have to part with it.
Dressers made of natural wood should be transported carefully, so it's better to dismantle as few elements as possible. The price of such furniture is high, and it will be unpleasant if it's broken. To move such items, it's desirable to invite professional movers.
Transportation Of A Dresser Without Disassembly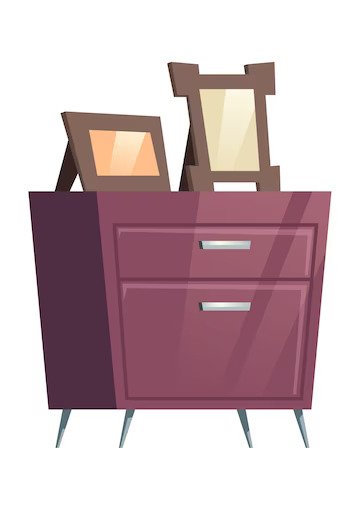 That's possible, but not in all cases. Without preliminary disassembly, you can transport items with small dimensions (height less than 2 m) and low weight, especially if they are made of chipboard (such furniture isn't intended for re-assembly). It's also better to transport single-leaf and children's models, as well as narrow pencil cases in one piece.
Such furniture can easily be carried out of the apartment and even down the stairs. Furthermore, there are usually no problems with fixing the parts in the car body.
Before moving, remove all items from the closet and pull out the shelves. It's also desirable to remove mirrors and glass, as well as handles and protruding hardware. Fix the doors and drawers with painter's tape.
Rules For Loading A Dresser Into A Car
The last stage is loading the dresser into the car and transporting it to a new place. For this purpose, it's better to hire a van. For the sake of economy, sometimes they transport furniture in the trailer of a passenger car. But in such cases, it can suffer from moisture, sunlight, and low temperature. Moreover, it's difficult to securely fasten it in the trailer.
It's easier to carry bulky parts with two people. Use rigging straps to make your work easier. First, put the wooden parts in the body, then put them on cardboard. It's necessary to sort the parts by size — then it's easier to fix them in the body.
Load mirrors and glass after loading all other parts. Find the safest place in the van for these items so that they are isolated from other closet items.
Furniture vans have fastening equipment, with the help of which the cargo is securely fixed so that it can be transported without damage. At first glance, it seems simple enough, but loading and unloading requires some skill and strength. The cargo needs to be immobilized so that driving on rough roads won't harm it. So, when figuring out how to move a closet, assess the risk before saving money on movers.
Related: 7 Packing Tips To Follow When Moving To Another Home
How To Reassemble A Dresser After Transportation
Even before you move the furnishings, determine in which place in the new apartment the closet will be installed. Such furniture is most often custom-made with the expectation that it will occupy a specific place or niche. Therefore, measure the closet to be sure that it will fit another space.
Don't be in a hurry to throw away the technical diagram of the sample if you still have it. It will come in handy when you decide to move the cabinet to another place of residence. It's much easier to assemble disassembled furniture according to the diagram.
If there is no scheme, don't be upset: you can invite a professional. Cargo movers know how to move a closet, disassemble, and reassemble it without breaking or scratching it. Consider that you've freed up two precious days that you shouldn't have spent disassembling and reassembling your dresser.
Wrapping It Up
Out of all the furniture present in our abode, the dresser is surely the most desirable one. One doesn't want to ruin it- at least for moving purposes. 
So, in order to keep your dresser safe from potential damage, you must adhere to the aforementioned tips. Also, your moving agency must help you out with the right set of tools and equipment that ensures the security of your belongings. 
With this, I rest my words on this comprehensive guide. Did you like it? If yes, don't forget to comment below and let us know your thoughts on this.
Read Also: