Adobe Photoshop – Best Review By Users In 2022

Editing your images might be the best thing that you can do in your spare time to impress your followers on Instagram. After all, who doesn't like to look like the most beautiful version of themselves on social media?
If you have ever been interested in editing your photos and creating illustrations and graphics, you must have heard about Adobe Photoshop. This software has been around for a long time and has paved the way for the next generation of graphic designers.
But how exactly does it work, and how good is it? Find out now by reading this review of Adobe Photoshop!
What Is Adobe Photoshop?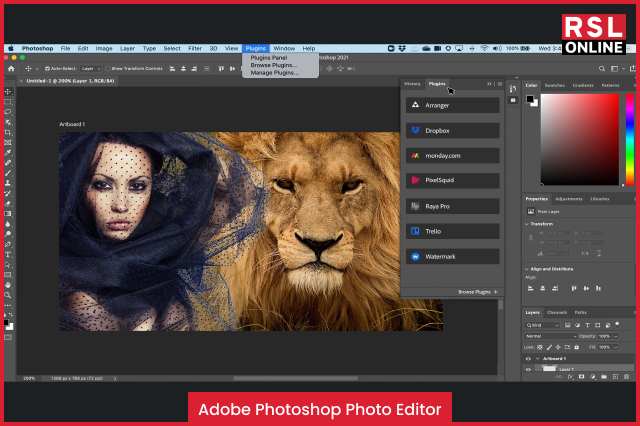 Adobe Photoshop is a graphic designing tool made by Adobe and was first launched way back in 1990. Over time, it received thousands of updates, which added features like manipulating images to a great extent.
Graphic design professionals mainly use Adobe Photoshop to create fantastic artwork and images. These include posters, package designs, video thumbnails, logos, and more. In addition, Photoshop is widely used in the professional field for manipulating images and graphics, creating graphic designs for clients and content creators.
Adobe Photoshop Express for mobile devices also has various tools that help designers with their work. These include the selection tool that allows users to select and cut a portion of the image, allowing you to paste it on another image.
Main Features Of Adobe Photoshop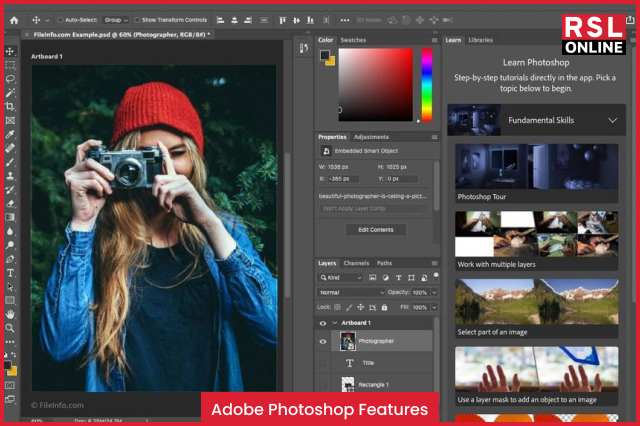 The main features of Adobe Photoshop are:
1. Layering
Layering is one of the essential features of Adobe. Layering will allow you to create various layers within the project you are working on. Then, you can input different texts and images in each of these layers and make them stack on top of each other.
2. Masking
Masking is the ability of Photoshop to remove certain aspects of an image so that the picture below this layer gets shown on the final layer. We know this is difficult to explain using mere words. This simply lets you blend two images and make them seamless.
For example, one image can be a road in a jungle. The second image is of you standing in your room, faced away from the camera. By placing these two images in two different layers, you can create amazing images using your imagination.
Continuing this example, you can place the image of the jungle in the layer below your photo. Then, you can use the masking tool to make the final layer look like you are walking in the jungle. We know it sounds crazy, but this is just a fundamental feature of Photoshop.
3. Color Manipulation
When discussing graphic designing tools, color manipulation is one of the essential features. This allows you to change the color of any object in Photoshop.
For example, there is a picture of a red Lamborghini. Don't like the color? Then, simply use the tools of Photoshop and change the color to anything you want – yellow, green, blue – the colors are limitless.
You can also change the color of your photos. By making yourself have blue skin or even green. If you want to look like an alien or even the Hulk, you can use this application.
4. Brush And Paint
Apart from Photo manipulation, you can also create your artwork using Photoshop. You can use the brush tool to draw anything you want on the black canvas. You have the option to change the size and opacity of the brush so that you can customize the size of the strokes, along with its color.
5. Object Selection
Object selection is another excellent tool that Adobe Photoshop Elements is famed for, like masking and layering. With this tool, you can cut portions of one image and paste it over another.
For example, you can select the outline in your picture and then cut it and paste it into another image of a car. Now, it will look like you are sitting inside a vehicle.
You can cut any part of any image and put it in another. For example, this is how movie posters are made, where all the actors and actresses are shown in a single frame.
6. Typography
With the text tool of Photoshop, you can add text to any image that you want. This is useful for creating corporate graphics like posters, infographics, social media posts, and lots more. Teenagers these days have learned how to use this tool and create all; the memes that you see every day.
Pros Of Adobe Photoshop
The main benefits of Adobe Photoshop are:
1. Lots Of Tools – Lots Of Possibilities
With so many Photoshop tools and editing features, the possibility of creating engaging artworks is nigh limitless. But, of course, the more creative you are, the better your paintings and designs will be.
All you need is a creative sense of freedom and experience using this application's tools in various ways. Unfortunately, the number of devices of this application is staggeringly high, even more so than Fotor Photo Editor and Inkscape.
2. Slick User Interface
The user interface is pretty intuitive since it easily supports so many tools simultaneously. In addition, each application tool has keyboard shortcuts that you can memorize to make your workflow faster and smoother.
This makes it easier for beginners to find which tool icon is where on the screen and shortcuts for them.
3. Integration With Other Adobe CC Applications
You can import your Photoshop project into other Adobe CC applications and vice versa in real-time. For example, you can use Adobe Illustrator to draw excellent illustrations, edit them with Photoshop and Adobe Lightroom and add texts. You can follow this by using the image in a video edit in Adobe Premiere Pro and creating animated logos using Adobe After Effects.
Cons Of Adobe Photoshop
The few drawbacks of Adobe Photoshop are:
1. Steep Learning Curve
Since Photoshop has so many tools in its arsenal as the best photo editor, it is pretty intimidating for newcomers to understand each tool and learn its applications in a quick time. While you can learn Photoshop on your own, it's best to do a course on Photoshop and other Adobe CC applications if you want to pursue graphic designing and content creation professionally.
2. Expensive Subscription Plans
All Adobe Creative Suite applications are pretty expensive. For example, how much is Adobe Photoshop? Adobe Photoshop will cost around $9.99 per month to use the legal license version. This has been one of the main reasons people prefer pirating a cracked version.
Frequently Asked Questions (FAQs):
Q1. Is Adobe Photoshop Free Forever?
No, Adobe Photoshop Free is not accurate.
Q2. Is Adobe Photoshop Online Free?
No, it is not free. You need to pay a monthly subscription fee to use the application.
Q3. Can I Use Photoshop Without Subscription?
No, you legally cannot use Photoshop without a subscription.
Q4. What Is Similar To Photoshop But Free?
A free similar app like Photoshop we would recommend would be:
Conclusion
If you want to become a graphic designer, then Adobe Photoshop is one of the best software that you need to own right now. With loads of features to manipulate images like object selection, layering, masking, and typography, this application is loaded with tons of features that allow you to create creative artwork and designs.
We highly recommend this application for professionals and personal use. However, keep an eye out for its steep learning curve and high price.
Read Also:
Debamalya Mukherjee
Suchisman Chakraborty is a passionate blogger having a career of four years. He is also a travel enthusiast. He loves writing blogs on niches like travel, lifestyle, entertainment and many others. Moreover, he keeps interest in global folk and country music as a musician.