Corel Paintshop pro, if I call it a cheaper alternative to Adobe Photoshop, it would be an understatement. But, it does more and offers more than just being an alternative. You may be annoyed to pay a monthly tribute to Photoshop. But, with the Corel Paintshop app, you don't have to pay every month.
On the Paintshop pro, You can do almost every task you do in Photoshop. For example, editing both vector and raster images, which you need two of the cloud apps of adobe to do, you can do on Corel Paintshop pro.
However, you will miss some of the industry-leading features of Photoshop, like the 3d modeling, face liquify, and detailed typography. But, you can do almost all the other editing jobs on the Paintshop pro of Corel.
There are other alternatives, like affinity photo, Gimp, Photo Director, and Adobe's Lightroom. But, Paintshop Pro remains a competitive alternative to Photoshop. Indeed, the reason does lie in its price, while the features live up to expectations.
Corel; Has launched four products in 2022. Here are the latest products: Paintshop Pro, Paintshop Pro Ultimate, Paintshop Photo Video Bundle Ultimate.
So, if you are looking for more than a Photoshop alternative and if you are tired of paying a monthly tribute to the premium features of Photoshop, you can use Paintshop pro. However, if you have any queries, the following brief review of Corel PaintShop pro will guide you.
Corel Paintshop Pro System Requirements
It would help if you had a minimum hardware setup as mentioned below-
Windows 10/ 11 (64 Bits) 

Intel i5 or AMD Ryzen 5.

4 GB minimum RAM ( I recommend 8 GB)

3 GB free hard disk space. 

Minimum 1366 x 768 display resolution.
Corel Paintshop Pro 2022: What's New
Frame Tool:

The new frame tool offers various frames that offer good quality editing outputs.

AI Background Replacements:  T

he immersive AI technology allows you to erase image backgrounds automatically. Erasing the image background opens vast opportunities for editing before you.

AI Portrait Mode:

Now, you can edit stunning portrait shots using the Corel Paintshop pro tool. The portrait mode allows you to add bokeh and blur effects to your portraits.

Enhanced AI Style Transfer:

 This new effect will help you stylize your images just the way you want them. The smooth image and color match sliders will help you create exotic styles in photos.

Latest File Support:

  You can edit high-efficiency image files taken on iPhone. Edit HEIC and HIF files using Corel PaintShop pro's latest file support features.

Welcome Screen Experience:

There are new and intuitive workspace tabs and tools to help you navigate and work faster. There are also tutorials built-in to help you work better.

New Creative Content: T

here are a bunch of gradients, color pallets, and brushes to satisfy your creative persona.
Corel Paintshop Pro 2022 Features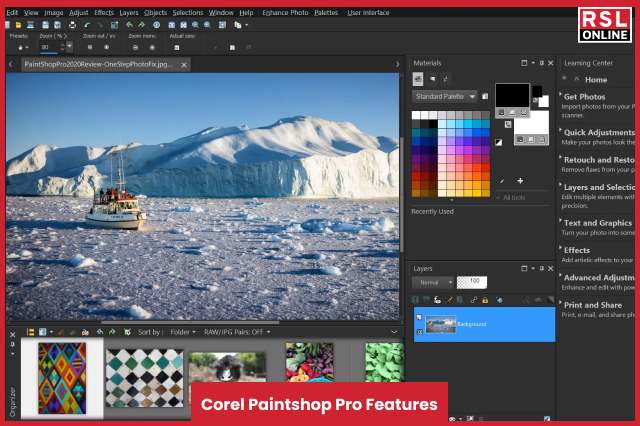 Corel Paintshop offers all the basic editing tools while also offering some of the most premium editing features available in all the other editing software. Compared to the Corel PaintShop Pro 2021, the latest version has improved.
Basic Tools
This editing tool offers you all the basic editing tools like cropping, resizing, and inverting images. You can resize an image by its pixels, print sizes, and percentages. Photo corrections and scratch removers are also among them.
Photo Adjustment Tools
All types of adjustment tools of Corel Paintshop pro give your photo a balanced color and light. You get –
Brightness and Contrast

White Balance

Hue and Saturation

Fill Light and Clarity 

Fade Correction 

Noise Removal

Vibrancy
Selection & Correction Tools
All the known tools for photo selection and correction are available on the PaintShop tool.
Correct distortions

Chromatic aberrations

Straightening tools

Lens correction tools

Perspective correction
These are some of the correction features you get on PaintShop Pro.
HDR And 360 Degree Camera
Pay attention to all the details of your photo using the HDR photo editing feature of the Paintshop pro app. You can create a stunning HDR photo combining several photos of the same scene. This app also allows you to edit photos taken by a 360-degree camera.
Corel Paintshop Pro Pros & Cons
There are many merits to using the Corel Paintshop pro tool. But, also, there are some downsides as well. Whether to use it or not, you can base that upon the pros and cons of Corel Paintshop pro. Here are the various pros and cons of the Paintshop pro.
Pros
Features similar to photoshop at a lower price.

The tutorials and user supports are abundantly available.

The editing tools and effects are powerful.

Vector drawing tools are amazing.

Automatic noise removing tools.

AI powers the editing features.
Cons
Mac users may be disappointed as there is no version for the mac users.

The interface is inconsistent.

The performance is not as smooth as photoshop.
Corel Paintshop Pro Price
If you want to buy the Corel Paintshop pro, I recommend you go for the 2022 version instead of the Corel Paintshop 2020 or the 2021 version. The latest version is indeed an upgrade over the previous versions.
You can buy the monthly paid version, where you have to pay $7.99 every month. You will get all the updates. However, there will be no cloud storage. But I will suggest you go for the one-time purchase version, where you get all the premium features unlocked for the price of $79.99.
Corel Paintshop Pro Review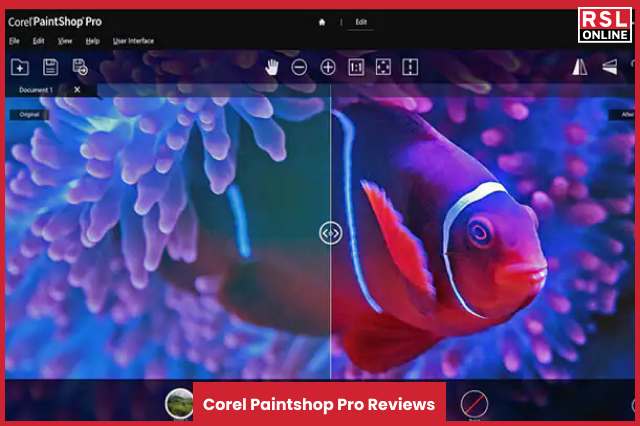 The latest version of the Corel Paintshop pro comes with some of the latest intuitive features. In addition, the integration of AI and machine learning has made the user experience and the workflow much better than the previous versions. Now, the ultimate version is also much better than the Corel PaintShop pro-2021 ultimate.
However, if you have used photoshop before, you may not like it too much. The app kind of feels sluggish at times. According to some users, it is not as smooth as photoshop and some other editing apps. However, if you are a beginner and looking for a photoshop alternative, it will satisfy you given the price.
Bottom Line
Beginner designers and artists may feel lost within all the high-profile features of photoshop. That is why the alternatives, simple yet intuitive, are helpful for them to get started. Corel PaintShop Pro offers most of the alternative options to photoshop; in doing so, it remains a favorite among beginners.
If you want to check other apps of Corel, you can try Corel Paintshop pro x9. I hope you liked the info I have offered here.
Read Also: