Recently I have been seeing that people from all corners of social media are recommending dime beauty. And watching so many different dime beauty reviews have made me write about this subject. Also, there have been so many questions that people are asking throughout the internet.
So, if you are thinking of using dime beauty products, then this article is for you. I hope after going through this article, you can decide whether to use these products or not. At last, I will give my review so that you can gain knowledge about this brand. Let's come to the topic of dime beauty.
Dime Beauty
Baylee and Ryan Relf, the husband and wife team, started this company. Baylee was the one who found the need for skincare products in the market. Most of the skincare products in the market are either toxic or not clean enough. Also, most of the skincare products in the market do not target women of all ages. So, the couple started this skincare company that will provide beauty products for everyone.
After she became curious, she wanted to explore skincare products, and her research took her to the next level. She wanted to become an expert, so he started to go to school and soon became an esthetician master. While she was studying in her school, she made it clear that our skins need different things at different points in our life. 
After that, Ryan got a job in the beauty and skincare industry. Where his role was product development specialist. So, Ryan had skills, and Baylee had knowledge. So, they started to plan a brand that would create skincare beauty products. And their goals were to create clean and affordable products for all different age groups. 
Is Dime Beauty Really Clean?
It is the fault of the consumers who think that a brand tells the truth all the time. In this case, the brand says that they make clean products. But you should check all the ingredients and certifications. One of the good things about this brand is that its products are both cruelty-free and vegan.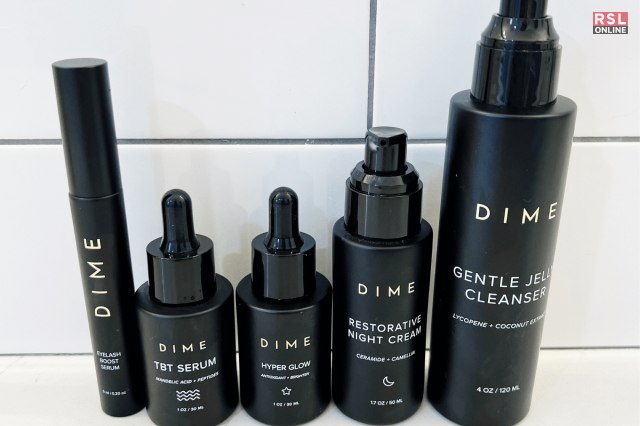 However, there are some ingredients that are really good. The dime cosmetics and dime beauty eyelash serum are really doing great recently. But after reviewing, I have found two ingredients that can have bad effects. Also, the brand has accepted that they have been using these two products and is unable to find an alternative.
Read Also: Seint Makeup Reviews 2022 – Is It Worth To Buy?
Phenoxyethanol
This is a preservative that is used in beauty products to keep them good for a long time. If a brand is using the product in a small amount, that is not bad at all. But it depends on the percentage and sourcing. Mostly, they use this product not greater than 1%, and it is good for the people who use their products.
But the main question is that does the phenoxyethanol contains 1,4 dioxane or not because this compound is highly carcinogenic. So, the company needs to clear out that if they are successful in finding an alternative to this product or not. If not, then why are they saying that their product is clean?
Soybean Phytosterols
So for your better understanding, this is a kind of moisturizer that dime beauty uses. But a brand that says its products are clean, why it is using a cheap moisturizer in its products? This ingredient can harm estrogenic activity. So, there is no way to use a product that can cause hormone dysfunction. If you have any thyroid issues, then my recommendation would be not to use it.
Elements That Will Not Be Found In Dime Beauty
The brand has confirmed that it doesn't use these elements at all.
1,4- Dioxane
Aminomethyl Propanol
Aluminum Compounds
Animal Musks and Fats
BHA
Benzalkonium Chloride
BHT
Coal Tar
Chemical Sunscreen
Formaldehyde
Ethanolamine
Hydroquinone
Methyl Cellosolve
Mercury Compounds
Methylchloroisothiazolinone 
Nitromusks
Mineral Oil
PFAs
Parabens
Placenta Extract
Phthalates
PEG Compounds
Resorcinol
Polysorbates
SLS
Toluene
Synthetic Flavor or Fragrance
Triclocarban
These are all the elements that harm human skin, and previously different companies used to use these elements. But I would say to focus on the ingredients that the brand uses. Excluding those two ingredients, the selection of the products is quite good.
Read Also: How To Apply Liquid Eyeliner For Beginners?
Frequently Asked Questions (FAQs):
Here are important questions and answers. You will find it interesting.
1. Is Dime Beauty Good For Anti Aging?
Ans: There are such ingredients as rosehip oil, black cumin seed oil, and blue tansy oil. These all are great when it comes to minimizing blemishes. These oils also have anti-inflammatory and anti-aging properties that prevent scarring and redness.
2. What Is The Most Recommended Skincare Brand?
Ans: When it comes to the most recommended skin brands, here are some that you can look into:

• iS CLINICAL
• Aesop
• Ella Bache
• Grown Alchemist
• Augustinus Bader
• The Ordinary
• Rationale
• Kiehl's
• La Roche Posay
• Esmi Skin Minerals
• CeraVe
• The SecretEstee Lauder
• Dr. Dennis Gross
• Tatcha
• Cetaphil
• Avene
• Beaute Pacifique
• Cosemedix
• Dr. Barbara Sturm
• JSHealth
• Emma Lewisham
• SkinCeuticals
3. What Is The Number 1 Dermatologist Recommended Skin Care Brand?
Ans: When it comes to skin care brands, then the best product by dermatologists is Neutrogena. This brand doesn't sell its products at a high price. Rather you can easily afford this and also you will find this product at every drugstore.
Further Words
After reviewing so many consumer stories, I would say that dime beauty products work well. But the prices are quite high. Also, most of the marketing and brand stories consist of hype. So people are talking about the brand everywhere.
So, you are aware of these facts, and if you want to explore and try something new, then fine. But if your existing beauty care product functions well, then there is no need to change that. The dime beauty reviews dermatologist is also not good enough to change your existing brand. But you can use the dime perfume.
If you find this article interesting, please give your valuable feedback in the comment section below.
Thank You.
Read Also: