Cabinets are a focal point in your kitchen. Since they impact your space significantly, ensuring they are good quality and give your kitchen a modernised look is essential. You spend a lot of time in your kitchen, so making it functional and stylish is vital.
Luckily, kitchen cabinets' designs don't fluctuate quickly – many current styles have been trending for a while and don't show signs of waning.
That said, there's a trend you probably didn't see coming – oak cabinets. They have a rustic look that gives French-country vibes and a sense of nostalgia.
If you plan to remodel your kitchen or replace kitchen cabinets, consider this idea: design a modern kitchen with an oak cabinet.
Oak Cabinets Emerging In 2022
This year, homeowners will return to the past's genuine wood. Oak has a subtle elegance because of its design versatility and neutral colour. It works with several kitchen styles, whether rustic or modern, due to its classic and clean look.
More manufacturers will likely produce Oak kitchens cabinet this year. So, if you want to design a modern kitchen, there will be plenty of options to choose from! You can keep the cabinet in its original form or give it a new look with some paint. Popular paint colours include shades of black, blue and grey.
Oak was used for kitchen cabinets from the 70s to the 90s. While oak wood cabinets are typical in older homes, many homeowners want to include them in a modern kitchen's design, making it look timeless.
What's So Special About Oak Cabinets?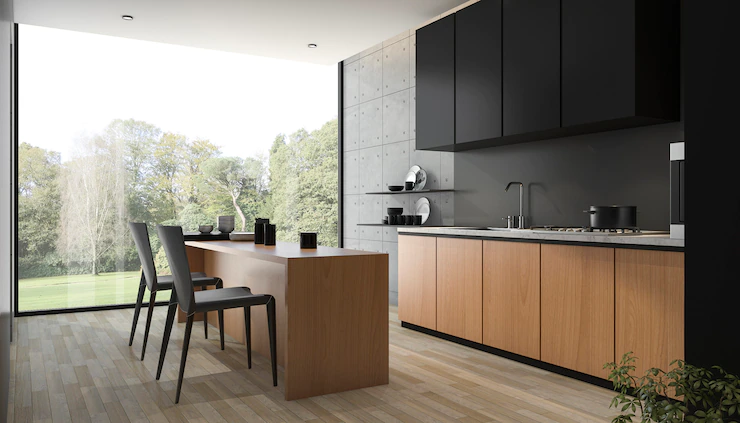 1. Custom colours
Nowadays, homeowners want to give a different look to their kitchens, and Oak wood cabinets can help them make that wish come true. The conventional style is no longer as appealing as it once was. Homeowners no longer want their houses to be virtually identical but rather unique. It's for this reason that natural stones for countertops are so common.
Additionally, contemporary kitchens with oak cabinets display dark brown colours that perfectly match your flooring and furniture. This can make for an outstanding design if you want your kitchen to have a brown appearance.
Choosing the ideal kitchen cabinets is what helps you stay unique. You can choose from several styles, but the best way to stand out is to demand custom colours for cabinets, so they reflect your personal preferences.
Cabinet manufacturers can accede to these requirements, as many of them collaborate with paint companies. Moreover, they provide homeowners with endless options for the final colour of the cabinets. But the question is, how can you design a contemporary kitchen with oak cabinets?
Paint companies provide three categories you can choose from dark, medium, and light. Often, homeowners pick to light, neutral colours like grey, soft green and yellow to give their kitchen a simple and delicate look. Neutral colours are classical and versatile, meaning they fit any style and kitchen design.
2. Stunning backsplash
It can be challenging to keep up with current trends when it comes to kitchens and backsplashes. With all the distinct colours, patterns change constantly, so you may have trouble determining which colour to choose.
Here's a tip to ease your job: consider the features in your kitchen so you can easily decide upon a colour. Or, you can consider a neutral tone as it works well for an understated look.
Another piece of advice is to look for inspiration and what's trending now. Oak kitchens are popular because they provide a lively design. Many outstanding backsplashes for oak cabinets will take your kitchen to the next level, transforming it into the perfect space! These days, you can easily find multiple options among oak cabinet designs, including quartz and marble.
3. Multiple colours
2022 kitchen cabinets come in a single colour, but the trend doesn't only mix styles but also finish and colour. When choosing oakwood cabinets for their kitchen, many homeowners want to separate base cabinets from wall cabinets.
For instance, they combine white wall cabinets with dark base cabinets. Or another option is to have a set of cabinets in a natural finish and the other one painted. Luckily, this is doable because manufacturers offer limitless colour and finish combinations.
Dark kitchen cabinets will be the rage in 2022, and backsplashes with oak kitchens cabinet will become increasingly popular.
But there's also an option for homeowners who prefer a lightened-up look and don't want their home to feel dark. Subtle tones like brown can help emphasise other features, too – and this colour is fascinating without being overwhelming.
4. Fluctuating styling
Most homeowners usually consider an existing design to decide upon other features in their kitchen. For instance, they choose a kitchen countertop or a type of floor so it can display a modern, minimalistic, traditional or rustic design. This was also true for outdated oak cabinets, but things aren't the same in 2022.
Nowadays, the trend implies using kitchen cabinets to transition from one style to another. For instance, homeowners with ornate homes who want a modern kitchen design can opt for a frameless European style cabinet which can be a neutral ground for these two styles. Or, they can mix styles by using Shaker kitchen cabinets with complementary marble countertops.
You don't have to put much effort into using kitchen cabinets for fluctuating styling, as cabinet styles are usually classical.
5. Mix and match metals
In 2022, you can expect to see an eclectic style. Mixing metal with oak cabinets was once outdated, but now the trend is gaining ground again.
Supposing you want to match gold fixtures but not everywhere in the room, you can opt for oak cabinet designs with nickel colours or black hardware. Also, it's best to get a backsplash for oak kitchen cabinets so it doesn't look unusual when mixed.
How Can You Give Oak Cabinet A Modern Look?
There are several ways to upgrade oak cabinets to fit a modern design. For instance, you can stain them with a darker shade, glaze them with an old finish, or paint them with modern colour.
Of course, you can also use techniques that help you create a different style. For instance, if you want to instantly turn oak cabinets into modern ones, the best option is to glaze them.
But if you want to take things to the next level, combine white backsplash with oak cabinets. Including oak cabinets in the design of a modern kitchen makes your space more appealing, providing a warm feel.
Read Also: