Fotor – Best Review By Users In 2022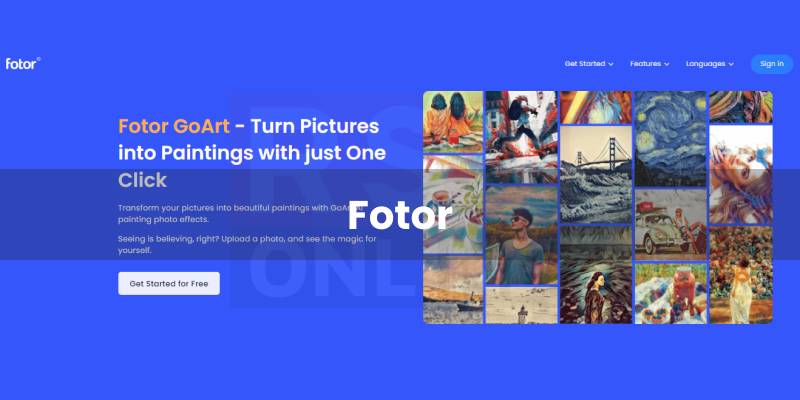 In the digital era of 2022, can you imagine uploading a photo on social media without editing it? No, we can't. Who uploads raw photographs anymore, anyway? There are so many editors out there, some free like Fotor and some premium applications like Snapspeed. In case you have a full gallery but no editing app on your hand, it is time to explore some free alternatives.
Our choice? Our choice at the moment is Fotor. If you haven't heard about this crazy photo editing app before, then you have come to the right place. In this article, we will review this game-changing photo editing app that also comes free of any cost. Sounds perfect, right? So without wasting any further time, let's dive in.
About Fotor: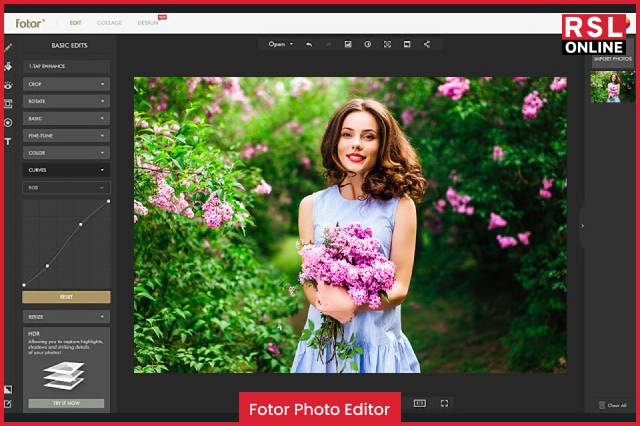 Simply put, Fotor photo editor is a graphic designing and photo editing tool created for multi-platform usability. It helps its audience to create compelling, eye-catching content quickly and conveniently. Did you know that Fotor has over 300 million users all over the world? Google Play even awarded the app 'Top Developer Designation,' and BBC even named the app 'Photoshop Lite.'
Now that you know what is fotor, it is time to explore the advantages and disadvantages of the same in detail. If you don't know the pros and cons of any tool, there is no way you can make a constructive decision about using the same.
Pros Of Using Fotor:
The advantages of using this are as follows,
Most users of the fotor app agree with BBC and call the app a simpler version of Adobe Photoshop. The problem with Photoshop is that it's not meant for everyone. Fotor, on the other hand, is because it has great templates, and it is also pretty simple to use.

Moreover, many users have claimed that the app also has useful filters that can be placed very easily. These filters also help users to add dept or blur their graphics for websites and similar applications.

Fotor also is great for fulfilling personal designer needs. Users can also make pro-type changes very easily. Moreover, different features like the adjusting section as well as the curving tool are also great additions.
Cons:
The disadvantages of using this are as follows,
One of the biggest drawbacks of fotor com is that there are no readymade templates for designers to quickly use for social media or other portals. A platform like Canva can easily beat this photo editor with its range of templates and filters. 
Another issue that has been spotted while using the photo editing app is navigation. Many users have claimed that the left panel can be a little confusing to navigate while editing any photograph or creating a graphic. 
Now that you have a fair idea of the pros and cons of Fotor, the next thing you need to know is how to use the fotor app. But we would suggest fiddling with the app for a few hours, and you will be done understanding how to use it. 
So let's explore a few reviews of the photo editing application.
Reviews Of Fotor:
Source: https://www.capterra.com/p/181589/Fotor/reviews/
Our favorite user reviews of Fotor are as follows,
1. Michelle M.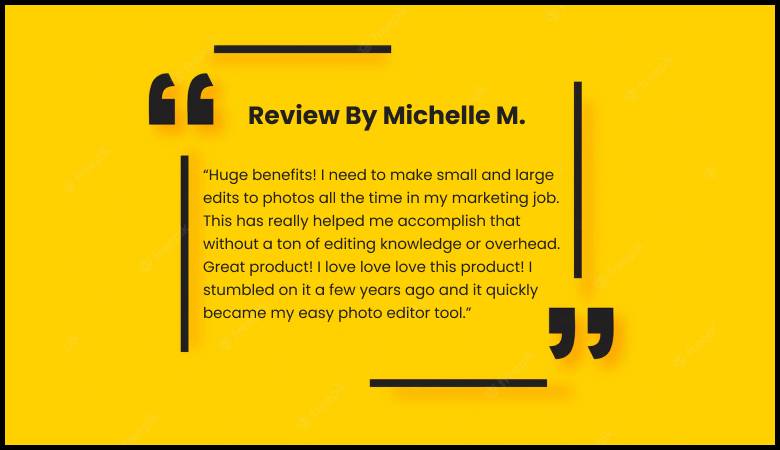 2. Henry C.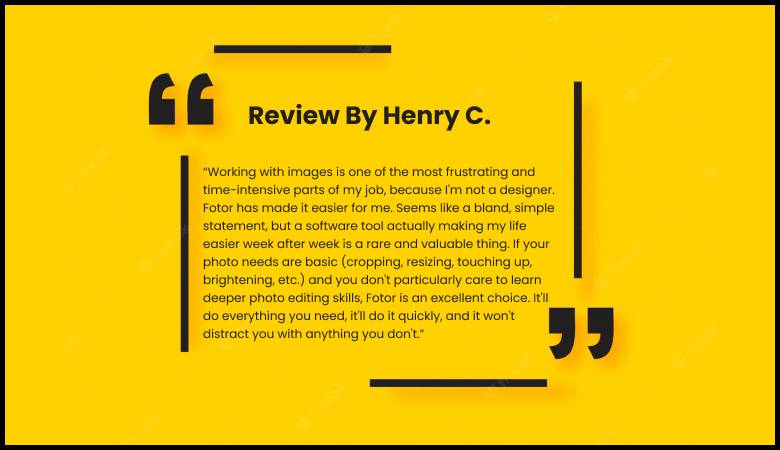 3. Zoe A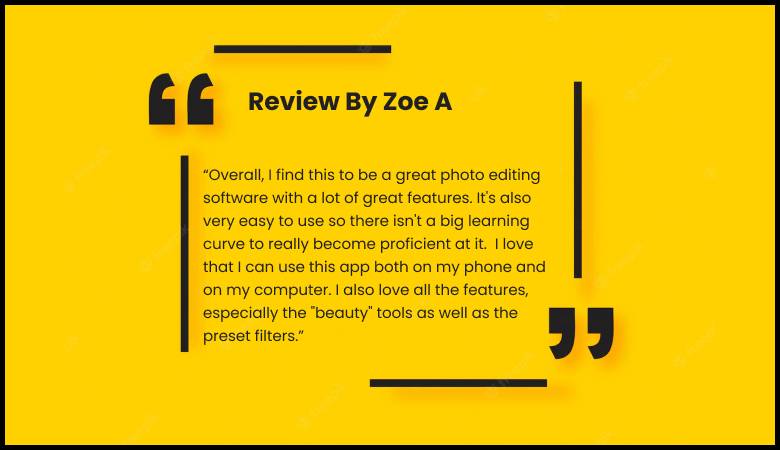 4. Sandy S.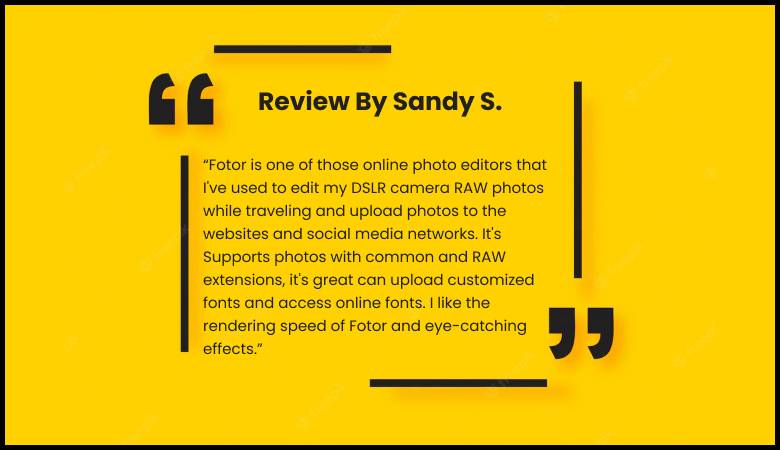 Frequently Asked Questions (FAQs):
1. How Good Is Fotor?
The best part of using Fotor is, it's free and compatible on your smartphone and desktop – that too for both android and ios users. With a 4.78 score out of 4, as rated by the audience, this photo editing app also happens to be one of the best. 
2. Can You Trust Fotor?
Yes, if you type 'fotor photo editor free' on Google, you will notice the great reviews and the killer ratings. That should be enough to make this app stand out amidst so many photo editing apps.
3. Who Is The No 1 Photo Editor In The World?
There is no debate over this. No photo editor app in the world is as good as Adobe Photoshop. Unfortunately, Photoshop is not meant for all kinds of users, especially amateurs. People actually take courses to learn how to use Photoshop.
Conclusion:
The best part of using Fotor for editing your photos is that it's completely free of cost. Moreover, it is simple to use, and it also happens to be convenient on multiple platforms – from windows to Macbook users, everyone can use the app. Similarly, from smartphones to desktops, the app is compatible with all devices. 
So what are you waiting for? Head over to the play store or app store now and download the Fotor app today!
Read Also:
Barsha Bhattacharya
Barsha Bhattacharya is a senior content writing executive. As a marketing enthusiast and professional for the past 4 years, writing is new to Barsha. And she is loving every bit of it. Her niches are marketing, lifestyle, wellness, travel and entertainment. Apart from writing, Barsha loves to travel, binge-watch, research conspiracy theories, Instagram and overthink.