It's 2022, and there's possibly no one out there who is ready to upload a photograph without editing it properly fast. The editing trend has soared and soared till there are at least a hundred thousand apps specializing in both photo and video editing. But given a choice, we will always go for the good ones like Pixlr editor, Adobe Photoshop or Fotor.
Do you have a gallery full of unedited photographs? Then, download Pixlr right now and start your creative editing journey. In this article, we will review this crazy photo editing software that has suddenly become very popular with the masses. Sounds perfect, right? So without wasting any further time, let's dive in!
About Pixlr: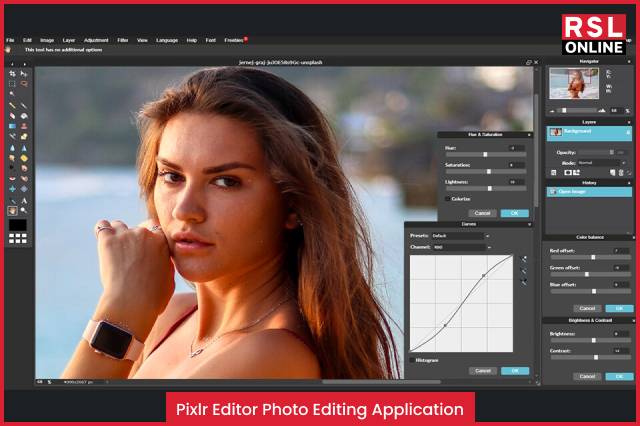 Pixlr editor is one of a kind, game-changing photo-editing application that has completely revolutionized the concept of editing. It's not just free, but you can access it from your browser without even installing it! That is kind of perfect, considering so many people face difficulties with installation.
The year was 2008 when developer Ola Sevandersson (Swedish) founded the Pixlr software. But soon, in 2011, the Pixlr online editor was acquired by Autodesk. So when Times listed Pixlr as one of the top 50 sites in 2013, the hype for the software went up further – the software was again acquired by 123RF in 2017.
Pros Of Using Pixlr Editor:
The advantages of using Pixlr are as follows,
There's no doubt that

Adobe Photoshop

is the best editing software in the world. But the problem with Photoshop is it has not been designed keeping in mind everyone. Only experts can actually use it. Thus, this is where the Pixlr software appears – it's so easy to use that everyone can use it!

Another amazing thing about the Pixlr com editor is how users can access it without any hassle. As mentioned earlier, you don't really need to install the editor on your computer. Instead, you can access the editor from your browser and simply start using it. Thus, the app has won the hearts of users with the ease of support it gets.

The third amazing thing about the

Pixlr editor

is that it's free. Yes, you heard right. It's not just easy to use and easy to install, it also happens to be free of cost. This is why the software has become popular so fast. When people say that it can be used comfortably and it's also free, they start using it more and more.
Cons Of Using Pixlr Editor:
The disadvantages of using Pixlr are as follows,
For users, most things about this application are great. However, some users have made it a point to mention how the software has a tendency to freeze in between editing. That does sound a little inconvenient.

Another thing pointed out by several users is how the advertisements on the editing panel are annoying. This is because when people have finished editing, and they are waiting to save their work if ads keep appearing, it's pretty time-consuming and disturbing.

Lastly, another issue with Pixlr is although easy stuff can be edited quietly conveniently, advanced stuff cannot be edited with the same convenience. As a result, users have complained that the software must introduce more tools to make things easy and instructions to simplify the processes further involved.
Now that you have a fair idea of the pros and cons of Pixlr editor, the next thing you need to know is how to use the photo app. But we would suggest fiddling with the app for a few hours, and you will be done understanding how to use it.
So let's explore a few reviews of the photo editing application.
Reviews Of Pixlr Editor:
Our favorite user reviews of Pixlr editor are as follows,
SOURCE: https://www.g2.com/products/pixlr/reviews#survey-response-5439798
1.
2.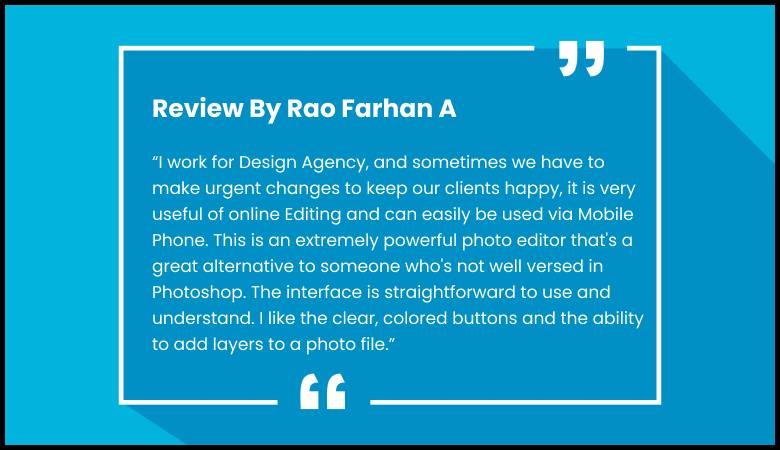 3.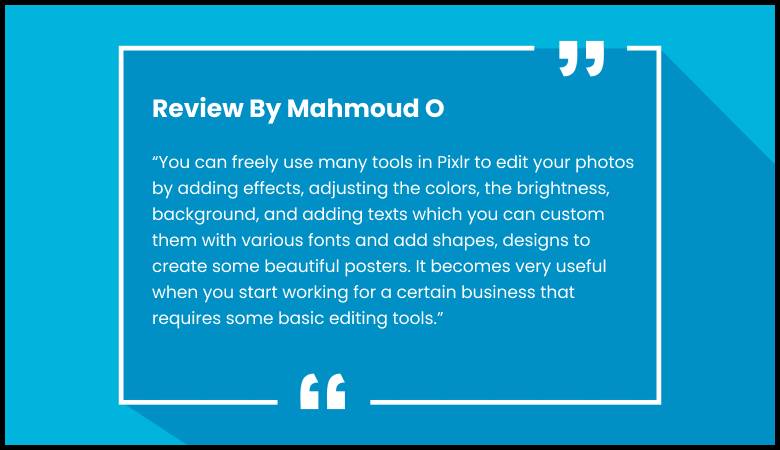 4.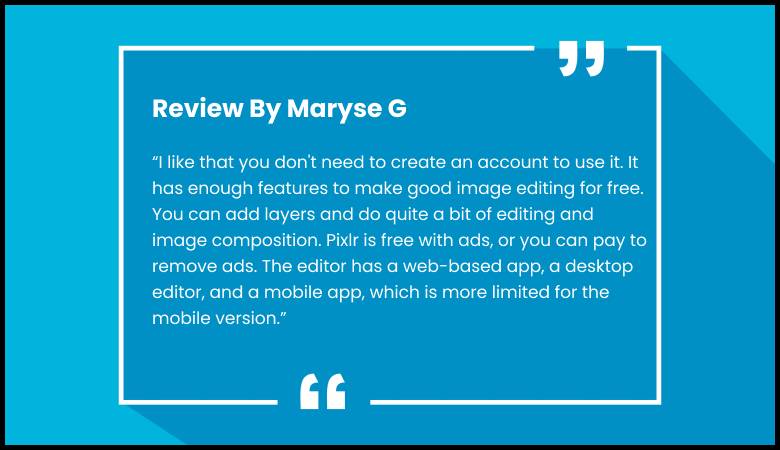 Frequently Asked Questions (FAQs):
1. How To Rotate Text In Pixlr Editor?
We will tell you how to rotate text in the Pixlr editor. First, select the layer of text you want to rotate. Now click on 'V' and then click on Command + T (Mac) or Control + T (PC) for accessing the transform tool. All you have to do then is simply right-click and choose 'Flip Horizontal' or 'Flip Vertical.'
2. Is Pixlr, A Good Photo Editor?
Pixlr editor is pretty great, and if you have been looking for a free photo editor, why don't you start with Pixlr for yourself. Check out the features of the app and make your own decision, but we think you will love this free online editor.
3. What Is Better Than Pixlr?
Not every photo editing application is better than Pixlr, but there are some alternatives of the software which are even better. These are,
Adobe Photoshop,

Fotor Photo Editor,

GIMP,

Affinity Photo, and

Canva for Enterprise.
Wrapping Up:
The best part of using the Pixlr x editor for editing your photos is that it's completely free of cost, and at the same, it's easy to use – you don't even need to install it. Moreover, the app has been designed in a way that it can be used conveniently on all platforms – from Macbook users to Windows users, everyone can use the software comfortably!
Similarly, from desktops to smartphones, the Pixlr editor happens to be compatible on all devices! So what are you waiting for? Head over to the play store or app store now and download the Pixlr app today!
Read Also: