As an entrepreneur or business leader, you have a wealth of knowledge and experience that can benefit others.
Writing a book is one of the most powerful ways to share your expertise and make a lasting impact on your industry. However, the process of writing a book can be time-consuming and challenging, especially if you're not a professional writer. That's where business book ghostwriters come in.
Ghostwriters are experienced professionals who specialize in taking your ideas and transforming them into a well-written, engaging book. They work behind the scenes, allowing you to focus on your business while they handle the writing process. In this article, we'll explore how a business book ghostwriter brings your vision to life and help you make a lasting impact on your industry.
The Role Of A Business Book Ghostwriter
A business book ghostwriter is a professional writer who collaborates with you to create a book based on your ideas and experiences. They take your insights, stories, and expertise and turn them into a compelling narrative that resonates with your target audience.
Some of the key tasks a ghostwriter will handle include:
Outlining and structuring your book: A clear and logical structure is essential for a successful book. Your ghostwriter will work with you to create an outline that ensures your book flows seamlessly from one chapter to the next.
Research and fact-checking: While your personal experiences will form the foundation of your book, it's important to support your claims with research and data. Your ghostwriter will gather relevant information and ensure your book is accurate and credible.
Writing and editing: Once the structure and research are in place, your ghostwriter will write the content of your book, ensuring it's engaging, well-crafted, and true to your voice. They'll also edit and polish the manuscript, making sure it's free from errors and ready for publication.
Collaboration and communication: Throughout the process, your ghostwriter will maintain regular communication with you, ensuring your ideas and vision are accurately represented in the book. They'll also be open to feedback and revisions, ensuring the final product meets your expectations.
Benefits Of Working With A Business Book Ghostwriter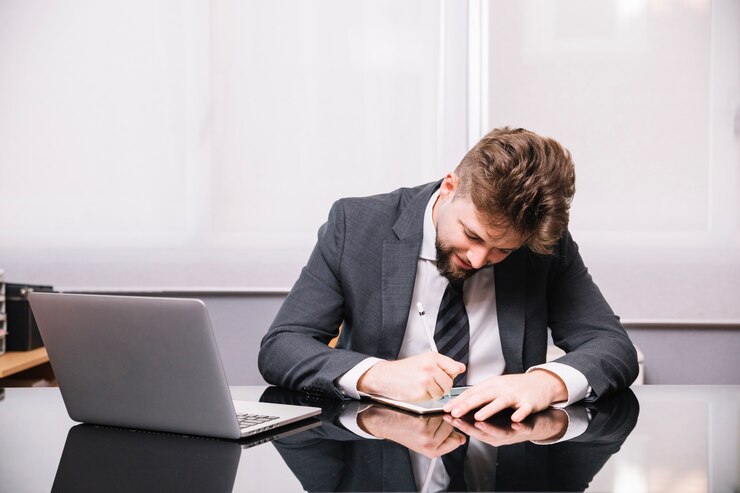 There are several advantages to working with a business book ghostwriter, including:
1. Time Savings
Writing a book is a significant time commitment, often taking hundreds of hours to complete. As a busy entrepreneur or executive, you may not have the time required to dedicate to such a project. A ghostwriter can handle the writing process on your behalf, allowing you to focus on running your business.
2. Expertise and Quality
Engage a professional ghostwriter with the experience and skill necessary to create a high-quality book that will effectively captivate and inform your target audience. Not only do they possess an understanding of what it takes to craft a compelling narrative, but they also know how to skillfully structure and present your ideas in a manner that resonates seamlessly with readers.
3. Objective Perspective
Gaining a broader perspective can be challenging when deeply immersed in your industry and personal experiences. However, with the assistance of a ghostwriter, an external viewpoint is introduced to your project. This external perspective aids in identifying the most crucial and relevant aspects of your story, ensuring that your book resonates with a diverse audience.
4. Faster Path to Publication
Working with a ghostwriter can significantly speed up the process of getting your book published. With their expertise and industry knowledge, they can help you navigate the publishing process more efficiently, increasing your chances of success.
How To Choose The Right Ghostwriter For Your Business Book
Finding the right ghostwriter for your project is essential to ensuring your book is a success. Here are some tips for choosing the right professional for your needs:
Assess their writing skills
Review their work samples to ensure their writing style and quality align with your expectations. Look for a writer who can adapt their voice to match your own and who has experience writing in your industry or field.
Check their credentials
Look for a ghostwriter with a strong writing, editing, and publishing background. They should have experience working on similar projects and be able to provide references or testimonials from satisfied clients.
Ensure they understand your goals
Your ghostwriter should be genuinely interested in your project and committed to helping you achieve your goals. Make sure they understand your vision and are willing to collaborate closely with you throughout the process.
Discuss the scope of work and timeline
Before you begin working with a ghostwriter, clarify the scope of work and establish a clear timeline for the project. This will help ensure that both parties are on the same page and that your book is delivered on time and within budget.
Evaluate their communication skills
Effective communication is crucial for a successful collaboration with your ghostwriter. Please ensure they are responsive, open to feedback, and able to articulate their thoughts and ideas clearly. This will help ensure a smooth working relationship and a better final product.
Consider their subject matter expertise
While a skilled ghostwriter should be able to adapt to various topics, it's beneficial if they have some prior knowledge or experience in your specific industry. This familiarity can lead to a more accurate representation of your ideas and a stronger connection with your target audience.
Discuss confidentiality and ownership
Establishing a clear agreement regarding confidentiality and ownership of the final work is important. Ensure that your ghostwriter is willing to sign a non-disclosure agreement (NDA) and a work-for-hire contract, which will protect your intellectual property rights and maintain the confidentiality of your project.
Conclusion: Making An Impact With Your Business Book
A business book serves as a powerful tool for sharing your expertise. Moreover, it plays a crucial role in establishing yourself as an industry leader, making a lasting impact on your field. Collaborating with a skilled ghostwriter is key; this partnership enables you to bring your vision to life, creating a book that resonates effectively with your target audience.
A business book ghostwriter becomes an invaluable asset from the initial stages of idea generation and outlining to more intricate research, writing, and editing tasks. This professional can guide you through the complex process of creating a successful book. It's essential to choose the right collaborator for your project; this ensures that your book accurately reflects your vision and ultimately delivers the impact you desire.
Read Also: