Modern consumers tend to want the things they buy to reflect themselves. The goods and services should meet their needs and want, no matter how unique their styles or preferences are. This is never truer than when buying a home.
Whether it's hanging out to watch a movie, doing homework, entertaining guests, or dinnertime with the family, people spend lots of time at home. No wonder families enjoy living in custom homes so much!
What Are Custom Houses? 
Custom homes are one that is constructed entirely as per your instructions. This includes everything from the number of bathrooms and bedrooms to kitchen cabinets. One might have plenty of reasons to state that these houses are the best option for anybody. 
Certain home builders in this arena ask consumers to hire their personal contractors and architects. Well, this might be a bit complicated and expensive. Don't forget to look for a builder that possesses the following attributes: 
He must operate with you for finalizing decisions, even the ones for interior as well as exterior selections.  

Assist or manage tasks related to the construction, for example, lot preparation. 

Updates you timely along with an open communication. Further, they must allow you to share your design preferences without a doubt. 
Families looking for extensive space and a lavish lifestyle should definitely opt for a custom house.
Here Are Four Prime Reasons Custom Homes Are Excellent For Families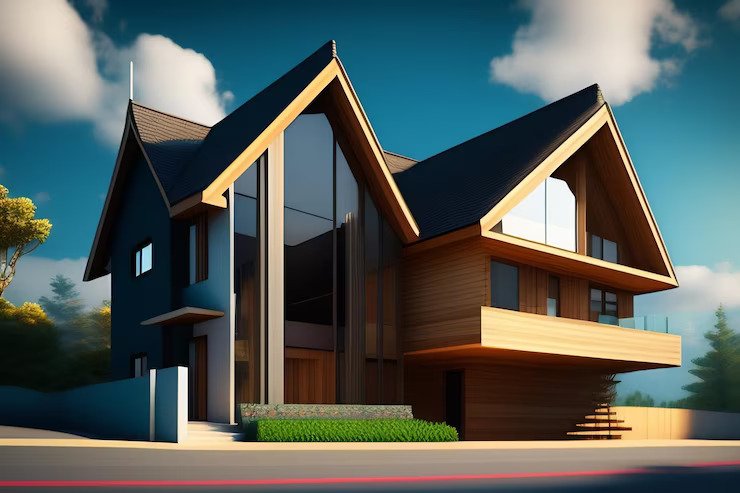 Let's check out four reasons why custom homes are perfect for families.
1. Control The Layout For Flexibility
The best newly built homes for families let them control the layout, so the people who live inside the home can choose its shape. It's way more expensive to change the layout after a home is built. Shaping it how you want can help you get from it what you need today and tomorrow.
A room you use today as a playroom for kids might be a teenager's bedroom in the future. Controlling the layout gives you options for today and down the road.
2. Style Matters
A person's sense of style relates to the core of who they are. Beauty and fashion can be more than skin-deep! You need to live inside your home, so it should reflect the inhabitants' tastes and preferences.
A home should be more than just a physical place to store your stuff and live inside. Be inspired by your home by choosing things like flooring, cabinetry, countertops, paint, and more.
Style is what helps make a house into a home.
3. Long-Term Investment
The things your family needs today will be highly valued tomorrow. Older homes tend to have obsolete technology that makes heating and cooling less efficient and more expensive. Custom homes are more modern and up-to-date.
Homebuyers who opt for used homes might get a discount upfront, but that's because it takes a lot of money and time to renovate or retrofit a home. Securing what you need from home also gives you an opportunity to anticipate what future buyers will value and get it now when doing so is simpler and costs less money.
4. Privacy
Not every layout gives people the space they need. Kids may want their own space to play in, while parents may prefer an office or space to read.
Custom homes let people get the type of space they need. It's not always about the sheer amount of square footage! Homeowners with custom homes get to design the layout's look and feel. Enjoy more granular control over your home and give everyone in the family the room and privacy they need.
Cons Of Custom Home Building
Without a proper understanding of the disadvantages of custom homes, there is no way somebody will opt for such a big decision. After all, you don't build homes every now and then. So, here we are with a tentative list. Custom home building comes with its set of challenges. Check out some of them here –
At present, the housing industry benefits home sellers due to the reduced mortgage rates. The lack of residential housing sometimes makes the competition extremely difficult. Although this is good news for housebuyers, real estate agents might find it difficult to survive. They have to give out houses at lower prices because of low demand. 
Construction of a custom abode from scratch will take a lot of time as compared to a standard floor plan construction. Eventually, much time will be needed for purchasing and closing the deal on the present home. If you relocate to a location that has a competitive housing industry, it might take you years to sell your home at your desired price. 
Building something new costs more than a resale, although the additional spending might be worthwhile. Your home builder usually provides upgrades that can compensate for the additional costs you have spent. The resale value of your new house in a similar location will be more than what you have imagined. 
Finding The Right Location
Don't we all find it difficult to locate an underdeveloped property? On the other hand, a place with close proximity to shopping, entertainment centers, and other facilities is easily tracked down. Hence, a major constraint in building a custom house is finding the perfect location- because, trust us, it is difficult to find one. 
Any new site or building neighborhood usually does not have mature landscaping. In order to clear the site, it is significant to cut down big trees. When you work with your custom home builder, ask them to be careful about the neighborhood. Preserving mature landscapes is the key to carrying out easy construction.
Summing It Up
A home is a major purchase, likely the most money you'll pay for anything. It's crucial to get what you and your family really want because you'll spend years living here, and when it's time to move, it'll be an invaluable asset.
Don't just settle for living in a home that is suited for other people's needs — get yours customized for your family.
Read Also: