Barn doors have become the talk of the town in interior design, particularly in rustic or farmhouse-style homes. While traditionally used for exterior applications, they've also made their way into bathrooms.
In this blog post, we'll explore the benefits of using barn doors in the bathroom, such as the space-saving advantages they offer and the unique style they can bring to a room. Whether renovating an existing bathroom or designing a new one, this post will provide all the information you need about using barn doors in this unique setting.
Pros And Cons Of Barn Doors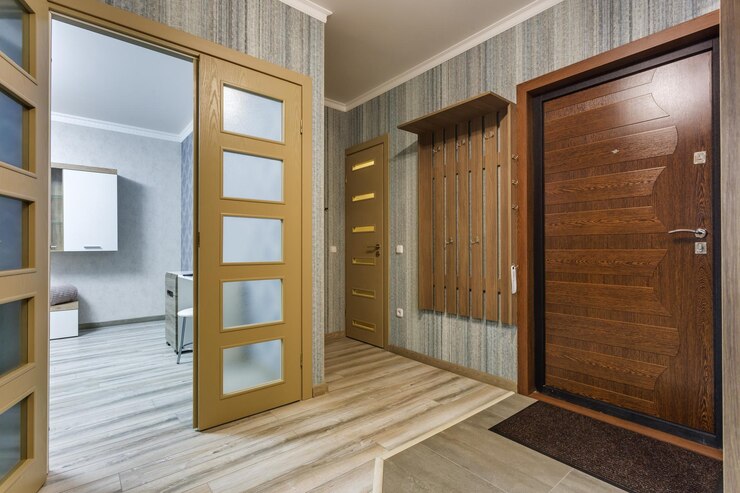 Space Saving
A barn bathroom door is a great option if you have a small bathroom and wish to make the most of your limited space. Unlike traditional swinging panels, barn doors slide along the sides of the wall while opening them, which means you get to utilize additional space for other purposes. Traditional doors can take up as much as 11 square feet of valuable space, which is often a significant issue in small bathrooms.
Choosing barn doorways for your bathroom can be an excellent space-saving solution. It enables you to use every inch of space that you have and frees up more room for storage, cabinets, or anything else that you may need in your bathroom. This makes it an ideal option for anyone looking to maximize storage space in their small bathroom.
Privacy
When it comes to barn doors in the bathroom, many people have expressed concerns about their lack of security due to gaps on two sides as well as the top. This issue can be addressed in a number of ways, however. One way is to secure the shutter and place it very close to the wall, which can help to reduce the gaps and increase privacy. It is also possible to reduce gaps and increase privacy by choosing a door that has a significantly wide opening than the wall.
In addition to the privacy concerns, some people have also reported issues with barn doors sliding open on their own. An installation of a lock along with a floor- or wall-mounted guide can help avoid this frustrating problem. While barn doors for bathrooms do not have a traditional lock and key system, there are several affordable and easy-to-mount options available.
The opening can be secured with an eye latch, hook, or even a teardrop latch, for example. For those who prefer a more complicated system of locking, a barn door lock having self-latching is usually helpful since it allows for locking and unlocking on all sides of the entrance. In addition to enjoying the benefits of a barn bathroom door, you will also be addressing common security and privacy concerns.
Sound Protection
When comparing a traditional hanging door to a barn entryway, it's important to consider the level of odor and noise protection each option provides. While a hanging door closes tight, a barn door for a bathroom may not offer the same level of protection due to the space between the door and the wall or floor.
These gaps can allow for airflow between rooms, making it easier for sound and odors to pass through the entrance. For those who share a bathroom with others in the household, this may be a concern, as the showering and toilet noises can easily be heard from outside the bathroom.
Solid wood barn doors can slightly improve soundproofing, however, since they are made from quality materials. If you value privacy and peace in your bathroom, choosing a solid wood door can help you reduce the amount of noise that escapes. While a barn gateway may not provide the same level of protection as a traditional hanging one, by selecting the right materials, you can still enjoy the unique style and space-saving benefits that come with this type of door.
Door Appearance
It's common to think of barn doors as simple and not particularly elegant, but customized barn doors for bathrooms are available in many styles and colors. This means that you can transform what would otherwise be an ordinary entryway into a functional as well as decorative piece, adding a touch of sophistication to your home.
Moisture should be considered when designing your bathroom. The shower and bathtub should be placed opposite the barn door in order to minimize the effects of humidity. But don't let this limit your creativity! Adding details on the hardware such as on rustic drag handles or track rails can enhance the door's appearance.
Incorporating a full-size mirror on the door's inside is another excellent idea. It will not only be useful but can also make the bathroom seem bigger. Popular design options for barn doors include wooden, carved panels in natural colors, geometric patterns, or X-shape doors. Wrought iron can be a valuable and extraordinary addition if you are looking for something more luxurious.
Finally, consider purchasing an ornate or engraved door pull to enhance the overall aesthetic effect. Your bathroom will become a place you and your guests will enjoy being in if you add this touch of elegance and luxury.
Conclusion
There are numerous benefits associated with barn doors for bathroom design, such as space-saving solutions and a unique aesthetic. Proper installation and hardware selection can address concerns about privacy and sound insulation.
By choosing solid wood materials and adding custom hardware details, barn doorways can become a practical piece that's fully decorated and enhances the overall aesthetic effect of a bathroom. Having read this blog post, you now know everything you need to know about barn doors for bathroom renovations or design projects.
Read Also: