Have you ever dreamt of having your own elegant outdoor space?
This guide is your golden ticket to not just imagining but installing your dream deck. Learn the ins and outs of deck installation – an essential step towards enhancing your home and lifestyle.
Don't miss out; you're just a few scrolls away from creating that perfect, cozy space you've always wanted.
Planning And Design
Just like setting up a new room in your house, planning your deck requires a careful thought process. Consider the size, shape, and location of your deck. After all, it's not just an addition to your home; it's an extension of your living space.
When designing your deck, creativity is key. It can be a simple square or an elaborate multi-level masterpiece. Remember, your deck should reflect your personality and complement your home and lifestyle.
Material Selection
Choosing the right hardwood materials for your deck is as vital as the design. Different materials possess unique looks and feel but also come with varying levels of maintenance and cost.
From durable composite decking to traditional wood, the options are numerous, each with pros and cons. Composite decking material, for example, is a great low-maintenance option while providing a sleek, modern look.
On the other hand, Ipe wood decking is known for its natural beauty but requires regular maintenance. You can source quality Ipe wood from reputable suppliers like Ipe Woods USA. Weigh your options carefully to find the perfect fit for you and your budget.
Deck Size And Layout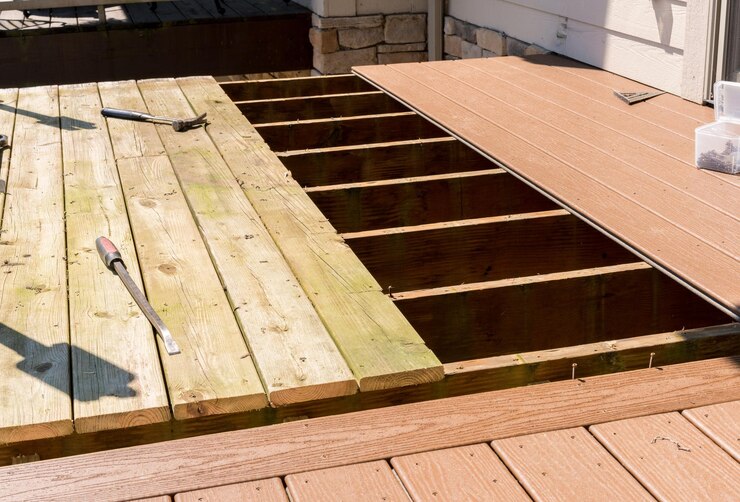 The next very important step in hardwood flooring installation is figuring out the size and plan of your deck. How you plan to use the room will determine much of this process. For example, if you want to hold fancy outdoor parties on your deck, you might choose a bigger area with many different levels and sections.
On the other hand, a smaller, more private deck might be enough if you want a simple, quiet place to read or drink your morning coffee. Then, adding cozy corners or built-in seating might be an excellent way to make the most of your room. Remember that your deck should be an extension of your indoor living space that is comfy and welcoming.
It should also show off your style and meet your specific needs.
Foundation And Footings
The foundation and footings are the backbone of your deck installation, providing the necessary stability and support. Just like the roots of a tree, these elements keep your deck firmly grounded, ensuring it stands strong against the elements and the test of time. Choosing the proper footings and creating a solid foundation is essential to the safety and longevity of your deck.
The selection of footings often depends on your locality's building code, the terrain of your yard, and the size and height of your deck. Pier footings, concrete footings with a bracket on top to hold the structure, are famous for decks. Once footings are installed, a sturdy foundation is built over them, forming a solid base for your dream deck.
Framing
Framing is the stage where your deck starts to come to life. It involves creating a skeletal structure to form the basis for your deck's surface and railings. Attention to detail is key during this phase, as precision can greatly impact your deck's durability and appearance.
The framing process involves setting the joists the horizontal beams supporting the deck boards. Proper spacing of these joists is crucial to ensure an even and sturdy surface. Once the joists are in place, the picture frame and fascia are installed, providing structure and aesthetic appeal to your deck.
Decking Installation
Decking installation is the stage when your dream deck truly takes shape. During this phase, the deck boards are securely fastened to the joists, forming the surface upon which all your outdoor gatherings and quiet coffee mornings will occur. Ensuring that each board is correctly aligned, evenly spaced, and securely attached is vital.
There are several methods to pick from for fastening the boards. Hidden fasteners provide a clean, seamless look, while face-screwing is a traditional method that leaves visible screws on the deck surface. No matter the method, ensuring a solid, safe, and aesthetically pleasing deck surface is crucial.
Railings And Stairs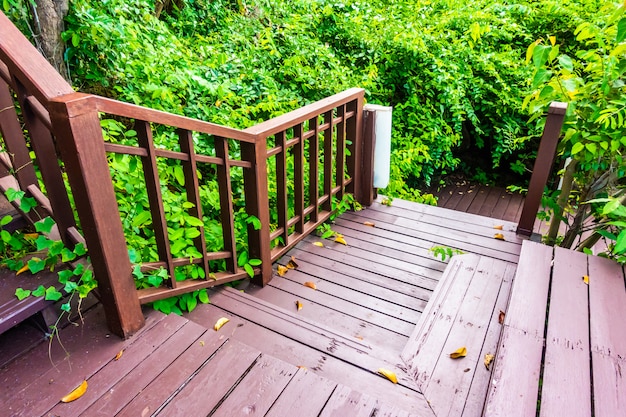 Adding railings and stairs to your deck not only improves accessibility but also adds safety and enhances the overall appearance. Railings create a defined boundary for your deck, while stairs provide a seamless transition from your deck to your yard. Whether you choose a classic wooden railing, a sleek metal one, or a combination of both, ensure its style complements your deck and overall home aesthetic.
As for the stairs, consider their placement and design carefully. They should be positioned conveniently to allow easy access from the deck to your house and yard. The design of the stairs can range from simple straight flights to more elaborate designs like spiral or curved staircases, reflecting your personal style and deck layout.
Finishing Touches
The final stage of deck installation is adding those personal finishing touches that make your deck your own. This could be anything from choosing the right outdoor furniture, installing stylish lighting, setting up a grill station, or adding planters for a touch of greenery. These choices allow your deck to reflect your personal style and lifestyle truly.
Remember, your deck is an extension of your home, so it should feel comfortable and inviting. An outdoor rug, cozy chairs, or a fire pit can make your deck feel like a true outdoor living room. Additionally, incorporating elements like a pergola for shade, a built-in bench for extra seating, or a lattice for privacy can elevate your deck's appearance and functionality.
Unleash Your Home's Potential Through Deck Installation
Deck installation is an enriching process that allows you to personalize your outdoor space. It requires careful planning, selecting the right lumber materials, and attention to detail.
With patience and the right approach, you can transform your backyard into a marvelous extension of your home. Remember, a well-designed deck enhances your lifestyle and adds value to your home.
Did you learn something new from this article? If so, check out our blog for more educational content.
Read Also: