A bridal bouquet may be made in a few simple steps, according to florist Patricia Hall. DIY bridal bouquets are an essential component of any wedding since they range in price from $50 to $200.
Making your own bouquet allows you to be creative and create the ideal arrangement for your big day while also saving money.
Even though creating your own wedding flowers might be difficult, the experience is ultimately gratifying.
These flowers, carried throughout the ceremony by very special people, are regularly photographed, from the bride's bouquet to the bridesmaid's bouquet. They may also be used as wedding table decorations.
Why Make Your Own Wedding Bouquet?
If your budget permits, you can always go for a designer and ask them to make one of the most elegant bouquets for your wedding.
However, a wedding bouquet is one of the most intimate elements present in the wedding ceremony. Therefore, if you can craft it all by yourself, there's no bar to your joy.
You can flaunt your artistry and taste and make your partner proud of the beautiful bouquet that you made all by yourself.
All you need is some guidance and props for your wedding bouquet to stand out!
The First Step Is Always Making Your Choice!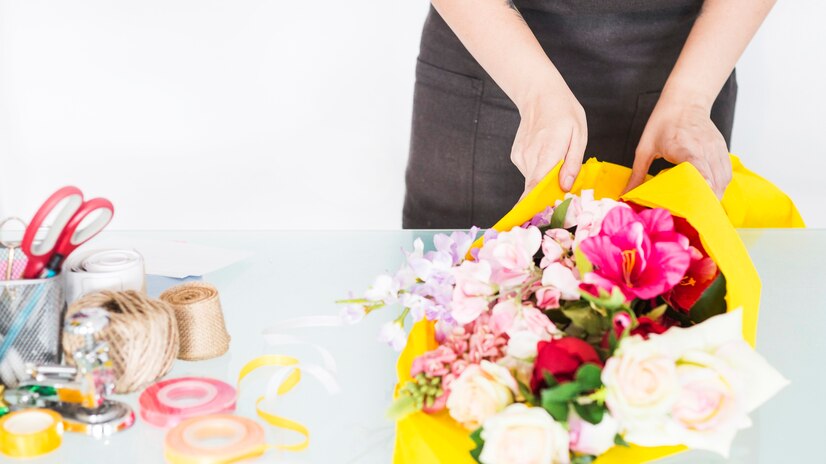 It's your day! And it will have everything you want to see. That includes your wedding bouquet as well!
However, you must first decide what type of flower you want in your wedding bouquet. It might seem like a tough choice, amidst the beautiful gardens presented by most event managers and florists, to come up with one name.
From color to the type, you must think about every bit and visualize your wedding bouquet a hundred times before starting to pick the right flowers!
You can select calla lilies, roses, orchids, hydrangeas, peonies, dahlias, magnolias, and a huge variety of other flowers as your main blooms.
White is often the color of choice for wedding flowers, although more recent trends favor bridal flowers of diverse hues.
For twilight and winter weddings, red roses, calla lilies, or poinsettias are popular flower choices, and bouquets in a rainbow of hues make any bridal procession stand out. Many women decide to use their favorite flower, their birth flower, or a bloom that holds particular meaning for the pair to design their wedding bouquets.
Contrasting hues are also common, with blue flowers drawing more attention and pink flowers looking lovely with pink bridesmaid gowns.
Wedding parties should only give flowers with long or medium stems, and they can choose any color for their ribbons.
Additionally, they ought to buy more flowers than they anticipate using and request that their florist provide them with as much length as feasible.
White is the customary color, but a ribbon that complements the bridesmaids' dresses will also work. Online places like My Global Flowers can help you pick and decide on the most beautiful flowers for your wedding. You can find your primary as well as secondary flowers for the bouquet here.
Start Gathering The Items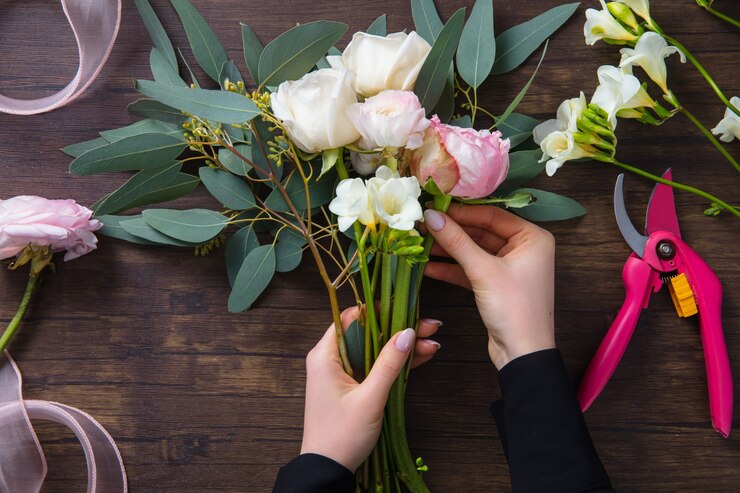 Given below are the steps you need to follow to gather every item you'll need to design and make your wedding bouquet with fresh flowers—
1. Pick The Enhancements
Choose the color scheme for your bridal bouquet. It can be a single hue or a limited range of colors, gentle or vivid tones, light or darker tints, nostalgic, contrasting, or matching colors.
The flower arrangement, the wedding's style, the venue, and the bridal gown may all serve as sources of inspiration.
For your bouquet, pick two types of flowers: powerful primary flowers and secondary flowers.
Select 1-3 secondary blooms of your choosing with sturdy, long stems, and bear seasonality in mind. Flowers that bloom out of season or irregularly throughout the year might be harder to locate and more costly.
The season should be considered when choosing flowers for a wedding. In order to make an eye-catching arrangement, spray roses, freesias, or filler flowers like baby's breath or waxflowers are good options.
2. Get Your Supplies Ready
For the most beautiful bouquet to light up your special day, you need some cautiously chosen items. Here are some of the stuff you must have to beautify your wedding bouquet—
A tape with flowers or sparkles.
A ribbon that matches the bouquet's hues.
Flower shears.
Pearl-tipped pins to fix the position of the flowers.
3. Gather Your Bouquet
For the heart of the bouquet, choose 3 or 4 of the principal flowers with the biggest blooms and cross their stems. One at a time, add additional main flowers while forming a spiral with your hand.
After you've finished with the primary flowers, repeat the process with the secondary flowers, placing 2-3 at a time to fill in any holes or gaps between the primary flowers.
The most significant information in this literature is that a bouquet should be 6 or 7 inches in diameter and that the flowers should be balanced, rounded, and have an even volume and shape. Trim the stems to the length you want them to be for the bouquet.
4. Wrap The Bouquet
Start wrapping the ribbon securely around the bouquet at the top of the stalks. Once there are about four inches of stem left, insert a pin at an angle and wrap it around the full length of the stems.
Use floral tape to fix the bouquet 1 to 112 inches behind the blooms in the initial tier. Wrap the stems numerous times before descending all the way in a spiral pattern for an additional 3 to 4 inches.
Use a ribbon that is 180 inches or less in length and complements the bouquet's color scheme for the second tier.
Starting at the same spot below the stems where you wrapped the flowery tape previously, wrap the stems all the way down until the floral tape is completely hidden.
As you proceed, press down to keep the ribbon in place. You may also use pearl-headed pins to add more glitz.
Craft Your Beautiful Wedding Bouquet!
Don't be afraid to break the odd number design guideline and add extra-special details like baby's breath or eucalyptus leaves to your bouquet. Sometimes what distinguishes anything from the garden is just one stem.
Don't worry about it when you construct your bouquet; it's not important. Just take a minute to relax and savor the opportunity you have to use your hands to make something lovely.
And don't forget, flowers are tough. They frequently withstand any challenges you present them with, so don't be hesitant to try something new.
Read Also: