China has been conducting military drills close to islands after visiting Nancy Pelosi this weekend. China issued a map with six zones around Taiwan which will be their sites for conducting sea and air exercises. These places will also be their sites for long-range fire drills in the days going forward. A spokesman described a part of it as a blockade.
During these drills, the ships and aircraft were warned to keep away from these locations. Port Bureau and Taiwan's Maritime said on Thursday that China had added a seventh area for military exercise for air aircraft and ships.
After the arrival of Nancy Pelosi, China announced to hold a four-day drill surrounding the waters of Taiwan. The exercise area that china announced extends almost inside the air defense identification zone of Taiwan.
According to some analysts, it is a very provocative move of China. A former US navy captain, Carl Schuster, said that China is moving "a lot farther than it ever has before" to put their military assets close to the borders of the shores of Taiwan.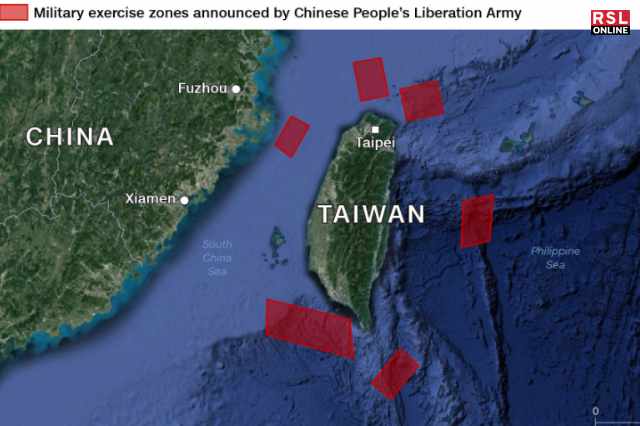 Constant threats from Beijing have constantly prompted numerous discussions over the topic if china has its own Aerospace and if it is recognized under international laws.
The USA is still watching every movement of the Chinese military crossing the median lines of the Taiwan Strait. But despite that, the Chinese aircraft and naval ships are doing exercises crossing the median line. Is it an open threat toward Taiwan? The situation is getting more complicated day by day with the arrival of Nancy Pelosi in Taiwan.
On the other hand, Taiwan is also deploying its missile systems and warships toward the median lines as soon as China conducts military drills. Is it heading towards another war situation like Russia and Ukraine or something else? Till then, stay tuned with us for more upcoming news on this topic.
Read Also: