Google Doodle Honors Hand Washing Pioneer: Ignaz Semmelweis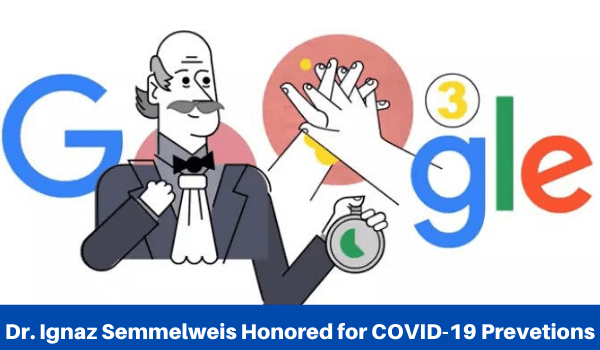 On Friday 20th March 2020, Google Doodle recognized the German-Hungarian Physician who first proposed the idea of hand washing in 1847. Ignaz Semmelweis, the scientist cum physician is also known as the "saviors of mothers". 
Google Doodle has been designed and animated by Google itself to demonstrate the correct ways of handwashing to prevent diseases that can be transmitted from the patients to the doctors or the physicians. Google doodle has followed exactly how Ignaz Semmelweis had described. 
Ignaz Semmelweis has been honored by Google Doodle today, who had invented this 173 years ago on a Friday. He discovered the reasons for germs transmission and the high mortality rate in newborns and their mothers.  
He also discovered that this infection was known as "childbed fever" which caused death to new mothers. The germs and infections were being transmitted from the recently operated mothers to the doctors.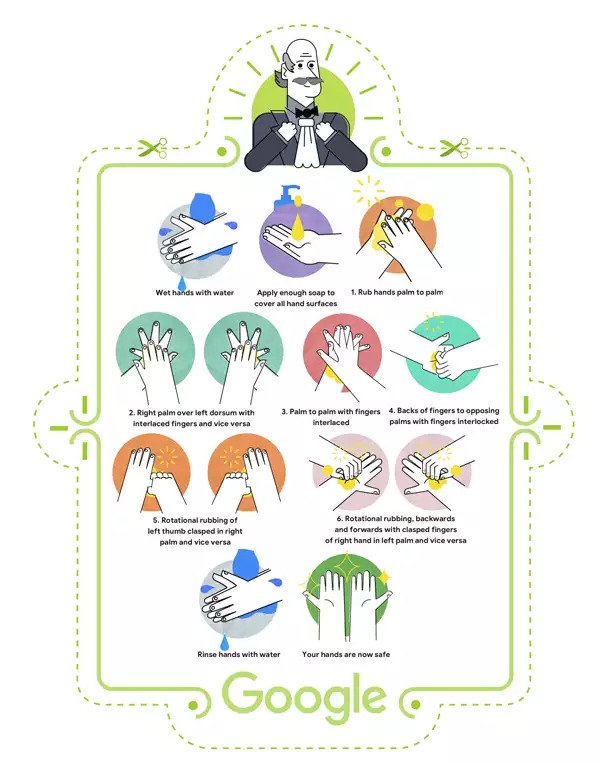 Google Doodle honored Ignaz Semmelweis because the techniques and the benefits of handwashing which he discovered are currently highly related to the worldwide epidemic namely Novel Coronavirus which is also known as COVID-19. This virus has sent the world under virtual shutdown and self-isolation. After 173 years of invention, all the benefits and information related to handwashing discovered by Ignaz Semmelweis seems extremely relevant. 
The World Health Organization mentions, "most healthcare-associated infections are preventable through good hand hygiene – cleaning hands at the right times and in the right way. The WHO Guidelines on hand hygiene in health care support hand hygiene promotion and improvement in health-care facilities worldwide."
Coronavirus spread has not been able to be curbed yet, so for the prevention of Coronavirus the only thing that can be done is to wash hands and maintain cleanliness. People are insanely buying hand sanitizers and masks to prevent corona. Ignaz Semmelweis's inventions have shown some light to save people from infecting themselves all over the world. The Centre for Disease Control and Prevent has recommended washing hands for at least 20 seconds.
Also Read: Supreme Court Judgement on Nirbhaya in India
Rosie
Max Rosie is a passionate blogger. She loves to share her thoughts, ideas and experiences with the world through blogging. Max Rosie is associated with Simply Law Zone, World News Inn, World Health Life, Voice Of Action, Exclusive Rights, Lower My Legal Fees, News Stoner, Istana Green World, Circle Box Blog, Techrab, News Profy, Tech Mag News, Plus LifeStyles, World Tech24, Proudly Updates, Worthy To Share & True Health Tips.