Owning an old car isn't without its benefits. One chief advantage is their cheap prices at the auctions.
For example, if you're looking for a starter car, those old cars are perfect because the prices are low. They are also cheap to maintain. If you can troubleshoot, you'll be able to choose a straightforward model that doesn't have complicated technology.
Of course, it isn't without its cons, too. For instance, you're more likely to experience breakdowns. If this is your situation and you're trying to restore an old car, check out this article to get some tips.
Gather The Necessary Parts And Tools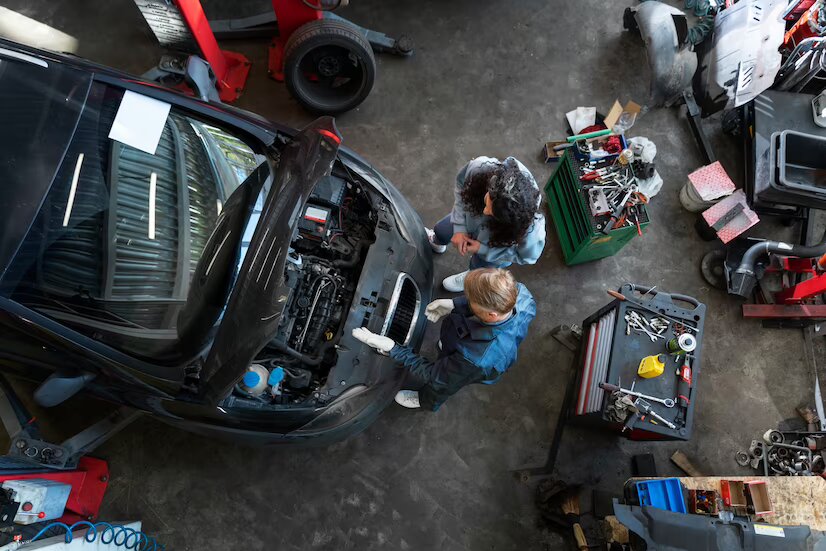 Gathering the necessary parts and tools for auto restoration is one step. To begin, you'll need basic hand tools such as an adjustable wrench, socket set, and screwdrivers. Depending on the type of vehicle you'll need special tools for interior and exterior trim removal.
You may also need a floor jack, jack stands, and a compressor for doing certain jobs. You'll also need a good assortment of body fillers, bondo, primers, sandpaper, and paints.
Finally assessing which car parts need to be replaced and sourcing these from reputable suppliers. For example, if you have a Mazda Miata, you need to check used Miata parts for your Miata restoration. Also, a set of tools for any associated work such as a welder and oxy-acetylene cutting.
Handle Rust And Clean With Abrasives
Using abrasives is the best way to handle rust. Begin by using coarse grit to remove larger rust particles. It can either be done with a wire brush or with sandpaper.
Next, use a finer grit to finish the sanding process and ensure that the surface is as smooth and even as possible. Of course, safety should be considered when using abrasives, so it's important to wear protective gloves, a mask, and eye protection.
Afterward, you should clean off the remaining debris and check to ensure the surface is clean. Finally, use a sealant to help protect the area from further rust and corrosion.
Replace Parts And Apply A Protective Coating
Begin by assessing what parts you will need to replace. Some of the components you should focus on include the filters, spark plugs, wiring, headlights, tires, and brakes. If a part is damaged beyond repair, new components should be sourced.
Checking the gears and belts may also be necessary. Once replaced, the car should receive a protective coating. A combination of paint and primer will be needed to freshen up the body and keep the car's original look.
Reassemble The Engine And Transmission
When reassembling the engine, it's important to pay attention to the torque specification of all components. After the block and head are mated, the gasket should be inspected for leaks before continuing. The transmission is then set into place and its mountings secured, then the necessary fluids can be filled.
Once all bolts, hoses, and wires are properly fitted, the engine should be ready to start. Follow up with a test run, then repair more associated parts, such as belts and pulleys, followed by adjustments as needed.
Restore An Old Car Like A Pro
Restoring an old car can be a fun adventure and a great way to get a classic car that is sure to turn heads. With a few tools, a detailed plan, and patience, the restoration process can yield great results. So, start your search for a car to restore, and get ready to bring your classic car dreams to life!
Do you want to learn more tips for your vehicle? You can read more on our blog to learn more.
Read Also: