rslonline.com/top-trending-accessories-women-fashion-stylists/
Once in a while, you may need some time with your pals that will help you unwind from the daily stress and monotonous routine.
It's cheaper than therapy, and it works better than therapy sometimes
We hope you know what we're suggesting, right?
Of course, you do.
We are talking about A Girls' Trip!!!
Spending time with your girlfriends is fun. It gives you the same vibe as 'Sex and the City 2' when Carrie, Samantha, Miranda, and Charlotte took a trip to Abu Dhabi.
The girls indeed had a lot of fun there as they roamed in the sun-drenched paradise wearing those elegant dresses.
You can have the same feeling of fun, excitement, thrills, and relaxation if you take a trip with your girls, but packing clothes could be a tiring job, especially if you don't know what to bring.
So, let's find out the 5 best clothes to pack before going on a girls' trip.
5 Different Types Of Clothes To Pack Before going On a Girls' Trip
1: Long-Sleeved Shirts
If a style is a way to say who you are without having to speak, a long-sleeved shirt is definitely a clothing item to pack before heading on a girls' trip.
You can rock the shirt with skirts, shorts, jeans, wide-leg trousers, palazzo pants, etc.
And,
The best part is you'll look good in all of them!!!
That's the magic of a long-sleeved shirt. Make sure you carry one whose color contrasts well with your bottom wear. White could be a safe choice there, but shirts of black, beige, and denim blue will also look good.
2: PJs
Soft Pajamas and a good book can turn a bad day into a good one.
Do you know why?
Because it liberates you from the tiresome day you've had and helps you relax.
This is why you must pack PJs in your suitcase before a girl's trip because when you hit the bed at the end of the fun-filled day, you'd want to relax and sleep like a baby.
Pajamas are the way to do that.
Girls in cute PJs chatting all night gives you the vibe of a pajama party in your teen years, and it's good to take a walk down memory lane from time to time.
So, don't forget to pack the PJs.
3: Swimsuit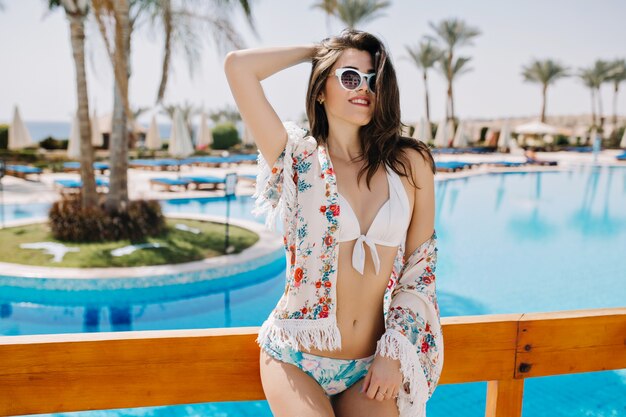 Your life may not be perfect, but your swimwear can be.
Swimwear is a must-carry item on a girls' trip because girls look the hottest when they chill on the beach, poolside with piña coladas in their hands, and not talking about Boys.
Carry a swimsuit that accentuates your curves yet keeps you in the comfort zone because you are there to have fun, not attend a beauty pageant.
Choose a color that goes well with your skin tone because you don't want to look too bright or too dull beside your girlfriends.
4: LBD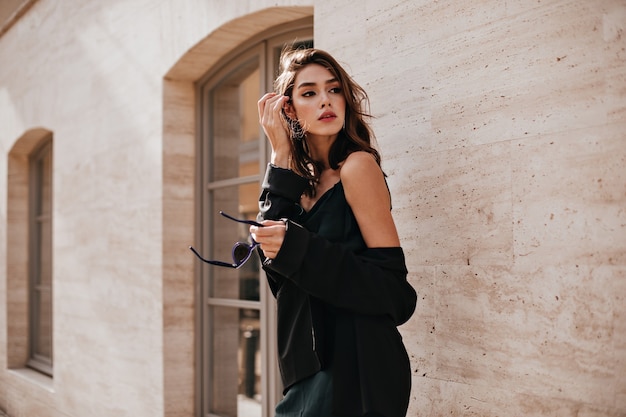 A Little Black Dress (LBD) will always find a safe place in your suitcase because you can never be overdressed or undressed with this fine piece of clothing.
You may feel like going to a club, or you may plan a nice dinner out with your girls.
An LBD will save you on both occasions, which means it is a true friend that you go to when you have nowhere else to go.
It is reliable and timeless.
We are sure you have at least one of them in your closet, so don't forget to pack it.
5: Scarves
A scarf can make you feel like a beautiful woman, and what else are you taking a girls' trip for if you are not going to feel pretty all the time?
That makes sense, right?
We know.
But, it's not all about looking pretty. A scarf is a practical choice of clothing because it can save your head from getting too hot when you are walking under the sun, and it can look pretty good too when you tie it around the bun.
You can pack a bunch of them and coordinate them differently with your outfits every day.
Have Fun!
Now you know which clothes to pack, so what are you waiting for?
You must pack them now because leaving packing for the last minute is never a good decision. Furthermore, you will end up forgetting some important items that you were supposed to bring to the tour.
You may need more information from us before taking the trip. If that's the case, reach us in the comment box, and we'll be happy to be of your service.
So, ENJOY!!!
Read Also: