Successful business relies on the ability to communicate effectively, confidently, and clearly.
This is more important now than ever, with many kinds of business transactions being carried out internationally. With the need for smooth communication between countries, English is the lingua franca that builds bridges in tourism, technology, and international trade.
Until every business in the world has an AI translator, we can say that mastering the language is key to growing your business. Learning a new language can be daunting. But knowing that English is the most studied second language across the globe should be reassuring.
How Can English Help Your Business?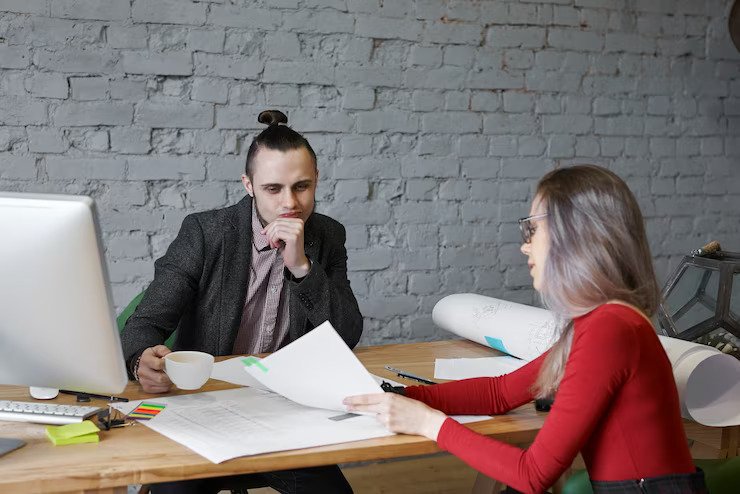 The most obvious advantage that English can offer is wider reach. English is the common language in most business situations. So mastering this language would allow you to find new contacts all over the world.
Being able to speak (fluently!) the same language as your suppliers, clients, and competitors will leave less room for misunderstanding. Therefore, establishing trust and respect would strengthen the bond between your business and the other party.
It would allow you to be transparent about your business. In return, you would gain credibility and respect in your sector.
Last but not least, being a confident speaker of English would have a positive psychological effect on you and your team. It would give you that confidence boost that everyone needs before a meeting or a round of negotiations.
What Should Your English Course Focus On?
If you are going to use your English language skills primarily for business, you might want to avoid the kind of course that focuses on everyday English, like General English (GE) courses. Instead, you should invest your energy in attending Business English (BE) classes.
There are many similarities between GE and BE, but there are also some crucial differences. Both courses will include the same elements of grammar, vocabulary, and pronunciation, and they will practice the four skills (reading, listening, writing, and speaking). However, BE includes a range of vocabulary that is mainly used in a business environment, like idiomatic expressions, and will have a heavier focus on writing (e.g., emails, reports, proposals) than GE.
Another fundamental difference between GE and BE is the topics covered during the course. While in GE classes, your lessons will revolve around themes such as health and fitness, food, hobbies, holidays, shopping, and so on, BE lessons are more specific for the participants involved. They focus on language and materials related to negotiations, meetings, persuasion techniques, and other common business aspects.
Can You Make Business English Your Business?
If teaching English (or specifically Business English) seems like a good idea for a new career venture, you have many options.
First of all, you can teach in person or online. In the first instance, you could either teach abroad or in your own country or do a bit of both. You can teach online if you prefer to teach from the comfort of your own home or travel as a digital nomad. In this case, you can either work freelance independently or with the support of an established online language school platform. There are pros and cons for every option, so it's prudent to perform thorough research before committing to your new career.
As a proficient English speaker, you should be able to teach pretty much anywhere in the world and work for any school. However, some limitations depend on each country and/or school. Having a degree gives you an advantage, but some institutions require you to graduate in a specific field.
Saying that there are plenty of countries and schools that would hire candidates without a degree. Furthermore, holding a passport from English-speaking countries, such as the UK, USA, New Zealand, Australia, Canada, Ireland, and South Africa, is sometimes necessary for Visa purposes. Some countries also have restrictions regarding the maximum age of their international teachers.
If you decide that teaching English is the right career move for you, the first step you should take is to obtain a comprehensive certification Resource from The TEFL Org. Nowadays, it's almost impossible to be hired to teach English to speakers of other languages (TESOL) without completing this all-important 120-hour course.
During this training, you will expand your language knowledge and understand the challenges your learners may face. You will learn how to select engaging and appropriate materials for your learners and how to plan an effective lesson. Ultimately, this course will give you the tools to confidently and enthusiastically set foot in the classroom.
Bottom Line:

Ready To Boost Your Business?
Wherever you are, whichever teaching mode you choose, your professional development is what keeps your interest in the industry alive and allows you to develop, improve, and switch to a different area of the industry – from teaching to materials writing, for example.
But if you decide to specialize in one of many teaching areas, you have plenty to choose from. Will it be General, Business, or Academic English? Are your students going to be young learners, teenagers, or adults? Are you going to teach exam classes or English for specific purposes, like healthcare, hospitality, or the airline industry? So many choices!
It's important to recognize that, as well as the right qualifications, it's necessary to have the right attitude. You will be dealing with different cultures and traditions that might clash with yours, or you don't understand. This job is extremely rewarding and fulfilling but can be challenging: empathy, patience, and an open mind often go a long way.
Whether you choose to improve your English language skills for your business or you choose to make teaching English your new business venture, this language allows people who don't speak the same native language to communicate more than ever before. As a learner or as a teacher, you could be part of this global connectivity.
Read Also: