Did you know that the oldest Italian restaurant opened in 1886 in San Francisco? If you are a fan of Italian food and are exploring Branson restaurants, you are in the right place. We have put together this guide to share the best Italian restaurants in Branson, MO.
Read on to learn where you want to go and get your next delicious plate of Italian food.
1. Florentina's Ristorante Italiano
This restaurant is located in the heart of Branson. Florentina's Ristorante Italiano is a family-owned restaurant. It has a warm and inviting atmosphere to make customers feel like they are at home.
The interior of the restaurant is decorated with rustic elements that transport its visitors to the charming streets of Italy. They pride themselves in their commitment to using only the freshest and finest ingredients in their dishes. There is a selection of classic Italian favorites, prepared with love and attention to detail.
One of the main draws of Florentina's is its delectable homemade pasta. From tender fettuccine Alfredo to rich and savory lasagna, each dish is crafted with care and cooked to perfection.
The chefs at this restaurant create a variety of sauces to complement each of their pasta dishes. From creamy alfredo sauces to zesty arrabbiata to classic marinara there is something for every palate.
They not only have pasta, but they also serve authentic wood-fired pizzas. The thin crusts are made from scratch and topped with high-quality ingredients, resulting in mouthwatering flavors.
There is even something for seafood lovers. There are certain dishes that incorporate fresh catches into their classic Italian recipes offering a fusion of flavors.
For dessert, there are classic Italian options, including gelato, tiramisu, and cannolis. If you are staying at one of the Westgate Resorts you are either 20 minutes or 10 minutes away. The Westgate located on Roark Valley Road is not even a 10-minute drive away, so you have to make sure you add this to your plans to enjoy this Italian cuisine.
2. Ciao Italian Ristorante
Ciao Italian Ristorante is another top-notch Italian restaurant located in Branson, MO, known for its authentic Italian flavors and welcoming ambiance. This restaurant offers a taste of both Northern and Southern Italian cuisine, providing a diverse array of dishes to please every palate.
When you step foot into this restaurant you will experience a charming and traditional trattoria atmosphere. The interior is adorned with rustic decor, warm lighting, and comfortable seating, creating a cozy and intimate setting for guests to enjoy their meals. The attentive and friendly staff further enhances the dining experience, making guests feel like they're part of the Ciao family.
Ciao takes pride in its wood-fired pizzas, using traditional techniques to create thin-crust pizzas with a delectable assortment of toppings. From classic Margherita to gourmet combinations, pizza lovers will find something to savor.
There are also plenty of pasta dishes to choose from. From simple yet satisfying spaghetti and meatballs to more elaborate seafood linguine, there's a pasta dish for every taste.
A dish that is very popular at Ciao Italian is Osso Buco. This is a traditional Milanese specialty of braised veal shanks served with gremolata. Gremolata is a zesty herb garnish.
For those that love Risotto, you want to try out one of the creamy and flavorful risotto options. You can choose from seafood, saffron, or mushroom.
There is also an extensive wine selection that complements its menu perfectly. From robust reds to crisp whites, the restaurant offers wines from various regions of Italy, ensuring there's a suitable pairing for every dish.
For anyone looking for places to eat in Branson that serve Italian food, this is a perfect choice. Whether you want a romantic dinner for two or a family gathering, Ciao's welcoming ambiance and flavorful dishes make it a memorable destination.
3. Garfield's Restaurant & Pub
Garfield's is another well-known dining establishment in Branson, MO. This specific restaurant offers a diverse menu with a mix of American and Italian-inspired dishes. Even though it is not exclusively an Italian restaurant, Garfield's has gained popularity for its delicious pasta dishes, making it a notable mention for those seeking Italian flavors in the area.
You will have a casual and relaxed experience at Garfield's. The interior is often characterized by a cozy pub-like setting, with comfortable seating and friendly staff, creating a welcoming environment for guests of all ages.
Garfield's pasta dishes are popular choices. From traditional spaghetti with meatballs to creamy fettuccine Alfredo, the restaurant pays homage to Italian cuisine with its flavorful pasta options.
They also serve a selection of hand-tossed pizzas with various toppings, including classic favorites like pepperoni and mushrooms, as well as unique combinations to suit different tastes.
4. Vito's Sicilian Pizzeria & Ristorante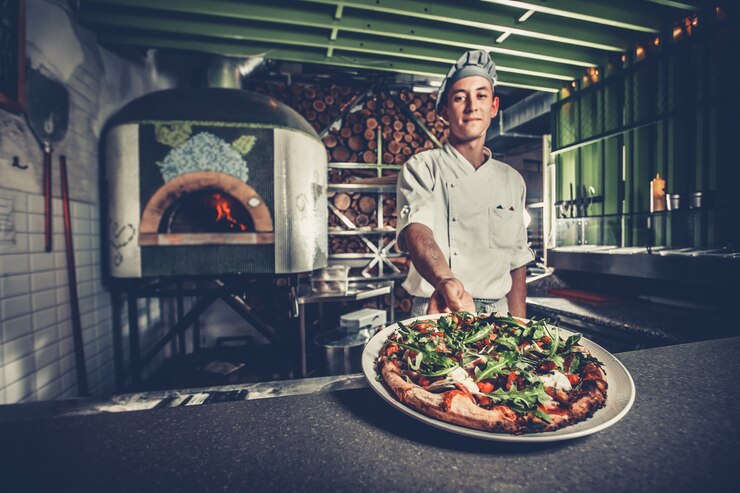 At this restaurant, you can enjoy authentic Sicilian-style pizzas and traditional Italian dishes. This is a family-owned restaurant that offers a taste of Sicily, and it is located right in the heart of the Ozarks.
Vito's has a cozy and inviting atmosphere, creating a warm and welcoming environment for guests. The decor may reflect the charm of a traditional Italian trattoria, with an emphasis on creating a comfortable and relaxed setting for guests to enjoy their meals.
Vito's Sicilian Pizzeria & Ristorante prides itself on its commitment to using fresh and high-quality ingredients in all its dishes. Vito's signature dishes are its Sicilian-style pizzas, known for their thick and fluffy crusts and generous toppings.
From classic Margherita to specialty pizzas like Sicilian Meat Lover's or Capricciosa, pizza enthusiasts will find a wide range of options to indulge in. Vito's also serves delicious calzones and Stromboli, which are perfect for those looking for a handheld Italian delight.
Given Sicily's coastal location, Vito's also incorporates seafood into its menu, offering dishes like shrimp scampi and linguine with clams. For dessert, Vito's delights customers with classic Italian treats, including cannoli filled with sweet ricotta cream and the ever-popular tiramisu.
5. Vasken's Deli
Vasken's Deli is known for its mouthwatering deli sandwiches and a delightful selection of Italian dishes. It is mainly recognized for its scrumptious deli offerings, but they also offer an Italian menu.
The deli offers a friendly and inviting atmosphere. The interior is a charming deli-style ambiance. As we mentioned it is mainly known for its deli sandwiches. They are all made with high-quality cheeses, fresh ingredients, and high-quality meats.
You can order from a classic Reuben to a stacked pastrami sandwich. There is also an Italian sub to choose from.
If you prefer pasta dishes you can opt for an eggplant Parmesan, spaghetti with meatballs, or a classic chicken Alfredo. For those looking for a handheld Italian treat, Vasken's offers delicious calzones stuffed with cheese, meats, and vegetables, all baked to perfection.
Complementing their sandwich and pasta dishes, Vasken's serves up flavorful homemade soups that make for a satisfying meal, especially during colder months. Whether you're in the mood for a hearty deli sandwich, a comforting Italian pasta dish, or a tasty calzone, you have options.
6. Mr. Gilberti's Place
This is another well-known Italian restaurant in Missouri. It is a family-owned restaurant where you can expect to enjoy a warm and inviting atmosphere. The friendly staff, led by the Gilberti family, ensures that each guest feels welcomed and valued, adding a personal touch to the dining experience.
You will find classic Italian dishes from pasta to pizza and other specialty items. Pasta enthusiasts are spoiled for choice with a diverse selection of pasta dishes that cater to various tastes. From hearty spaghetti Bolognese to creamy chicken Alfredo, each dish showcases the essence of Italian comfort food.
Mr. Gilberti's wood-fired pizzas are a true treat for pizza connoisseurs. The thin and crispy crusts are lovingly topped with an array of traditional and gourmet ingredients, creating a delightful symphony of flavors.
You can indulge in a variety of appetizers. There are garlic knots, bruschetta, and antipasto, setting the stage for an unforgettable dining experience.
Beyond pasta and pizza, Mr. Gilberti's offers a range of entrees featuring succulent meats and fresh seafood. From savory chicken Marsala to delicate shrimp scampi, these dishes exemplify the richness of Italian flavors.
7. Ozark Mountain Pizza
This pizzeria is located in the beautiful Ozark Mountains. It has become popular even among the locals. Stepping into Ozark Mountain Pizza feels like you are entering a charming neighborhood pizzeria.
You will be welcomed with a rustic interior that is adorned with mountain-themed decor. From classic favorites to unique specialty pies, there's a pizza for every palate.
A popular pizza is their Ozark Supreme. This is a combination of sausage, onions, mushrooms, pepperoni, and black olives on top of a crispy crust.
If you want a tangy-flavored twist, then BBQ chicken pizza is the one for you. It has grilled chicken, red onions, and a drizzle of barbecue sauce.
Even vegetarians have a pizza choice here. Their veggie delight has a mini buffet of veggies on top of it. There are tomatoes, onions, bell peppers, spinach, and mushrooms.
You can also choose from their selection of appetizers, salads, and pasta dishes. The garlic knots and cheesy breadsticks are perfect starters before your main dish.
Whether you're seeking classic flavors or adventurous combinations, their creative pizzas cater to a variety of tastes.
8. Rocco's Pizzeria
This charming pizzeria is more than just a place to grab a slice. Rocco focuses on using quality ingredients for their recipes to show off their passion for authentic Italian cuisine.
Rocco's Pizzeria welcomes guests with its inviting aroma of freshly baked pizza and the warm ambiance that surrounds the restaurant. The interior boasts a rustic and cozy setting, transporting patrons to the charming streets of Italy.
The pizzas take center stage, and every pie is lovingly handcrafted with attention to detail. From the classic Margherita to more innovative creations, the menu features a variety of options to satisfy diverse palates.
Rocco's stays true to tradition with their Margherita pizza, featuring a harmonious blend of fresh tomatoes, mozzarella, basil, and a drizzle of olive oil, on top of a perfectly crispy crust. Carnivores can delight in Rocco's Meat Lovers pizza. It is generously topped with savory pepperoni, crispy bacon, sausage, and ham, creating a combination of meaty goodness.
Rocco's also introduces seasonal and signature pizzas that showcase their creativity and culinary expertise, providing something new for regular patrons to try. Guests can also indulge in a selection of classic Italian pasta dishes, salads, and appetizers, all crafted with the same dedication to flavor and authenticity.
Their attentive staff will make you feel like part of the Rocco family, ensuring a memorable dining experience that keeps patrons coming back for more. Rocco's Pizzeria has earned its reputation as a local treasure.
Whether you are a longtime fan or a first-time visitor, Rocco's Pizzeria promises a slice of excellence that will keep you returning for its delicious creations time and again.
Which of These Italian Restaurants in Branson Will You Check Out First?
For Italian cuisine enthusiasts, there are plenty of Italian restaurants in Branson, MO that you can check out. There is definitely an impressive selection of restaurants that serve up delectable dishes from various regions of Italy.
From cozy family-owned trattorias to pizzerias with a lively atmosphere, these Italian restaurants in Branson will undoubtedly satisfy your cravings and leave you with a taste of Italy amidst the charm of the Ozarks.
If our article helped you out today make sure you continue browsing this section for our latest travel guides.
Read Also: