There are a number of paraphrasing tools available online. And Quillbot happens to be one of them. If you have been searching for the same, you have reached the right place.
Thanks to advancements in AI technology, contemporary software now includes capability that we could not have envisioned a few decades ago. But for every product built with AI's capability that is actually helpful, there are at least two more that fall short. Do the writing and paraphrasing abilities of the AI tool Quillbot live up to the hype?
If that is the answer that you have been looking for, then you will find this article to be of help. Keep reading this blog till the end to learn more…
What Is Quillbot?
Over 35 million active users each month across 150 countries can benefit from a variety of assistive writing tools offered by QuillBot, an AI-powered writing platform. The company, which was established in 2017, is headquartered in Chicago, Illinois, and employs 51–200 people. QuillBot strives to make writing effortless while keeping the individual viewpoint and voice of the user.
QuillBot makes it simple for users to integrate the platform into their current workflows because it immediately connects with well-known writing programmes like Microsoft Word and Chrome. The business also provides a number of other tools, such as a grammar checker, summarizer, plagiarism detector, and citation generator, to assist users while they write.
QuillBot differs from other paraphrase programmes available on the market thanks to a number of distinctive features. Users can, for example, compare the results of seven various modes, utilize an integrated thesaurus to personalize their paraphrases, and requill for a new result. While giving data like word count and percent change, the AI carefully preserves or enhances the text's flow and readability.
How Does Quillbot Work?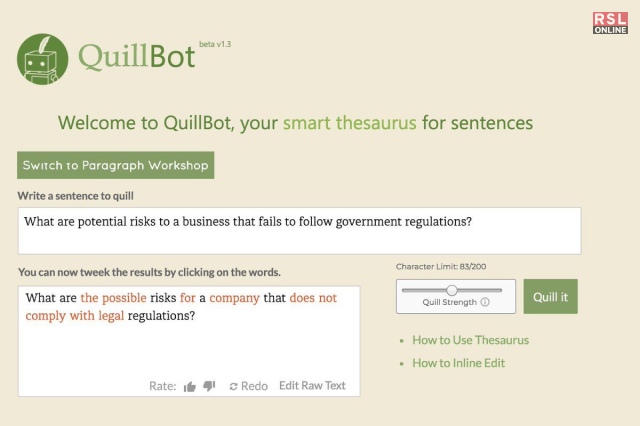 Before talking about what the features of this AR powered tool is, it is important that you get to learn a little about how it works in the first place. Quillbot requires very little effort on the part of the user. All you have to do is copy your stuff and paste it there. It will highlight any content edits you need to make, such as those for unclear terminology, broken sentences, and grammatical errors. Quillbot can help you improve your content significantly.
Features Of Quillbot
It's time to examine each of Quillbot's specific features and determine whether or not they are beneficial to authors now that we have an overview of the AI. Here are some of the gestures of the Quillbot AI tool that you need to know about:
1. Paraphrasing Tool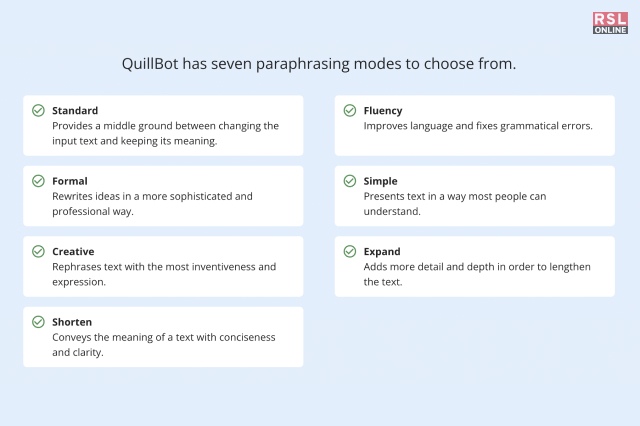 The rewriting or paraphrasing tool is comparable to other similar tools used in the field. In essence, it rearranges your text's sentence structure, modifies a few words, and voila! You have "fresh" material.
If you are concerned about plagiarism, this is helpful for dodging checkers. By default, Quillbot will paraphrase your writing simply, using alternative words without necessarily attempting to change the tone or purpose of the original. Depending on your needs and the intended audience for your writing, you may also instruct Quillbot to make it more informal or basic.
It is a web-based tool that can be used using any standard web browser. Additionally, you may add Quillbot as a Chrome plugin, Google Docs, or Word integration. As a result, you can access its capabilities in any tool you typically use.
Quillbot offers a variety of speech patterns from which you can choose, and the paraphraser will adjust to those writing styles. These consist of:
Standard.
Formal.
Fluency.
Simple.
Creative.
If you want to shorten or lengthen your text, you can do so by choosing a corresponding option. I discovered that the shortened option was really helpful in condensing my paragraphs.
2. Grammar Checker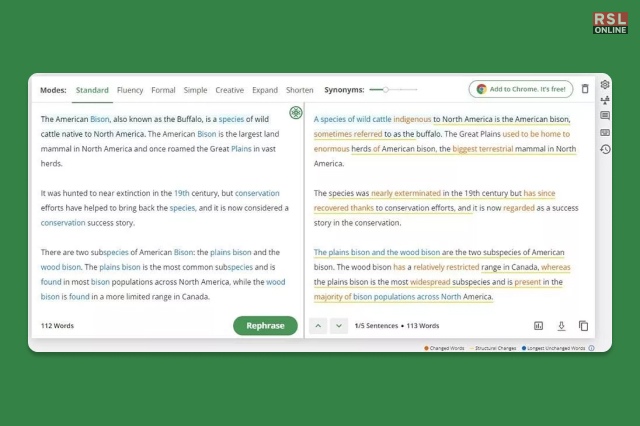 The grammar checker is a fantastic additional resource that authors will particularly value. It is powered by AI, just like the other features, which is helpful when attempting to identify the most typical instances of particular grammatical usage.
Australian, British, and American English are all supported by the Quillbot grammatical checker. If you wish to correct grammar errors elsewhere online, such as in your email or social network web app, you can do it using the web app or a browser plugin.
In the web application, I pasted an article. It called attention to misspelled words and apostrophe omissions. Additionally, it detected more grammar mistakes than Microsoft Word's default grammar checker.
There's no denying that this tool is helpful, but the majority of writers undoubtedly already use a grammar checker like Grammarly or ProWritingAid. It's difficult to believe that many people will learn about Quillbot before having a grammar checker in place.
3. Plagiarism Checker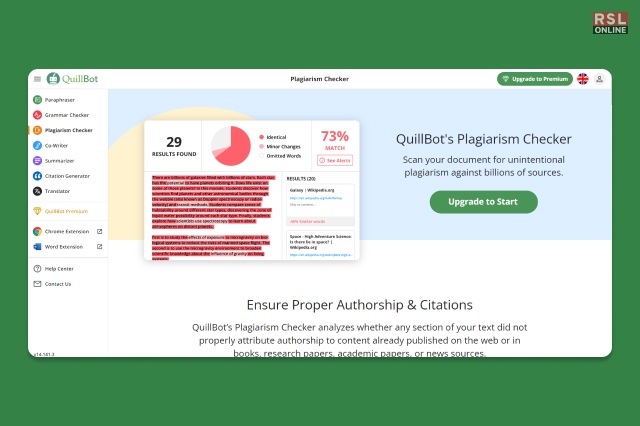 Online writers and academics alike benefit greatly from the Quillbot plagiarism detector. Any content that was even slightly plagiarized was instantly identified.
You may only view 20 pages each month even with a premium subscription. If you only occasionally need this for papers, that's OK, but if you write professionally, it is far from enough.
Plagiarism detectors are most useful in the field of academic writing, but it is by no means their only application. You might want to double-check your writing to make sure you haven't unconsciously borrowed from something you've read elsewhere, for instance. Alternatively, you might have had some written content—like a blog post for your author website—outsourced. Make sure the content you're paying for is truly original in such circumstances.
4. Co-Writer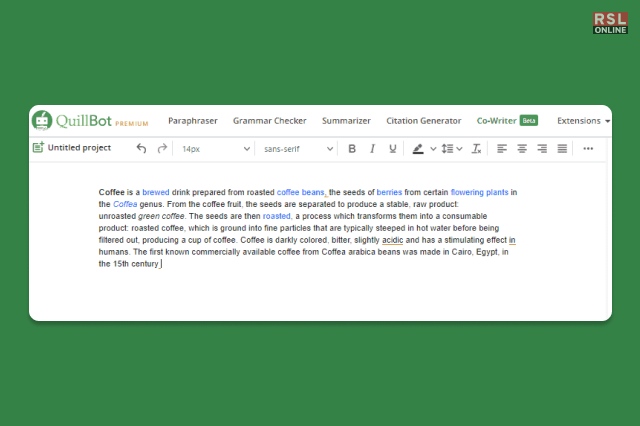 You can take all the other tools and combine them into one outlet with the help of the co-writer tool.
It has a simple word processing window where you may compose your article or essay and offers easy access to tools for summarizing, citing sources, and more.
It also has a useful function that lets you save these documents in the cloud.
The research tab, which enables you to look up any topic on the web and summarizes each article that comes up for that topic, is another fantastic feature of the co-writer.
5. Summarizer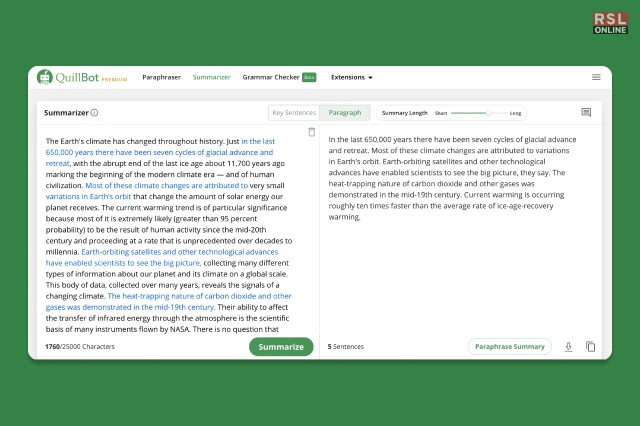 Another AI-powered tool Quillbot employs to condense articles, papers, or other publications into their main points is the summarizer.
This caught my attention because it can be used to pinpoint the key phrases in any body of writing. Choose the main sentences, or write a paragraph that covers everything, to do this.
Even though we must summarize our books for book descriptions, the procedure is totally different, so using this text summarizer for this purpose is not ideal.
Furthermore, the free edition of the summarizer has a word restriction of 1200 words while the premium version has a word limit of 6000 words. It's a bummer that the premium version has any restrictions at all.
6. Citation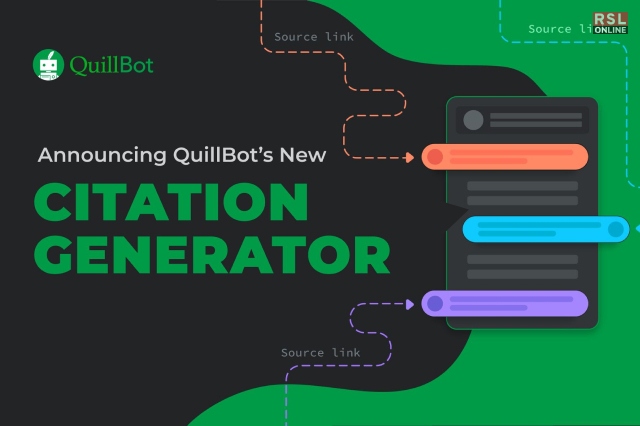 For academics and writers of essays, the Quillbot Citation Generator is another useful resource. Making citations and accurately employing them in nonfiction and academic writings have always been difficult for me.
This is somewhat simplified by Quillbot. I copied an article from Ireland's largest newspaper, The Irish Times. I copied the link into Quillbot, and it produced a properly styled citation as a result. I downloaded the outcome to Ms Word, BibTex, and CSL JSON after copying and pasting the outcome.
You can quote articles, films, and more. Numerous citation formats are available, including the Chicago Manual of Style, MLA, APA, and Harvard. Unfortunately, I couldn't find a way in Quillbot to create a library of citations.
Read More: Wordtune Tool – Features, Alternatives And Reviews
Quillbot Pricing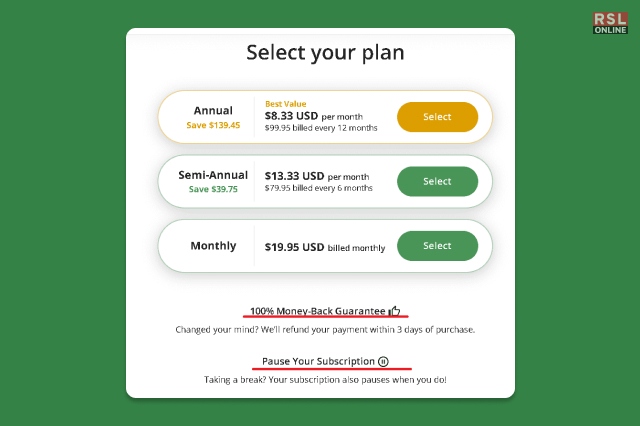 If you're looking for the pricing or plans of Quillbot, you have reached the right place. Take a look at this art of the blog to learn more…
The following tiers are available for Quillbot's premium edition:
When paid monthly, $19.95.
Semi-annually, at $79.95 ($13.33/month).
$8.33/monthly / $99.95 yearly.
Although it is important to note that even some premium features, such as the summarizer and the plagiarism checker, still have restrictions, the premium edition gives you access to all of the capabilities. You can't sum up all of the articles at once.
Quillbot has a free version that is actually quite helpful. You can use some of the tools in the Quillbot free edition, but not the plagiarism detector, and your usage is constrained.
But I've already discovered that the free version is sufficient for paraphrasing little passages of text or doing a quick grammar check on a modest project.
Quillbot Review
Now that you are done reading this blog, I would like to ask you to take a look at some of these reviews of the platform that users have left about Quillbot. Take a look at them and decide for yourself whether you would want to try this one out or not!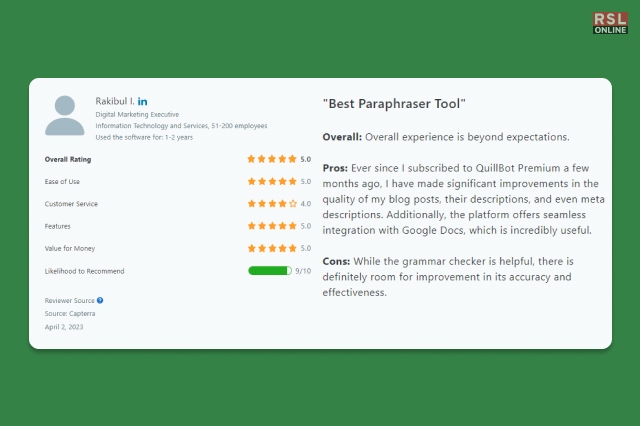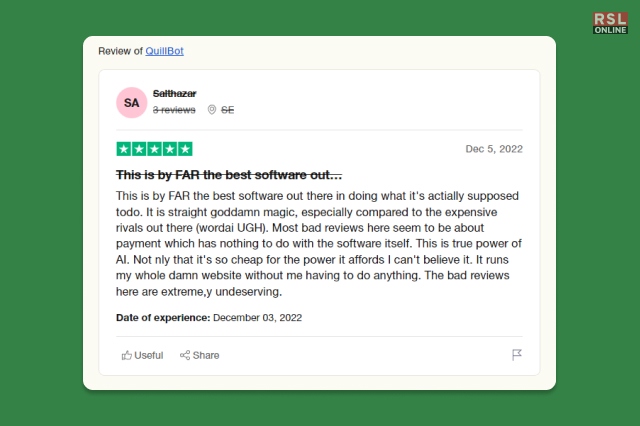 Wrapping It Up!
In case you were searching for the information related to Quillbot, I hope that this article has been of sufficient help to you. If there are any other queries related to the same, feel free to let me know. All that you need to do is scroll down till you reach the bottom of the page. Then leave your queries and suggestions in the comment box below. And I will be there to answer them all for you.
Read Also: