When we think of school lockers, what usually comes to our minds are tall metal lockers that are perfectly designed to store our books and other school items and accessories but not for storing anything big.
Even though school lockers were primarily designed for use in schools, these vintage lockers are increasingly making their way into people's homes as decor. 
School lockers offer DIY-savvy homeowners a brilliant idea to take their home decor to another level and create a good, utilitarian feel in their homes. 
Key Ways You Can Use A School Locker In Your Home
School lockers provide a practical purpose and provide an artistic edge to any home decor. If you adore the concept of sprucing school lockers as fun storage, you can consider placing yours near an entrance. From the bathroom to the living room, school lockers can be used anywhere in the house. 
You can't go wrong with up-cycling school lockers when adding extra storage or creativity to your home. You can paint them a bright color or any other color that fits your home decor, and you've instantly given your home a prestigious feel and style!  
1. As A Bed Storage Locker
Although the space beneath a bed is typically useful for storage, it may quickly get crowded. 
Using an old locker to keep stuff serves two purposes: it adds to the industrial flavor of your home, and it makes the area beneath the bed look much more appealing.
2. Inspiration For Sports Locker Rooms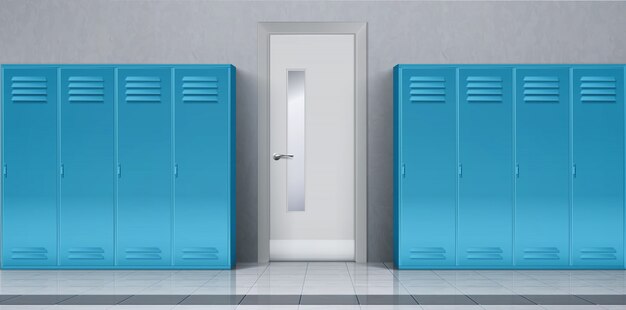 If you prefer the vibe of a boxing gym's locker room but not the moody lighting or the salty odor, you can achieve the same effect in your home by making it lighter and cleaner. 
In this scenario, all the locker needs is a fresh coat of paint and a couple of accessories, such as a pair of boxing gloves. 
3. Spice Rack In The Kitchen
Many people believe that wood is required in kitchens, but this is not the case. 
School lockers are tough enough to take a battering, easy to clean and provide many storage spaces for spices and other kitchen essentials. 
4. Elevating Your Dining Room
For any modern dining space, school lockers create a sleek and minimalist credenza. 
When the table transforms into an office, the school locker cabinet is ideal for keeping dishes, linens, and flatware, but it's also close enough to set the table quickly. 
5. Inspired Reading Nook
Everyone has a particular place in their home that's too big to ignore yet too small to be considered a room. 
Add a comfy chair and a set of school lockers, and you'll have a fantastic reading corner before you realize it. Vintage maps and prints and a vibrant pillow can also be used to decorate your reading nook. 
6. Swimming Pool House
Do you have a pool house (or simply a back porch) to decorate? When you think of decor, you might not think of locker storage, but it is! School lockers are waterproof and are the best fit. 
So you're not scrambling to get ready, keep towels, hats, sunglasses, and bathing suits in one location. Less time spent looking for misplaced belongings means more time to spend at the pool. 
7. Transforming The Children's Playroom
When children and toddlers have easy access to toys, it's easier to tidy them up. To keep things orderly, these bright red lockers are numbered. 
The metal construction can withstand all the abuse that children can dish out. 
8. Painting School Lockers To Fit Your Home Decor
The first thing is to ensure you use a metal-specific paint primer before you start painting the metal lockers. It will aid in the adhesion of the paint while also providing much-needed protection once it has dried. 
Next, choose the appropriate color that fits in with your home decor. Don't go for odd colors or bright colors when not necessary. Ensure your desired color fits into the rest of your home. 
Before you begin applying the primer or paint, be sure that the lockers are completely cleaned so that there are no defects after you're finished. You'll need to paint the lockers in many coats to ensure that the color matches each locker. 
Conclusion:
The first thing which you can do is take a look at where to paint the school lockers. Look around the house for an open spot where you can paint.
If you don't have a place to paint it, you can go ahead and paint the lockers just where they are, but you'll need a lot of tarps or drop cloth to keep the paint off the floor and the wall.
Read Also: