Constantly seeking fresh methods to captivate both customers and brands, Amazon's recent endeavors, such as Amazon Live and Amazon Scout, exemplify their commitment. Often transcending the role of a traditional e-commerce platform, Amazon aims to dominate various sectors, including media, marketing, and shipping.
A prime example of this is Amazon Moment. Here's your introduction to this novel proposition by the e-commerce titan.
Want to know more about it? Well, there is something that you must do— READ! Yes, keep reading this blog till the end to learn more about the same…
What Is Amazon Moment?
Amazon moments are a special kind of digital and physical prize. That efficiently increases the user's actions in your apps, games, or websites. Amazon moments are the most compelling feature of the Amazon platform. It is increasing the products affiliated marketing and customer cost-per-action activity. This special feature is a direct call-to-action tool by expanding the viewer's engagement. 
Amazon is a cross-platform marketing tool and amazon's moments effectively show the profitable result from the viewers and global business perspectives.
Before going into details of beneficiary parts of Amazon moment, first, you must look at how the Amazon moment is working.
How Does The Amazon Moment Work?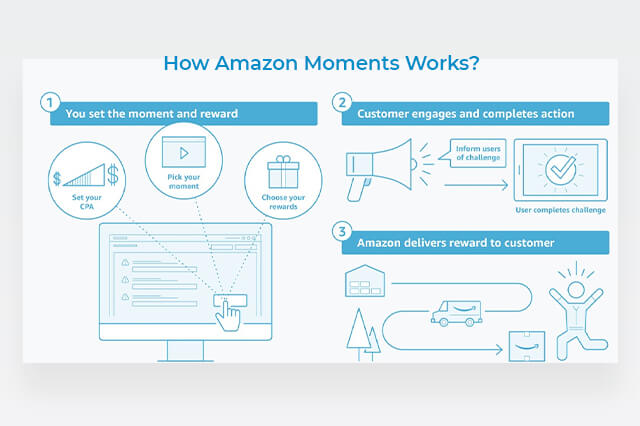 As we told you before, Amazon is a cross-platform marketing tool. When you are using the Amazon platform, you are accessing a special allocated interface, and the business owners who want to offer their customers Amazon moments can easily create the prize from these Amazon moments.
The biggest positivity of the Amazon moments is, the reward is a little bit different from the royalty program. In the regular loyalty program, the customers are offered only discounts. But In the moments Amazon, the rewards are more attractive.
As per the records, the customers who are eligible for the moments Amazon, get more options than the discounts. And the loyalty-related regular discounts are not attentive among the customers. Hence, Amazon moments is offering physical and digital rewards to its customers. And loyalty programs are only offering discounts to their customers.
Therefore when the customers are qualifying for the loyalty program, they are becoming reluctant about the loyalty discounts. But the Amazon moment proved more effective to build a cost-per-action platform.
What Is Amazon Moments.Com?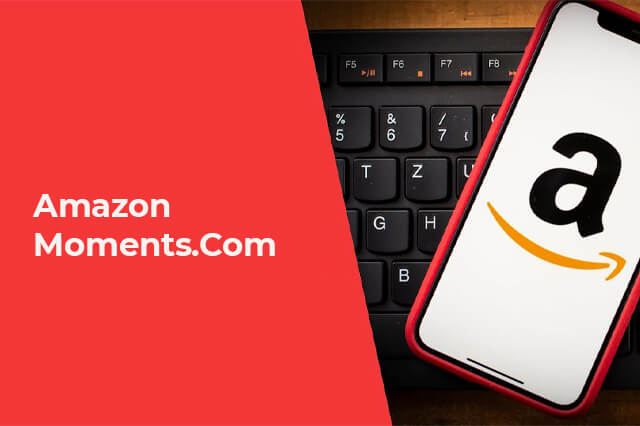 Amazon moments.com is an address for creating amazon rewards. If you want to create a special reward for your customers, you can do it in one step to fill up your company's details. Visit Amazon moments.com, then fill the blank space on the page and click yes. Amazon moments login is a very simple three-step process.
You have to fill up three blank spaces to do the amazon moments login.
Step 1:

Type your Amazon username.

Step 2:

Type your company name.

Step 3:

Then choose the language.

Step 4:

Click next and create your company profile in the Amazon moments.
If you already have the existing company profile in Amazon, you can do the single-step login.
Step 1:

Click 1-step login from the Amazon moments login page.

Step 2:

Then enter your Amazon security PIN

Step 3:

Then click sign in.
For the fast and effective use of Amazon moments, moments Amazon apps are very efficient. Amazon is launching special Amazon moments apps for the Amazon reward announcing companies. This app works effectively in any operating system.
How Can We Benefit From Amazon Moments?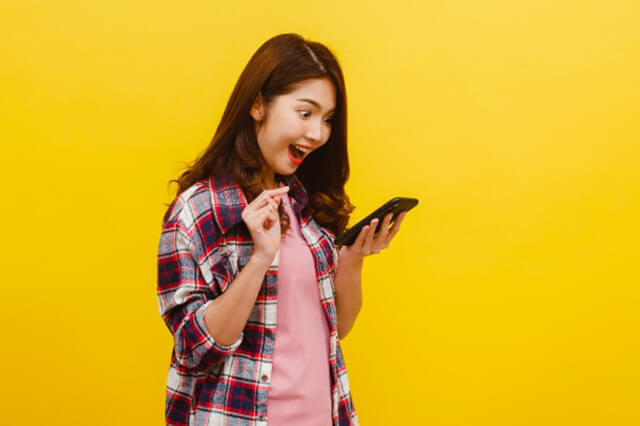 Amazon moments is a cross-platform MarketTools. That gives you to reward back to your customers as the digital or physical rewarding system. Some of the Amazon moments are you can simply reward your customer in any area of the world. And when you are using moments Amazon, you are increasing the targeted campaign of your products.
Here are the four ways by which Amazon moments are changing the whole outlook of the online business.
1. The Rewards Are Really Unique:
The customer's and seller's records are really huge on the Amazon platform. Almost 5 million sellers are offering different kinds of rewards. And the customers are purchasing products from the different sellers.
The customers are getting a good opportunity to get digital or any physical gifts, which is the most attractive feature of the Amazon moments.
For example, many sellers are offering amazon credits over any special purchase of the products. The customers can easily use the rewards to purchase something.
2. Shopper's Do Not Have To Add Extra Fees:
Amazon moments are really easy and effective for the customers. Customers do not have to give any extra effort for the rewards. They only have to shop. And this makes a huge difference from the loyalty program.
In many cases, the customers are getting an option to play any special game or using any apps to claim the rewards. This reward claiming app and game playing is entirely free.
The customers do not have to pay any extra to claim the rewards. The amazon moment's most significant advantage is customers can choose the type of rewards they want to get. This means you can choose any digital or physical gifts.
Also Read: Grofers, Flipkart, Bigbasket, Amazon Will Bring Your Vegetables Home
3. Shifts Benefits Into Rewards:
Amazon users can apply other types of Amazon bonuses. For example, when you are redeeming the Amazon moment's rewards, you automatically claim the other Amazon parks. And these parks are mostly including the Amazon prime memberships.
And the customers are getting the moment's rewards faster; hence you are shifting your benefits into different categories of easy and fast gating rewards.
4. Similar Types Rewards For The Customers As Their Purchased Products:
The similarity between purchased products and your physical gifts is maintained. The gift products usages are becoming easier. As Amazon has maintained large records of the databases. The customer's products purchasing records are all time present in the system.
And for returning back the rewards, amazon moments is using the data. They offer similar types of gift items for their customers. The customers seem really happy after getting similar types of gift items.
5. Rewarding Through A/B Testing
Begin your marketing by providing a range of incentives to your target demographic. This way, you'll know which ones have the largest influence on behaviour and help you achieve your objectives. Using multiple'moments' or triggers in a single campaign allows you to see what performs best.
How Much Does Amazon Moments Cost?
Moments operates on a cost-per-action (CPA) pricing model, offering brands the flexibility to tailor their customer loyalty programs within their budget. The range varies, with CPAs potentially starting at $3, though expenses may rise due to factors like taxes and shipping. Brands have the option to set spending limits to manage budgets effectively. Amazon enforces spending ceilings at $5,000 per campaign and $15,000 per Moments account.
Creating a rewards program from scratch can be financially restrictive, particularly for smaller brands. The U.S. Loyalty Programs Market is projected to surge from $126,639 million in 2021 to approximately $22,5907 million by 2026.
Regardless of costs, brands leveraging Moments strategically can reap long-term benefits by enhancing customer engagement and conversions. The adage holds true: retaining customers is more cost-effective than acquiring new ones, with acquisition costs being 5 times higher than retention expenses.
Who Can Use Amazon Moments?
Amazon Moments is accessible to developers worldwide except for South Africa, Albania, Saudi Arabia, Russia, and Switzerland. For customers, prize redemption necessitates an Amazon account. Notable brands such as TikTok, Bravo, Discover, Sago Mini, and Disney have prospered with Amazon Moments. Disney, for instance, witnessed a near sevenfold surge in net revenue after granting players of Disney Heroes Battle Mode game $5 in Amazon credits upon attaining level 15.
Frequently Asked Questions (FAQs):
Q1. Does Amazon Moment Have An App?
Amazon has launched a marketing tool for mobile games and applications called Moments. On iOS, Android, FireOS, and other platforms, you may use this service to reward consumers in over 100 countries.
Q2. What Is NA Amazon Moments?
Employee login is available at NA Amazon Moments Login website. If you're an employee of Amazon Customer service North America Team, use your Global Identity to log in and start your shift.
Q3. How Do I Access My Amazon Moments Login?
Follow the steps to get access to Amazon moment login as an employee:

a) Use your Amazon credentials to log in to the Moments Console or Amazon moments login page. If you don't already have an account, creating one is simple and free.
b) Get an API key by registering your app.
c) Create a campaign and start experimenting with Moments.
Q4. What Is Amazon Moments Reward?
Amazon Moments reward is a special pay-per-action tool. It allows you to reward consumers for performing essential tasks in your applications, games, and websites with actual or digital objects.
Wrapping It Up:
These amazon moments features are making a historical change in the digital marketing platform. The customers are getting more benefits than the traditional loyalty programs. Amazon is a very large platform where millions of sellers and consumers are doing business.
More vendors are using Amazon moments right away. Consumers start getting more benefits from it. If you are using Amazon moment, do not forget to share your experiences with us.
You May Also Like: