Jeans – they're a timeless staple in almost everyone's wardrobe. But finding that one pair that fits like a dream can sometimes feel like a quest of mythical proportions. It's not just about the rise; there are several essential factors to consider when searching for that perfect fit.
Let's go beyond the rise to explore the critical aspects of choosing the ideal pair of jeans. From comfort to pocket placement, we'll cover it all to ensure that your selected jeans look fantastic and provide the comfort and style you crave.
So, let's dive in and uncover the secrets to finding the perfect pair of jeans from Freddy Jeans you'll reach for repeatedly.
Low Rise Jeans: A Blast From The Past
Let's start with low-rise jeans, often called "hip-huggers." These jeans sit low on your hips, typically below your navel, with a shorter zipper and rise. Low-rise jeans might be just the ticket if you're looking for a fit that channels that iconic early 2000s vibe.
Who Does It Suit?
Low-rise jeans work best for individuals with a slim and well-defined waist. If you have a shorter torso, these jeans can create the illusion of elongation.
They're also perfect if you want to showcase your hipbone area and embrace that trendy, slightly rebellious look. However, be cautious if you're curvier or have a bit of a tummy, as low-rise jeans can sometimes lead to the dreaded muffin top.
Styling Tips For Low-Rise Jeans
When wearing low-rise jeans, it's all about balance. Pair them with shorter tops or tucked-in shirts to accentuate your waist and hip area.
Crop tops and fitted tees are excellent choices. Remember a trendy belt to add some flair to your look. Embrace the nostalgia of the 2000s by throwing on some chunky sneakers or flip-flops to complete your ensemble.
Mid-Rise Jeans: The Versatile Choice
Next, we have mid-rise jeans, the middle ground between low and high rise. These jeans sit at your natural waistline, making them a versatile option for most body types. They offer more coverage and comfort than low-rise jeans while maintaining a modern, stylish appearance.
Who Does It Suit?
Mid-rise jeans are a safe bet for many body types. They're particularly flattering for individuals with a slightly curvier shape, as they provide good coverage for the tummy area.
If you're unsure which fit to choose, start with mid-rise—it's the Goldilocks zone of jeans. Whether you have an apple, pear, or hourglass figure, mid-rise jeans can complement your curves and create a balanced silhouette.
Styling Tips for Mid-Rise Jeans
The beauty of mid-rise jeans lies in their adaptability. You can pair them with a variety of tops to suit different occasions. Tuck in a blouse for a polished look, or wear a casual vibe with a tucked-out tee.
These jeans are also excellent for layering, so don't hesitate to wear a jacket or cardigan to complete your outfit—Accessorise with a statement necklace or a classic watch to elevate your style effortlessly.
High Rise Jeans: The Ultimate Comfort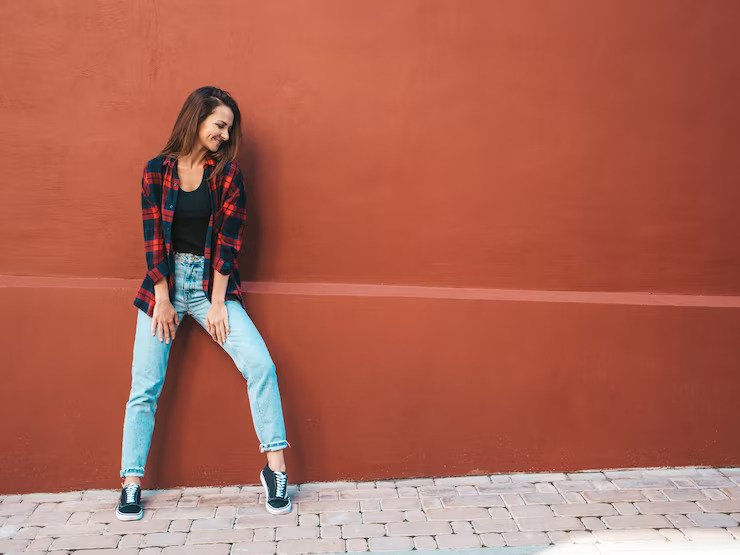 Lastly, we have high-rise jeans, the champions of comfort and style. These jeans sit at or above your natural waistline, providing ample coverage for your midsection. They've recently gained immense popularity for their flattering fit and ability to keep you comfortable all day.
Who Does It Suit?
High-rise jeans are a fantastic choice for extra support around your tummy area. They're particularly flattering for those with an hourglass figure or a pear-shaped body.
High-rise jeans can create a balanced silhouette by emphasizing your waist and enhancing your curves. However, they are versatile enough to suit many body types and provide a secure and comfortable fit for anyone.
Styling Tips for High-Rise Jeans
High-rise jeans are incredibly versatile and can be easily dressed up or down. Pair them with tucked-in blouses for a chic, sophisticated look, or wear a trendy retro vibe with a tucked-in graphic tee and a statement belt.
These jeans also work wonderfully with crop tops for a fun and flirty style. Remember to choose the proper footwear; high-rise jeans can be worn with heels for an elegant look or sneakers for a casual and trendy ensemble.
Finding The Perfect Fit: What To Look For
When you embark on a quest to find the perfect pair of jeans, it's not just about the rise – there are several crucial factors to consider to ensure that your chosen jeans become your go-to wardrobe staple.
Let's delve deeper into what you should look for when searching for that ideal fit.
1. Comfort is Key
Prioritise comfort. Ensure your jeans allow free movement. If they feel too tight, go up a size. Some jeans offer stretch for added comfort.
2. Check the Inseam
Inseam length matters, especially for shorter or taller individuals. Different brands offer various inseam options, so find the perfect length for your height.
3. Stretch or No Stretch
Decide if you prefer stretch jeans for flexibility or non-stretch denim for a classic feel based on your activities and style preferences.
4. Pocket Placement
Pocket placement impacts how jeans look on your body. Smaller, higher-set pockets can minimize attention to hips and thighs, while larger, lower-set pockets accentuate curves.
5. Try Before You Buy
Always try on jeans, as sizing can vary between brands and styles. Be patient and try different sizes to find your ideal fit.
6. Consider Tailoring
Don't hesitate to invest in tailoring to perfect the fit. A skilled tailor can make adjustments like waist alterations or hemming to make your jeans truly yours.
Remember these tips on your quest for the perfect pair of jeans. The right fit can transform how you feel and look, so take your time and explore different styles. Whether low-rise, mid-rise, or high-rise, your ideal jeans are waiting to be discovered. Happy shopping!
Conclusion: It's All About Personal Preference
Ultimately, the choice between low-rise, mid-rise, or high-rise jeans boils down to personal preference and your body type. Whether you're vibing with the early 2000s in low-rise jeans, embracing the versatility of mid-rise, or enjoying the comfort of high-rise jeans, the most important thing is to feel good in what you wear.
So, find that perfect pair, and strut your stuff confidently! Jeans are not just a piece of clothing but a statement of your style and personality. Embrace the world of denim and make it your own!
Read Also: