Maintaining a clean and hygienic workspace is essential for the success of any business.
It not only creates a positive impression on customers and employees but also helps increase productivity and reduce the spread of germs and illnesses. If you are a business owner or simply a housewife in New York City, you have a wide range of options when it comes to janitorial services in NYC.
This article will explore the benefits of hiring these services and what to look for when choosing a service provider.
What Exactly Is Janitorial Service?
These services refer to the cleaning and maintenance of commercial or institutional spaces. They are provided by professional cleaners trained to use the latest cleaning equipment and techniques. Janitorial services include routine cleaning tasks such as sweeping, mopping, dusting, and trash removal, as well as more specialized services such as carpet cleaning, window cleaning, and floor waxing. You just name it, and they will offer you it!
With this, Anago cleaning systems offer top-notch janitorial services for commercial buildings, ensuring a spotless and sanitary environment for more information about our janitorial services, including customized cleaning plans and eco-friendly solutions, please don't hesitate to reach out to our dedicated team.
Advantages Of NYC Janitorial Services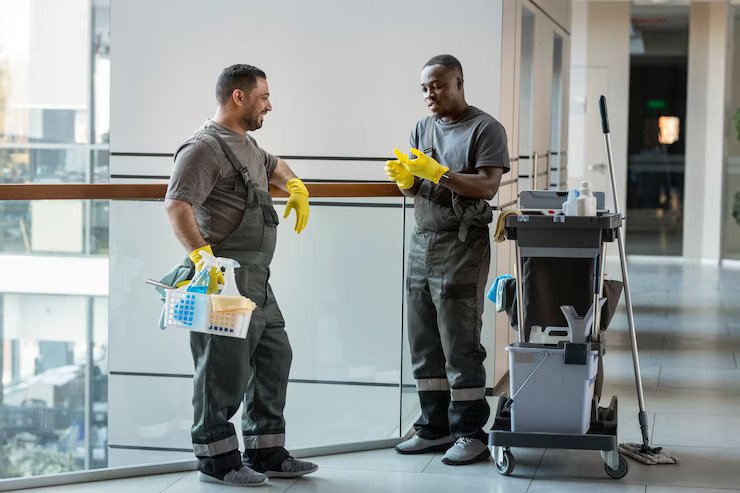 A clean and safe workplace is difficult to maintain in New York City since it is a massive city with a strong corporate community. They provide a number of advantages that can support the success of companies of all sizes.
1. Increased Productivity
An organized workplace can have a positive impact on employee productivity and morale. Employees who work in a well-maintained environment are more likely to feel motivated and engaged. This can lead to increased productivity and, ultimately, better business outcomes.
2. Enhanced Safety and Health
Modern cleaning methods and tools used by janitorial companies in NYC guarantee that your environment is free of allergies, viruses, and hazardous microorganisms. It can minimize the risk of disease and injury among your staff and clients. You can make the workplace safer for everyone by keeping it clean and sterile.
3. Time-Saving
By allowing a professional provider to handle your cleaning needs, you can focus on what you do best, such as growing your business or serving your customers, and leave the cleaning to the experts.
4. Better Reputation
Your company's reputation among clients, customers, and workers can be improved by having a sparkly clean, and eco-friendly environment. Using such professional janitorial services can strengthen your brand image and make a good first impression.
5. Better Air Quality:
They can enhance the air quality of your workplace by using specialized cleaning techniques and equipment to remove allergens, dust, and other airborne pollutants. This can lead to a healthier, more comfortable working space for your employees and visitors.
6. Reduced Stress:
By outsourcing your cleaning needs to a professional janitorial services in NYC, you can reduce the stress and workload of your employees. They can focus on their core responsibilities, knowing that the cleaning and maintenance of the workplace are in the hands of experts.
7. Enhanced Security:
Their skilled staff can provide a range of security services that go beyond just cleaning. This can include tasks such as locking doors and windows, monitoring alarms, and patrolling the premises to ensure a hazard-free workplace.
Other Comprehensive Janitorial Services Offered in NYC
Following are some general services offered by any certified company.
Carpet Cleaning: This involves deep-cleaning carpets and upholstery to remove stains and dirt. It may include steam cleaning, dry cleaning, or other specialized methods.
Window Washing: Window washing can improve the appearance of your building and enhance natural light. This may include both interior and exterior windows, depending on your needs.
Restroom Cleaning: A clean and well-maintained restroom is essential for creating a positive impression on your clients. Hire the best janitorial companies in NYC and ask for cleaning toilets, sinks, and floors and restocking supplies services.
Floor Maintenance: It includes tasks such as waxing, buffing, and polishing to keep floors looking their best. This may also include stripping and refinishing floors as needed.
Emergency Cleaning: A janitorial service may be able to offer emergency cleaning services to swiftly clean up and restore your area in the case of a spill, flood, or other unanticipated problem.
Pressure Washing: They use high-pressure water to clean and remove grime and stains from surfaces such as sidewalks, parking lots, and building exteriors.
Recycling and Waste Management: Many services offer a waste management and recycling service to help reduce your environmental impact and comply with local regulations.
Factors To Consider When Choosing A Janitorial Firm
Here are the key factors to consider when choosing a janitorial service in NYC :
Experience and Reputation
Services Offered
Flexibility
Price
Communication
Training and Certifications
Green Cleaning
Customer Service
Whether To Hire Janitorial Services NYC Or Not: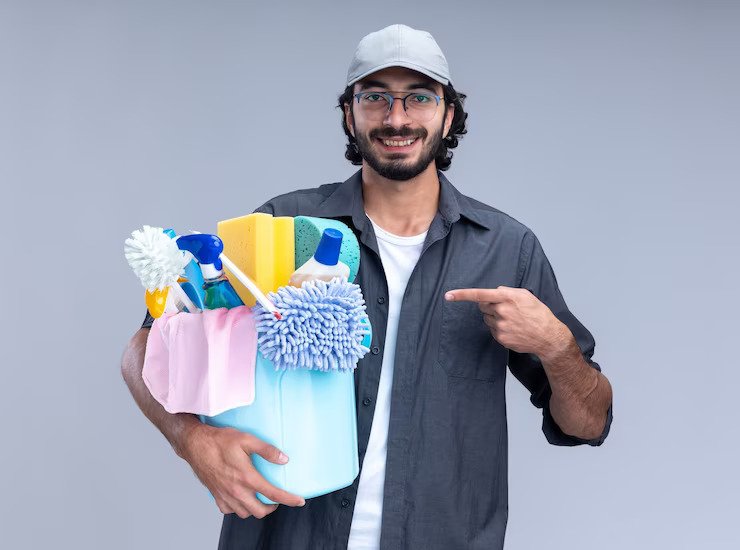 Pros:
Access to advanced cleaning technology and techniques, which may not be available to your in-house staff.
Janitorial services can provide 24/7 cleaning options, which can be especially beneficial for businesses with irregular schedules.
Improved workplace safety, as janitorial services, can help identify and mitigate potential hazards.
Cons:
Potential for miscommunication between your business and the janitorial service, leading to confusion about cleaning requirements.
Increased costs compared to relying solely on in-house staff for cleaning.
Concerns about reliability, as some janitorial services, may not show up on schedule or provide consistent quality.
Difficulty finding a janitorial service that aligns with your business values, such as eco-friendliness or the use of non-toxic cleaning products.
Conclusion
Hiring janitorial service professionals can significantly improve the quality of your home or office. They will not only spare you time and effort, but they will also make sure that every surface is hygienically clean, giving you a bright and comfortable space to enjoy.
From schools and hospitals to offices and homes, the benefits of hiring janitorial services in NYC are clear, so why not make your space shine today? At DLL Cleaning Services, we provide tailored commercial cleaning services in NYC that meet the unique needs of your business.
Our team uses advanced technology to deliver a healthy and spotless workplace. We specialize in floor, window, and post-construction cleaning, ensuring that your space is always looking its best. Trust us for exceptional cleaning services that keep your workplace shining.
DLL Cleaning Services is your partner for spotless cleaning in NYC!
Read Also: