Are you having a problem with wireless adapter or access point? Are you looking for how to fix the problem with wireless adapter or access point? Well, you are on the right point. 
This very specific issue can have several reasons at the same time. An outdated driver or your third-party antivirus can cause this issue that you are facing right now. But the good news is that you can easily solve this issue by yourself. 
How To Fix Problem With Wireless Adapter Or Access Point Issues On PC?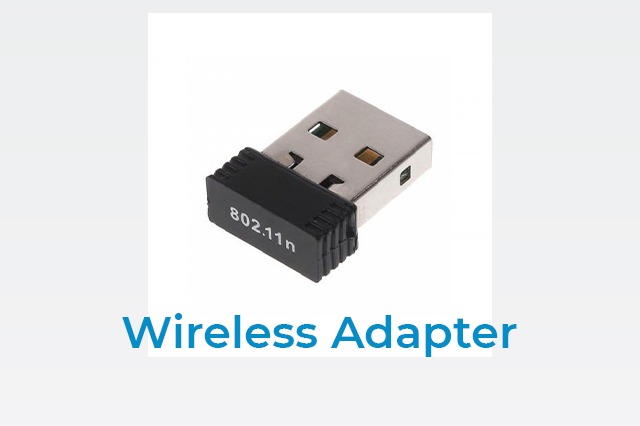 The problem with wireless adapter or access point that you are facing right now can have several reasons. So, here I am providing you with 9 easy solutions for fixing this issue by yourself. You no need to be a pro at technology for doing all these. 
1. Update The Wireless Drivers
Sometimes the reason why you are having a problem with the wireless adaptor or access point is the driver issue. So, updating the driver can be a really good solution here. Follow the steps below for updating the wireless driver.
Open the

Device Manager

.

Now search for your network adapter.

Right-click on your network adapter.

Select the option

Update Driver

.

Now click on the option written;

Search automatically for drivers

. 

Now, look at whether the system finds a new one or not.
You always have another option and that is visiting the website of our network adapter manufacturer. There, all you need to do is locating your device and download the latest version of it.
In case you do not have any alternative internet connection, you can install the driver from the CD that you have been provided with your wireless adapter.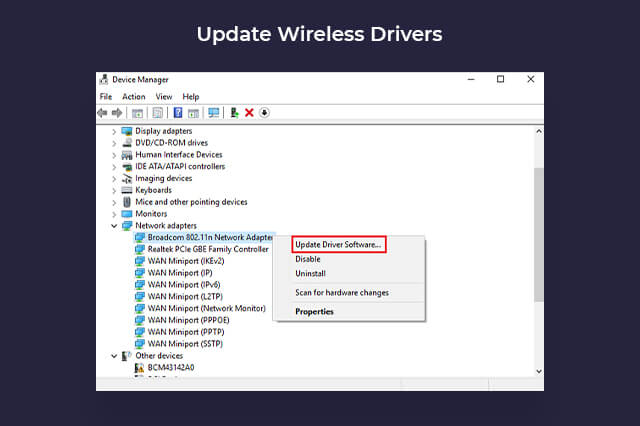 2. Remove Antivirus
It is really great to have an antivirus for your online safety. But in some cases, the same antivirus program interferes with the wireless connection that you are having. As a result, it causes a problem with wireless adapters or access points. 
In order to fix this issue, remove or temporarily disable all third-party antivirus software from your pc. But for safety reasons, before removing the existing antivirus tool, just run a system scan to clear any potential errors, in case there are any. 
3. Delete Your Wireless Profile
Follow these simple steps for deleting your wireless profile. 
In Windows Search, type

cmd

.

Now click on

run as administrator

.

The

Command Prompt

will open. 

"netsh wlan delete profile name=WirelessProfileName," type this command and press enter.

Enter the actual name of your wireless connection in place of WIrelessProfileName.

Now reconnect and also reconfigure the network to fix the problem with the wireless adapter or access point.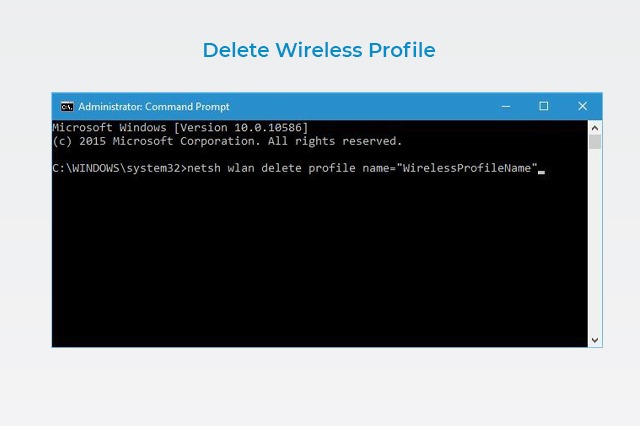 4. Check Whether Your Password Is Correct Or Not
It is important always to protect your wireless network with a password. There may be a chance that you have entered the wrong password. In that case, disconnect your pc from the network and try to connect it again. But make sure you are entering the right password. 
There also can be some rare cases when your keyboard may enter the different characters. This usually happens when you are using a different input language on your pc. So, do not forget to double-check your password all the time. 
5. Use Some Solution Of Command Prompt
When you are having any problem with wireless adapter or access point, you also can fix this from Command Prompt. Follow the below-mentioned steps properly for that.
Start

Command Prompt

as administrator.

Now enter the below-mentioned lines.

netsh winsock reset.

Then, netsh int ip reset.

Then, ipconfig /release.

Then, ipconfig /renew.

Lastly, ipconfig /flushdns.
6. Check Whether Your Wireless Adapter Is Disabled Or Not
One of the reason why you are experiencing a problem with wireless adapter or access point can be your disabled wireless adapter. Follow the steps that are mentioned below in order to check it.
Press

Windows + X

.

Select

Device Manager

from the option list.

Search for

your Wireless Adapter

.

Double click

on it to open its property.

Go to the

Driver Tab

.

Look for the button,

Enable

.

Click

on it and

OK

.
In case you are not able to find the Enable option, that means your driver is already enabled.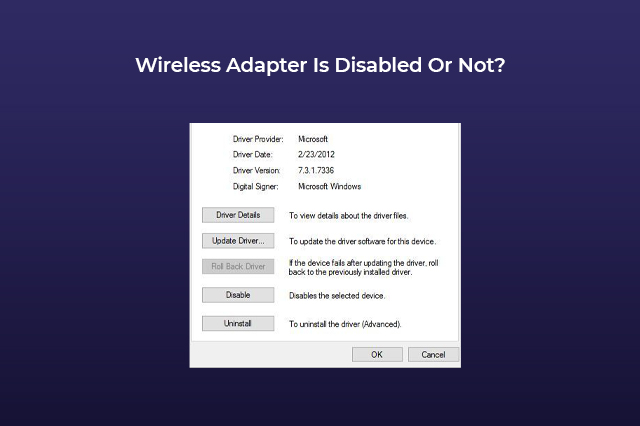 7. Change Both The Name And Password For Your WiFi Connection
Many users also stated that changing the name along with the password of your wireless connection also can help you in fixing the problem with wireless adapter or access point. 
Changing the name and password of your wireless adapter is a simple procedure. But if you do not know how to do it. Go through the instructions that are provided in your router's manual. 
Also Read: How To Enable Reddit Dark Mode?
8. Reset Your Router
There is another reason why many users face any problem with wireless adapter or access point. And that is an improper router configuration. Just by resetting your router, you can easily fix this problem. 
You either can press the reset button on your router, or there is another way to do that. Open the router settings and look for the reset option and select it. Make sure you have saved and export your configuration before resetting your router. 
This way, you do not need to enter them manually after the resetting is done. You can check the router's manual for checking your router's configuration and also how you can reset your router.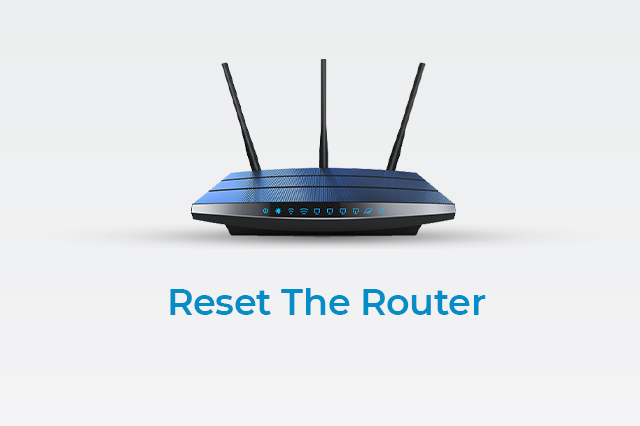 9. Check For Windows Update
There are a bunch of hardware manufacturers that are partnered with Microsoft. So, when you are thinking of fixing the problem with wireless adapter or access point, you can try Windows Update.
So, as your wireless internet adapter is not working connect the LAN cable or arrange some other internet connection and search for any update is available or not. If there is any update for your router, it will automatically get installed.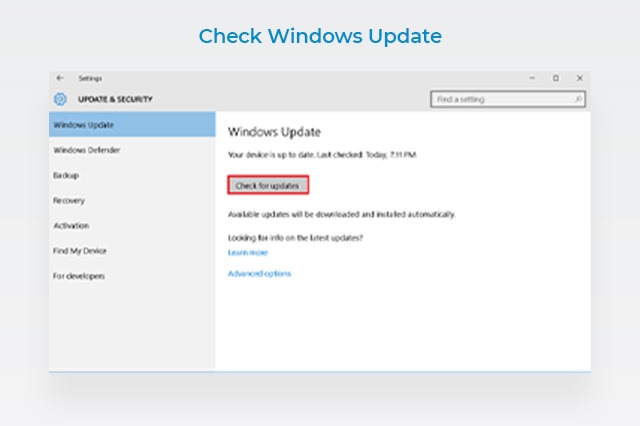 Conclusion
From the above discussion, it is clear that there are multiple reasons for the problem with wireless adapter or access point. It does not matter what version of Windows OS you are using on your PC; whether it is Windows 10 or Windows 8 or 8.1, you can implement the fixing techniques that I have mentioned above.
You May Also Like: