So, what is Inflact?
It is basically a social media marketing tool for using mainly Instagram, and there are a lot of features, such as growth analytics, AI-powered hashtag generator, CRM, profile analyzer, chatbot, and post scheduling. So, if you are an Instagram influencer, then you will find this tool helpful. Even if you have the free version, there will be basic features that you will find interesting.
And if you want to try the paid option, then there will be so many features that will definitely help you to increase your followers. If you do your own marketing of your page, then this tool will be beneficial for you. The tool has the ability to streamline leads, and there is a chatbot through which you can auto-reply to the customers and audiences. Other than this, there will be automatic hashtags, and you can track your order also.
Let's know about the platform in detail, and then you can decide whether you want to use this tool or not.
Inflact: Everything You Need To Know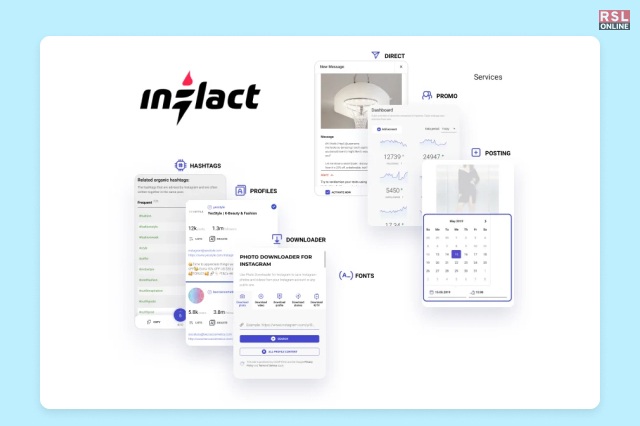 If you are an individual Instagram influencer or you are managing a small business, then Inflict is one of the best tools that you can get. The main consumers of this tool are mainly small businesses and freelancers who work either alone or on a team is small. But, this tool can not be used for a large enterprise or even for mid-size businesses because the features are limited.
You must know that the platform can not be used on either iPhone or Android. You can only use this platform only on your desktop or laptop. This is completely a web tool that can only be used through your laptop or desktop.
Inflact Features
Now, it's time to learn about the features that Inflact provides. There are some common features that you will not find on this tool. But, you will find the basic features. Here are some features that will be beneficial for you.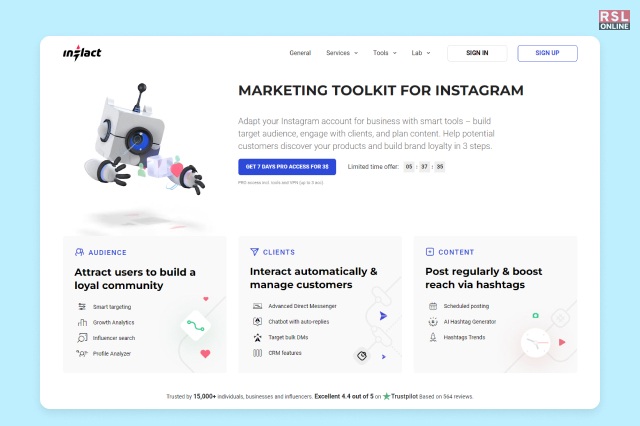 Social Media Integration
Real Time Analytics
Post Scheduling
Performance Metrics
Contact Management
Automated Scheduling
Automated Publishing
With the help of this tool, you can schedule your post. Suppose you want to publish your post at a time when you will be busy. So, for that reason, you can schedule your post in advance. There are options to talk with your followers or consumers. Also, the chatbot will help you to send messages automatically. Suppose you need to send the basic introductory message, then you can use that with the help of the chatbot.
Here are some other features:
Automated Scheduling
Automated Publishing
Contact Management
Real Time Analytics
Post Scheduling
Performance Metrics
Tagging
Social Promotion
Social Performance Management
Social Media Monitoring
Social Media Integration
Social Advertising
There are some common features that you will find on Inflact. But these features are quite common if you use Social media marketing software.
Workflow Management
Visual Analytics
Third-party Integrations
Reporting/ Analytics
Reporting and Statistics
Real-Time Data
Multi-Channel Marketing
Multi-Channel Management
Mult-campaign
Multi-Account Management
Monitoring
Keyword Filtering
Image Library
Engagement Tracking
Drag and Drop
Data Visualization
Data Import/ Export
Customizable Templates
Customizable Reports
Customizable Branding
Customer Segmentation
Conversion Rate
Content Management
Content Library
Commenting/ Notes
Click Tracking
Campaign Segmentation
Campaign Scheduling
Campaign Planning
Campaign Management
Calendar Management
Activity Tracking
Activity Dashboard
API
AB Testing
Frequently Asked Questions (FAQs):
Here are some interesting questions and answers that most people are curious to know about Inflact.
1. What Are The Features Of Inflact?
Ans: Inflict is basically a social media marketing tool that helps businesses and individuals with content management, client interaction, and audience growth. If you want to do social media marketing, then there are features like a chatbot, post scheduling, AI-powered hashtag generator, CRM, growth analytics, and profile analyzer.
2. Is Inflact Free?
Ans: Inflict is a multi-purpose service provider, and it is modeled mainly for Instagram promotions. Simple daily users, bloggers, and influencers can choose tools for their own needs. The tool offers both paid and free services for managing content, building audiences, and communicating with clients. Obviously, the paid one offers you better services, but you can start with the free version.
3. Is Inflact Genuine?
Ans: According to many influencers and people who use it for growing their pages, yes, Inflict is genuine. There are websites where you can see user ratings which is pretty good, and most pages rate this tool more than 4 out of 5. Consumers get the satisfaction of using this platform. Right now, Inflict is in the 17th position among Social Media Tools.
4. What Are Instagram's Most Popular Features? 
Ans: Here are some popular features of Instagram.
• You can broadcast real-time videos.
• There is an option where you can replay your Instagram stories and save that for later as well.
• You can pin comments to the top.
• Your followers can react and comment on your post.
• After broadcasting, you can view the engagement number.
• There is an option to invite people to stream together or watch a video.
5. What Is The Best Instagram Tracker App For Free?
Ans: There are tools for tracking Instagram apps, some of them are free, and others are paid. You can get analytical data reports like average interactions, comments, and other things. Here are some apps that you can use.
• Instafollow
• Crowdfire
• Union Metrics
• Iconosquare
• SimplyMeasured

You must know the unsafe apps as well. They are free, but I will not recommend you use them.

• Followers Chief
• Unfollowers and Followers for Instagram
• Follower Tracer for Instagram
• Lost, Unfollowers for Instagram
• Follower tool for Instagram
• Reports+ For Instagram
• Unfollowers and Ghost Followers
• FollowMeter For Instagram
Final Words
See, if you do your social media management in a small range, then Inflact is one of the best tools. But, for a medium or large business, then using Inflact is not a good idea. You can also try some alternatives that are helpful as well.
Rallio
HubSpot Marketing Hub
HypeAuditor
Hyperfury
Bitrix24
EngageBay
Audience
Jobin.cloud
Easy-Peasy.AI
If you have any queries, feel free to ask in the comment section below.
Thank you.
Read Also: